Restaurants in Espanola
---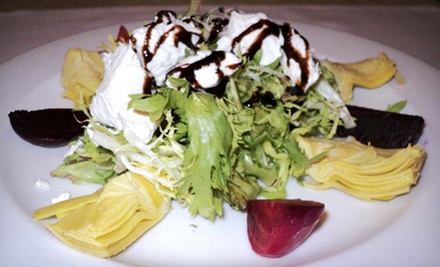 ---
Recommended Restaurants by Groupon Customers
---
You're probably thinking, "That sounds great, but I've never bought a car or a computer without first reading the Wikipedia definitions for car and computer—I'm not about to buy a Groupon either without a briefing." Well, neither would we, and since this is everyone's first Groupon, allow us to briefly explain how it works.
40 Tramway Rd NE
Albuquerque
New Mexico
The chefs at Old Town take edible discs seriously, putting in extra care to set delicious pies in front of your lucky face, which is much luckier than your last face. They hand-toss all pizzas and bake them in slate ovens to achieve crispiness before layering on a delicious, house-made sauce composed of sweet tomatoes, garlic, and extra-virgin olive oil. There's also white sauce (with creamy Parmesan and roasted garlic), hot and spicy, or basil pesto. Old Town pizzas benefit from fresh, locally sourced ingredients piled high on personal 10-inch pies ($5.99) and crowd-pleasing 16-inch large pizzas ($11.99). Additional toppings range from the familiar to the gourmet, including local Tucumcari feta cheese, green chilies, and toasted pine nuts. The list of specialty pies includes the meat-eater's dream dinner, the Stampede ($9.50 for 10-inch pie, $20.50 for 16-inch), stacked with Italian sausage, pepperoni, mini meatballs, smoked ham, and ground beef. At the other end of the life-form spectrum is the Farmers Market pie ($9.50 for a 10-inch and  $19.99 for a 16-inch), positively lush with fresh veggies and green chilies.
108 Rio Grande NW
Albuquerque
New Mexico
Start your appetite's engine with crispy, chicken-stuffed spring rolls (three for $4.50) or Loog Chin Ping (eight for $5.75), which reinvents the meatball by grilling it and serving it on skewers with peanut sauce. The coconut soup ($4.50 cup, $8.95 bowl) is a Jasmine specialty. Curries are central to the menu of carefully prepared Thai favorites. Try shrimp green curry ($10.95) or pineapple chicken in red curry ($9.25). To venture beyond the curry boundaries, sup on a wok-fried dish such as mango chicken (lean and tender chicken betrothed to tangy mango, $9.50). Moo Tod ($9.95) consists of six pieces of pork tender enough to serve as pillows for gnomes, if dozing gnomes didn't mind being marinated in garlic-pepper sauce.
4320 The 25 Way NE, Suite 300
Albuquerque
New Mexico
Fingers of thick orange flame bend around red brick, heating hand-rolled pizza dough to temperatures of up to 1,000 degrees. In roughly three minutes, the pie emerges with a delicate, golden crust covered in marinara and gooey melted cheese. It's this innovative cooking process that earned RedBrick Pizza a spot on Entrepreneur magazine's 2005 list of top 500 franchises, a 2006 feature in Nation's Restaurant News, and various other press mentions. But its offerings aren't limited to specialty pizzas. Besides hand-tossing all pies with no MSG or fillers, chefs can also spurn wheat flour by preparing Italian dishes from a separate gluten-free menu. Trademark Fhazani sandwiches integrate fire-roasted dough with fresh ingredients such as pesto, mozzarella, and arugula. Italian party packs supply festivities with breadsticks, all-natural gelato, and pizzas to wrap around the host's head in a traditional party turban.
2641 Coors Blvd. NW, Suite D
Albuquerque
New Mexico
505-839-7333
New Mexican, was featured on the Food Net work, The travel Channel also on HDHET. I make the food like it was made with liove when your grandmother would cook. It's made fresh everyday. Open 7 days a week from 7:00 t0 2:00 pm everyday. Come on by gives a try. You won't go wrong. You will also get treated like part of the f
230 6th St. SW
Albuquerque
New Mexico
At Chef's Bistro, the full menu is available open to close. Shatter the rules of breakfast with applewood-smoked bacon cheddar burgers ($7.95). Redefine the rigidly narrow confinement of brunch with steak and eggs ($9.25), huevos rancheros ($6.95), or sausage gravy on home-style biscuits ($5.75). The truly insane can tempt fate by ordering a caffeinated cup of coffee ($1.50) to go with their lunch even if they're already awake.
3250 Coors Blvd. NW
Albuquerque
New Mexico
---