Estelle, LA Drs and Health Practioners
---
Drs & Health Practitioners Deals
---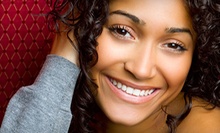 Central Business District
Experienced dentist cleans and examines teeth, as well as performs four bite-wing x-rays
---
Recommended Drs & Health Practitioners by Groupon Customers
---
Dr. David Edwards and Dr. Sean Lamy co-captain Source Chiropractic and Rehab, skillfully treating the spine and its neighboring musculature—Dr. Edwards even travels with the New Orleans Saints as their go-to sideline aligner. Upon arrival at Source, as a new patient you will be asked to fill out paperwork about your medical history and disconcerting condition, which will be followed by a consultation with one of the doctors. Combining the information gathered during a one-on-one chat about present physical ailments and concerns and the results from standard neurological, orthopedic, postural, and physical examinations (testing your reflexes and mobility), your doctor will begin to determine the best course of treatment.
4033 Veterans Memorial Blvd., Suite D
Metairie
Louisiana
A visit to the Harvey dental practice promises a friendly staff that will make you feel more at home than the unfriendly staff at your current home. After a visual examination of your teeth, a full cosmetic consultation with the friendly doctor will mimic 12th-grade visits to the guidance counselor with a chat about your pie-hole's potential. The doc will present you with a variety of available options to direct you on the right path toward a Daytime Emmy Award–winning smile. You'll be sent home with a week's worth of Nite White do-it-yourself teeth-whitening products to administer before bed for 5–7 nights. As you slumber, Nite White's mild solution of teeth-bleaching peroxides will labor like a camp of miniature Zambonis to scrub away food, coffee, tobacco, and syrup stains, leaving your smile embrightened and betwinkled.
1705 Lapalco Blvd., Suite 2
Harvey
Louisiana
The licensed massage therapists at Ready2Relax send calming ripples across muscles with comforting bodywork. Contended sighs drift across the studio as the medium pressure of flowing Swedish strokes tempers aches. The therapists are also trained in deep-tissue pressure or reflexology, which can help to access pain situated deeper in tissue. Volcanic rocks soak up warmth, letting them slip across tense musculature to improve mobility after working out or smashing all the cinder blocks at a rival karate dojo.
3201 Cleary Ave.
Metairie
Louisiana
504-616-4097
At Juban Dental Care, Dr. Michael Juban and a team of skilled technicians fortify smiles with preventive and cosmetic services. A doctoral graduate of the Dawson Center for the advancement of dentistry, Dr. Juban has the experience to handle complex, full-mouth restorative cases and employs the latest technology, such as digital x-rays and Opalescence or Zoom! teeth-whitening products. Visiting guests can abandon their stresses in the office's calm environment, marked by beige-colored walls, plush leather furniture, and paintings of saxophonists. As a dental expert cleans plaque or sets crowns, patients can watch the flat-panel television positioned above the treatment chair or stare through the window to awkwardly lock eyes with the tooth fairy hiding in the bushes.
8564 Jefferson Hwy., Suite A
Baton Rouge
Louisiana
225-927-8663
From Kim, Stephanie, Myra, and Crystal at the reception desk to doctor's assitants Chassity and Ashle in each exam room, Chiropractic Health Center's staff members strategically work together to devise custom treatments for patients seeking higher levels of health and wellness. Having served the New Orleans area for 27 years, the friendly front-desk receptionists greet visitors before quickly ushering clients to a private exam room where Dr. Debbi Barrett Hannan prescribes wellness therapies such as nutritional consultations, detoxification, weight-loss services, aesthetic services, and chiropractic therapies, such as cervical traction, percussion, and interferential therapy.
Full-time therapists Lauren, Ashley, and Chassity stand by to administer all doctor-prescribed treatments and show patients how to harmonize while saying "aaah." To assist with their treatments, the therapists employ advanced technology such as the DRX-9000, which can help patients with lumber disc problems avoid surgery, the Far Infrared Sauna, which is designed to efficiently remove toxins and heavy metals, and the EB-Pro cellular cleanse, which can balance the body's energies and promote comprehensive wellness.
Ideal Protein coaches Lauren and Daron help clients quickly lose weight with the help of a protein diet that controls carbs and rests the pancreas, putting the body into a mild state of ketosis to burn fat—instead of carbs—rapidly. The staff also wields Zerona lasers to further contour bodies without any downtime, uses Endermologie treatments to reduce cellulite, and creates personalized dietary supplement plans.
101 Clearview Pkwy.
Metairie
Louisiana
504-454-2000
At Hypnosis Delivers, certified hypnotist Mary Sammons helps people overcome their physical or emotional limitations with close to 30 years of experience in hypnosis, family-life education, and counseling. She uses a deeply relaxing process that allows clients to tap into their subconscious mind, addressing issues such as weight loss, addiction, or the inability to walk past a stop sign. Sammons is not only certified as a practitioner; she is also certified by the National Guild of Hypnotists to teach others how to perform hypnosis.
14165 Fenton Rd.
Fenton
Mississippi
---