Museums & Galleries in Estelle
---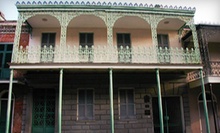 Staff usher tours through 19th century, two-story mansion in the French Quarter, highlighting Southern summer decoration customs
---
Recommended Museums & Galleries by Groupon Customers
---
The Southern Food & Beverage Museum quells culinary curiosities with ongoing exhibits celebrating the unique bites and beverages of the South. Permanent exhibits include Tout de Sweet: All About Sugar, which examines the role of sugar production in Louisiana, and A Table at Galatoire's, which traces the venerable restaurant's history through artifacts such as original plates and salvaged blue-cheese crumbles. Inside the museum, guests encounter The Museum of the American Cocktail, a Martha Stewart brand-endorsed knowledge vault that explores the history of mixed drinks from the 1800s to the modern day, housing original absinthe fountains and Prohibition-era flasks crafted from Al Capone's day planner.
1 Poydras St., Suite 169
New Orleans
Louisiana
With its imposing, slate-gray façade, the 170-year-old U.S. Custom House may be the last building in which you'd expect to hear the delighted squeals of children. But behind the steely columns, the building erupts into 23,000 square feet of colorful displays and fluttering, scuttling insects, courtesy of the Audubon Society and Insectarium. In the Asian garden, hundreds of butterflies dodge shafts of sunlight to alight on tropical ferns and the shoulders of young visitors. And at the Insects of New Orleans gallery, visitors can ogle the pink katydids, cockroaches, and lovebugs that contribute to the city's heritage.
These bug-filled displays are all part of the insectarium's mission to conserve Louisiana's indigenous species and inspire stewardship in its visitors. While adults can sate their curiosity with the vast array of exotic species, curators gear many displays toward young guests by making them lighthearted and interactive: the Field Camp's entomologist answers questions about how to collect bugs or break up flea-circus strikes, and at Bug Appétit, chefs dole out insect-filled delicacies to adventurous palates.
423 Canal St.
New Orleans
Louisiana
---