Estero Cleaning and Home Services
---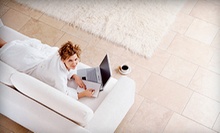 Ecofriendly cleaners employ nontoxic, organic methods to scour dirt from upholstery, carpet fibers, and tile
---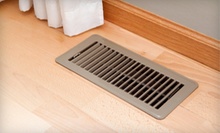 Insured techs clear detritus and allergens from air circulation systems to improve indoor air quality and optimize energy efficiency
---
Recommended Home Services by Groupon Customers
---
Cleaning your kitchen and bathroom often results in the antiseptic scent of bleach and artificial pine. EcoMaids uses only nontoxic, chemical-free products that won't harm your family, your pets, your family's family of pets, your pet family, or the environment. These gentle yet effective products will get your surfaces sparkly clean without damaging your furniture finishes or utility surfaces. EcoMaids will dust, spray, scrub, wipe, scrub, wipe, mop, and sweep your floors, surfaces, baseboards, and more. They'll empty the garbage, clean the encrusted Lean Cuisine from your microwave, and fold your toilet paper into a welcoming triangle. Instead of you having to go on an expedition to find dishes lurking under your housemate's bed, EcoMaids will gather and load your dishes into your dishwasher for you. If you don't have a dishwasher, EcoMaids will clean your crusty bowls by hand. Click on EcoMaids' checklist to get a full run-down of the services they provide. Initial kitchen and bathroom cleaning starts at $49.50; add on additional bathrooms for $15 each. For the whole house, cleanings start at $69.50 with room add-ons at $12. For a custom cleaning, get one hour with two cleaning technicians for $50 (each additional 15 minutes is $10).
2103 Reynolds St.
Sarasota
Florida
Like sentient swiss army knives with arms and legs, Tru-Clean Carpet & Tile Care's technicians have the tools and know-how for any task. Before they can don a crisp Tru-Clean uniform, the carpet cleaners must undergo extensive training and earn an official certification from the internationally trusted IICRC. Only then can they wield Tru-Clean's powerful Evolution carpet-cleaning wand. Armed with this and other advanced cleaning products, they take to sullied floors, fighting stains from the carpets, upholstery, and tile of households and businesses throughout Lee County.
In lieu of rare and costly whale tears, they use nontoxic, environmentally kind cleaning solutions from Planet Guard, storing all their products in recyclable containers. This means that carpets are immediately safe for tots to crawl over and pets to play upon. For more expansive messes, the cleansing gurus also scrub grout, clean mattresses and leather, and chase off bedbugs.
4519 SE 16th Pl.
Cape Coral
Florida
239-541-4888
Standing behind the high-pressure nozzle of a professional-grade power washer, Mike scrutinizes an unsavoury patch of mildew and takes aim. The mettle and muscle behind Hammerhead Power Washing, Mike puts the kibosh on buildup across driveways, siding, pool cages, and more. He focuses his energies entirely on scouring residential and commercial surfaces with fast-moving H2O to rid these expanses of oil stains, moss, and the indelible memories of their previous owners.
1008 NE 40th St.
Cape Coral
Florida
239-200-5910
The fully licensed, insured, and bonded staff at A Pro Cleaning tackles household tasks so that homeowners have more time to enjoy with friends and family. To safeguard the health of its inhabitants, they clean each home using only products that are safe for use around children, pets, and allergy-plagued vacuums. Beyond one-time cleanings and biweekly visits, they also extend their cleaning prowess to move-in and move-out services, and can lend a hand to special events through preparation help or post-party cleanups.
PO Box 11236
Naples
Florida
239-450-5580
WeTidyUpUSA's carefully screened and insured staffers patrol homes, looking for grime on kitchens, bathrooms, and floors. Guided by a detail-oriented checklist, cleaners wipe down baseboards, fluff pillows, and eradicate fingerprints without disturbing the crime-scene tape surrounding your missing candy bar's wrapper. Sessions can also be tailored to customer-identified problem areas. WeTidyUpUSA also offers [packages], which correspond with different clean intensities, ranging from deep cleans to lighter once-overs focused on silencing squeaky hinges. A 100% satisfaction guarantee backs all its work, and teams will return to finesse their cleans if clients so request
2528 Alling Terrace
North Port
Florida
855-938-4398
Insured technicians from Mr. Clean Window Cleaning cleanse panes with biodegradable products that leave them shining and protected from the elements. During their six-step window-cleaning process, crew members wipe screens, squeegee edges, and rid glass of incorrect geometry proofs. Mr. Clean Window Cleaning also offers pressure-washing services to blast away dirt and grime from home exteriors, and interior cleaning services cover french doors, light fixtures, and mirrors. The final step of each service is a customer inspection, backed by a 100% satisfaction guarantee.
562 Oak Bay Dr.
Osprey
Florida
941-445-5386
---