Beer, Wine & Spirits in Etobicoke
---
Beer, Wine & Spirits Deals
---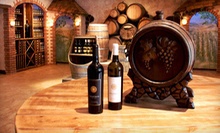 Family vineyard creates eastern European-style wines from all-natural grapes, surrounded by lush landscapes
---
Recommended Beer, Wine & Spirits by Groupon Customers
---
Beyond just a shared enthusiasm for wine, the staffers at Vine Masters are vintners themselves, constantly crafting and sampling the fermented fruits of their labour. Exclusively stocking RJ Spagnols wine kits, Vine Masters offers visitors the opportunity to create more than 225 types of wine. The team makes sure each batch of vino is taken care of from start to finish, tending to varietals by moving them into sanitized containers and then stabilizing, filtering, and singing "I Heard It Through the Grapevine" to their contents each night.
304 St. Andrews St.
Cambridge
Ontario
The winemakers at Vin Bon, using juices from international harvests, invite customers into the winemaking process, helping them craft their own vintages without the time-consuming steps of squeezing, straining, and background-checking their own grapes. After helping guests select their juice, the winemakers monitor and blend ingredients in each batch on its journey through fermentation and filtration. In additional to their winemaking services and kits, Vin Bon sources premium juices and grapes, such as cabernet sauvignon and riesling.
1765 Keele St.
Toronto
Ontario
416-651-7626
Powered by more than 45 years of collective experience, the staff members at Great Fermentations share their technical know-how with the public through classes and an intimate knowledge of the store's merchandise. Beginner-friendly brewing courses teach the fundamentals of successful beer creation, overviewing the process, ingredients, sanitation, and how to do a proper keg stand. A huge selection of brewing supplies makes it easy for alumni to go forth and prosper with all the appropriate equipment and ingredients. Great Fermentations also stocks provisions for creating homemade sodas, wines, and a variety of cheeses.
201 Danforth Avenue
Toronto
Ontario
CA
Under the direction of master winemaker David Johnson, the team behind Rootstocks celebrates wine by leading clients through vine-to-bottle experiences at its pesticide-free vineyard. Members participate as much or as little as they like in producing their own wine, joining any part of the year-long process that includes barrel sampling in the winter and crop thinning in the summer. Located on 10 acres in Niagara wine country, the red clay soil nourishes grapes such as cabernet franc, chardonnay, and pinot noir, all of which Rootstocks' team helps visitors turn into their signature blends. After the grapes have been harvested by hand, processed, aged in barrels, and assigned astrological signs, an in-house graphic designer helps clients create their own custom labels.
4101 King St.
Beamsville
Ontario
905-562-3373
Herbert Konzelmann was in a pickle. He took the reins of his great-grandfather's winery in Germany just around the time that the country's growing population needed more land. Unable to acquire the acreage he needed to expand, Herbert uprooted his business from his homeland and moved to Niagara-on-the-Lake in 1983. He chose the shorefront spot due to its balance of sun, soil, airflow, and moisture that mimics the climate of the many successful wineries started inside of deserted terrariums. He and his staff—many of whom are part of the Konzelmann family—strive to produce low-yield, high-quality wines. To achieve this, they handpick grapes from the oldest vines to create award-winning vintages in their signature style: a clean, delicate, and fruity pour. The lush lakefront vineyard also serves as a backdrop for weddings, corporate events, tours, and tasting.
1096 Lakeshore Rd.
Niagara-on-the-Lake
Ontario
905-935-2866
---