Etobicoke Health and Fitness
---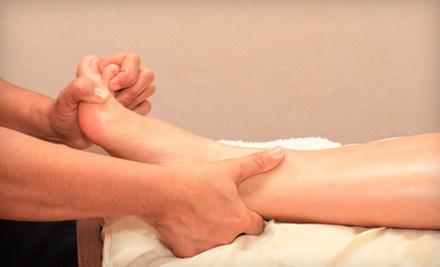 ---
Recommended Health & Fitness by Groupon Customers
---
Before there was even an address, there was a mission. Founded in 2004 and opened in 2005, Inspired Life Health Centre seeks to "bring clients to greater levels of health by providing quality health care and education," according to its website. Inside an "un-clinic" atmosphere, a team of registered massage therapists, a naturopathic doctor, a holistic nutritionist, and an acupuncturist help patients achieve wellness with holistic services. Unlike traditional medicine, the centre's homeopathic treatments work to boost the body's innate ability to heal itself without a stethoscope.
5-320 Danforth Ave.
Toronto
Ontario
416-461-8688
Sleek white couches sit pristinely below a modernist chandelier, overlooking a manicured row of bamboo stalks. If guests arriving in Thornhill Smile Centre's waiting room feel as though they have taken a wrong turn into a nearby spa, that's no accident: Dr. Hagi and his corps of teeth-cleaning experts have worked for years to create the most comfortable, relaxing dental experience possible. Once inside treatment rooms, guests sink further into luxury, snuggling beneath warm blankets and using contoured pillows to cradle necks while remaining en garde for an impromptu pillow fight. Gentle vibrations massage backs during procedures while satellite radio or HDTV further distract minds from treatments. All the while, top-of-the-line technology streamlines experiences, with virtual mouth modeling, digital X-rays, and noise-dampened hand pieces.
30 Disera Dr., Suite 210
Thornhill
Ontario
905-709-3177
For more than seven years, Healthy Smile Dental Hygiene's registered dental hygienist Isabel Da Silva has been living out her dream of working one-on-one with patients inside her private practice. Her exuberance for such specialties as teeth whitening, oral cancer screenings, and pit and fissure sealant applications has led her to share her expertise by teaching at dental hygiene schools and serving as a clinic coordinator at Medix School in Brampton. Efficient and organized, Isabel's office keeps waiting to a minimum, preventing bored patients from organizing thumb twirling Battle Royales.
108A-164 Queen St. E
Brampton
Ontario
289-752-1340
A passionate cyclist and marathon runner, Doctor of Chiropractic Kris Dorken educates his patients on how the body works as well as the importance of good nutrition and exercise. At Core Wellness Centre, he—along with an experienced team of health-care professionals—offer a slew of services to improve their patients' overall well-being, such as chiropractic adjustments, massage, and specialized nutrition counselling. Dr. Dorken also has extensive experience with pediatric chiropractic and working with athletes of all ages.
555 St. Clair Ave. W, Suite A
Toronto
Ontario
416-479-8311
Workout buddies Guylaine and Rina founded their yoga studio on the central idea of creating a space where people can centre their minds amid a calming, social atmosphere. Autumnal notes of orange and cool, dark purples accent the polished hardwood floors and loft ceilings, and a lounge invites visitors to stay and chat in plush semicircular easy chairs while they wait in vain for marshmallows to roast in the roaring digital fireplace. Students fine-tune their bodies during a diverse range of yoga and Pilates classes, such as hot power yoga, Pilates Body Sculpt, Yogalates, and hot Pilates. The studio also hosts specialized workshops that include yoga for teens and a class for students new to yoga.
6175 Hwy. 7, Suite 12
Vaughan
Ontario
905-856-6056
A naturopathic doctor and published author, Jean-Jacques Dugoua—dubbed Dr. JJ by his regular patients—proves his dedication to multi-disciplinary healthcare as he betters bodies via holistic, natural treatments. Under Dr. JJ's capable helm, Liberty Clinic's team of health professionals lavishes all manner of wellness-boosting treatments upon ailing patients, from Nutritional IV therapy to slimming mesotherapy sessions to help frames fit back into their high school shadows.
360 College St., Suite 301
Toronto
Ontario
---