Restaurants in Etobicoke
---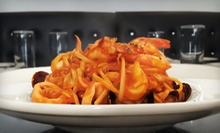 Rich italian cream and spicy tomato sauces simmer around cuts of grilled chicken or spice up the layers of housemade pasta in lasagna
Use Monday 11:30am - 4:00pm
---
Recommended Restaurants by Groupon Customers
---
The buzz surrounding the Fairmont Royal York doesn't just come from reporters or bloggers. It comes from the bees—as many as 350,000 of them—that reside in six carefully managed hives in the hotel's rooftop garden. Every year, beekeepers here harvest an average of 450 pounds of honey, some of which ends up a few floors down in the kitchen of Epic Restaurant. There, sustainability-conscious chefs bake the sweet local syrup into pastries and drizzle it onto artisanal cheese plates, a testament to their commitment to eating locally.
That commitment doesn't stop with honey. From organic chicken raised at nearby Yorkshire Valley Farms to ramps foraged in the Ontario woods, most of the savory ingredients on Epic Restaurant's seasonal menus are sourced from within 100 kilometers of the hotel. Some herbs, such as the chili that flavored a recent seafood pasta, are also harvested from the rooftop.
The chefs attend to ocean sustainability by using seafood approved by the Vancouver Aquarium's Ocean Wise program, including Vancouver Island spot prawns, Atlantic halibut, and Nova Scotia sea bream.
100 Front St. W
Toronto
Ontario
416-860-6949
On a nondescript St. Lawrence Market District street corner, one of the area's top fine dining establishments hides inside an unassuming brick building. Lucien's almost industrial-looking facade is a stark juxtaposition to an interior where chandeliers and velvety red curtains contribute to a refined yet welcoming space. Customers dine flanked by an elegant marble-topped bar and a sectioned wall behind which the kitchen staff can be spied conjuring up the restaurant's acclaimed dishes, all made form locally sourced ingredients.
Experienced restaurateur Simon Bower crafted the eatery's attitude, decor, and classic menu, which stars such gems such as lobster bisque and foie gras torchon. Thanks to Simon's vision, Lucien's genial milieu exudes the elegance of fine dining in an unstuffy, cozy setting. The establishment has won numerous awards for its overall quality, being praised as "the city's best new restaurant" by Toronto Life magazine and placed among enRoute magazine's top 10 restaurants in Canada. Meals can be capped off with an artisanal cheese plate ($16) or sake cheesecake ($11).
36 Wellington St. E
Toronto
Ontario
416-504-9990
Commensal's chefs whirl all natural and organic ingredients into a series of hot, cold, and dessert items that showcase vegan, ovo, and lacto foods. A variety of accolades has been bestowed upon the restaurant and its selection of succulent dishes such as butternut-squash soup, florentine quiche, or lasagna—all of which are clearly marked with nutritional information. Patrons can load up on hummus, chickpea salads, or avocado in capers vinaigrette before seeking out freshly squeezed juices or fair-trade coffees. Dessert options such as key-lime pies, hazelnut cakes, or tapioca pudding are also priced per kilogram, allowing patrons to fill their purses until they're overflowing.
655 Bay St.
Toronto
Ontario
416-596-9364
Chances are W Burger Bar serves a kind of burger you've never tried before. The restaurant's menu boasts nine different kinds of burgers: locally raised beef, bison, lamb, kobe, turkey, chicken, salmon, Portobello, and veggie. If you've tried all those, you can spice things up with one of the bar's toppings, ranging from goat and feta cheese, to garlic-herb mayo, cilantro yogurt, and beets. After customizing the burger to your specifications, chefs top them with preservative-free buns.
Out in the dining room, diners can enjoy hand-cut fries or pulled-pork poutine while watching the bar's flat-screens TVs. Guests can pair burgers with sodas, hand-spun milkshakes, or draught beer, including local Sleeman brews.
10 College Street
Toronto
Ontario
416-961-2227
At Casa Manila, named the best Filipino restaurant in blogTO.com's Best of Toronto, the scents of saffron, coconut milk, and tamarind slip among rustling walls of potted plants. Grass-thatched windows and bamboo shoots hint at the fistfuls of veggies that accent braised meats, grilled king fish, and stews. The dishes all display the exotic style of Filipino fare, which combines Malay, Spanish, Southeast Asian, and Chinese influences. Warm-hued lights, draped in fabric printed with frolicking animals, illuminate the plates, and imported Sarsi, a Filipino root beer, bubbles alongside them. On the patio, umbrellas shelter diners from the hot sun and the sight of clouds being born.
879 York Mills Rd.
Toronto
Ontario
416-443-9654
At malls, atriums, and street locations across Canada, Feta & Olives counters stand like bright-green beacons, calling out to weary shoppers with the promise of authentic Mediterranean specialties. The kitchen crew fires traditional souvlaki and grilled, spiced meats and prepares specialties according to customer preferences. The menu includes falafel, salads, and Mediterranean chicken entrees, which may be served as dinner platters or wrapped in pitas for easy transport and last-minute anniversary gifts.
16 Yonge St.
Toronto
Ontario
647-352-3381
---