Tours in Etobicoke
---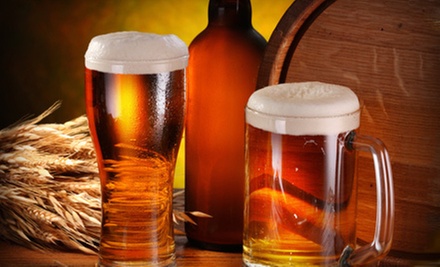 ---
Recommended Tours by Groupon Customers
---
Under the leadership of tour veterans Steve Woodall and Jason Kucherawy, Tour Guys' team of knowledgeable guides combines talents from other professions to lead entertaining tours of Vancouver and Toronto. Actors, comedians, history buffs, and teachers exchange their workplace attire for comfortable clothes and a stylish thinking cap to chauffer clients around historic neighbourhoods, dispensing facts while showing them a side of the city not often seen. Guides direct both free daily tours and affordable paid sessions, including ghost tours, graffiti tours, beer tours, and walking tours that follow the Nordic explorers' first pub crawl. Steve and Jason also host tour classes that teach future guides the skills needed to host their own fun and educational tours.
NW Yonge St. & Front St.
Toronto
Ontario
647-230-7891
With Toronto Heli Tours, before you travel by air, you have to travel by water. All clients have to take a brief ferry ride to reach the Toronto Heli Tours outpost at Billy Bishop Toronto City Airport, where pilots guide a fleet of choppers skyward all year round. From their perch 2,000 feet above sea level, passengers take in sweeping glimpses of city landmarks, including the Spadina Museum, Maple Leaf Gardens, and the Air Canada Centre, during expeditions. The copter will also complete a fly-by of the CN Tower, which held the title of world's tallest free-standing structure from 1976 until 2007—31 years of towering over structures in other countries and centres from visiting NBA teams.
Hangar 6, Suite 216
Toronto
Ontario
416-203-3280
Urban Quest showcases some of Canada's largest cities in an unconventional, informative light, crafting memorable adventures that often culminate with a delicious meal. Metropolitan buccaneers sign up for an Urban Quest account and then decide which inner-city adventure they wish to undertake, be it the pursuit of city history, natural wonders, or a mermaid with doubloons for scales. A clue packet accompanies each quest—ranked easy, medium, or hard—and directs curious citizens to scour the city for leads, which eventually guide them to a mystery restaurant or coffee shop. This voyage gives participants a new understanding of the city they live in and stuffs their noggins with facts and information about key buildings and landmarks. At the same time, Urban Quest offers ramblers a fresh dining experience, frustrating supercomputers whose circuit boards only allow for the taste of oatmeal. Participants can also opt out of a restaurant visit and simply race the clock, as restaurant tabs are not included with this Groupon.
As quests typically last 90 minutes and span 3–4 kilometres of walking, they are best suited for groups of two to four adventurers, though buyers may make their teams as big as they'd like. Learn more by checking out a demo quest and Urban Quest's FAQ page.
19 Mapleview Drive
Barrie
Ontario
Canada
Air Combat Zone maintains a group of CF-18 flight simulators that have impressed real-world fighter pilots with dead-on recreations of actual cockpit sensations. In a single visit, civilians with no aviation experience transform into ace pilots capable of flawless aircraft-carrier landings and dogfights victories over enemy planes. Designed to outdo mere video gaming or jumping off your roof, Air Combat Zone takes guests through an immersive, detailed experience using actual military terminology. Detailed training with computers accompanied by propeller noises create a realistic, high-stakes experience. Once in the simulators, sky warriors find themselves at the helm of an F/A-18 Hornet fighter. The simulator is built with exact replicas of the venerable Boeing jet's throttle, heads-up display, and instrumentation, with the action outside the plane projected onto a dizzying 8"x6" screen.
5170 Dixie Rd. , Suite 101
Mississauga
Ontario
905-602-4775
What muffles the subway vibrations at Four Seasons Centre? When was Old City Hall constructed? How many pucks were used as insulation for the Hockey Hall of Fame? The answers to these questions and countless others reside within the brains of LiveToronto's tour guide, Dustin Fuhs. Playing the dual roles of narrator and photographer, each guide leads groups on walking tours that explore a customized lineup of destinations, some of which have made Dustin's personal bucket list. Tourists can strike poses for the camera next to the Royal York Hotel or belt their favourite opera song next to Massey Hall's famous red doors, which have welcomed countless musicians since 1894. LiveToronto snaps photos during all tours, which staffers edit and email directly to sightseers' memories.
137 Isabella St.
Toronto
Ontario
647-637-0832
---