Shopping in Eugene
---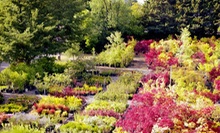 Flowering dogwood and crabapple trees; nursery with more than 4,500 varieties of ferns, trees, perennials, shrubs, and grasses
---
Recommended Shopping by Groupon Customers
---
When it comes to filling women's wardrobes, Little Black Dress aims to be as ubiquitous as its namesake apparel. The consignment shop inches closer to its goal with every addition to its inventory, a meticulously curated collection of vintage designer clothing. Jimmy Choo shoes, Coach handbags, and apparel by Oscar De La Renta, Ralph Lauren, and Zac Posen fill the racks and shelves, which undergo constant makeovers as new items pour in. In addition to upscale items, Little Black Dress also stocks casualwear such as T-shirts and jeans, the official garments of weekends and National Blue Jeans Day.
2134 Main St.
Springfield
Oregon
541-743-0996
At My Little Children, parents discover a variety of new and lightly used treasures from such brands as Gymboree, Gap, and The Children's Place, dressing their progeny in comfortable duds while keeping them occupied for hours with fun gadgets and whatchamacallits. A quality-controlling set of consignment guidelines ensures each item is spotlessly clean and meets the famously discriminating tastes in style held by all toddlers. Kids romp in colorful threads, aided in their playtime by the shop's ample collection of toys as parents stock up on strollers, highchairs, and kids' furniture.
1622 Coburg Rd.
Eugene
Oregon
Kari and Christy, longtime friends and devoted mothers, founded Ever After Resale as a way to graciously part with their own children's gently used name-brand clothes. The pair organizes twice-yearly consignment events in Eugene and Portland, subjecting consignor's garments and furniture to strict quality guidelines and ensuring their name-brand status with a textile polygraph test. Mothers-to-be can also find maternity wear and nursery furniture.
3991 Elmira Rd.
Eugene
Oregon
Urban Lumber Company's woodworkers snatch still-viable wood from the mouth of the landfill and repurpose it into signature slabs of lumber or vibrant, handcrafted furniture. Operating an onsite sawmill and dry kiln, they shape pieces inspired by the natural colors and size proportions of each storm-damaged, dead, and chopped tree they use, blending different grains and edges into distinctive final products. Urban Lumber Company can equip builders with cabinet- and furniture-grade woods for their own projects, as well as instrument-grade tone woods for guitars, mandolins, or mannequin replicas of Duran Duran.
28 E Broadway
Eugene
Oregon
As a Verizon-authorized retailer, Wireless Source not only stocks cell phones, tablets, and wireless devices but they also connect their electronics to Verizon's network, the largest high-speed network in the US. For the past 13 years, the shop's tech-savvy staffers have guided patrons through the nuances of high-tech gear such as the HTC Rezound— a smartphone equipped with high-performance headphones—and the Samsung Galaxy Tablet with 1 GHZ and a swift 4G LTE connection. Thanks to various data plans and several bunk beds, the shop can accommodate both families and individuals.
1711 Willamette St., Suite 301
Eugene
Oregon
In more than 1,112 stores worldwide, Edible Arrangements' Fruit Experts arrange pieces of premium fruit in stunning displays for all occasions. Customers can customize their order to suit any occasion, receiving chocolate-dipped fruit such as pineapples, granny-smith apples, and juicy strawberries that, unlike the sodas found in most mummies' crypts, don't contain any preservatives. Fruit Experts can dip fruit in gourmet semisweet or white chocolate. For birthdays and anniversaries, chocolate wielders can personalize bouquets with gifts such as plush teddy bears and mylar balloons.
1011 Valley River Way
Eugene
Oregon
541-686-3080
---