Things to Do in Eustis
---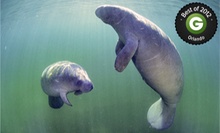 Guides lead snorkelers on safe, 2.5-hour tours of Crystal River National Wildlife Refuge to cavort with west indian manatees in warm waters
---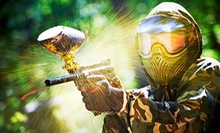 60 acres of outdoor paintball grounds; 15 playing areas strewn with forts, planes, and obstacles
---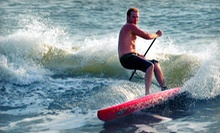 Surfers paddle out on the waters of New Smyrna Beach for a freewheeling half-day of catching waves
Use Friday 10:00am - 1:00pm
---
Recommended Things to Do by Groupon Customers
---
With the 2011 season looming large, FC Tampa Bay will attempt to pass, tackle, and score its way to NASL glory at the club's new home at Al Lang Stadium in St. Petersburg. Currently headed up by English coach and retired professional footballer Ricky Hill, the FC Tampa Bay team are chest-trapping, banana-kicking, and head-butting their way back into the world of black-and-white-spotted balls. Watch them take on the Puerto Rico Islanders, who are hungry to work their way up the 2011 standings, or root on the roster as the team guns for the fleet-footed Atlanta Silverbacks, slippery Carolina Railhawks, or northerly FC Edmonton. General-admission seats allow frenetic fans to observe the fantastic flairs of NASL soccer savants as they attempt to sneak the European pigskin between an opponent's legs and through the goal zone. The $20 gift voucher can be put toward merchandise such as a jersey, a scarf, or an oversized foam yellow card.
3802 W Dr. Martin Luther King Jr. Blvd.
Tampa
Florida
A bastion of family-friendly arts and entertainment since its curtain first rose in 1983, Ruth Eckerd Hall demonstrates its commitment to the community through concerts, movie screenings, and all-ages education at the Marcia P. Hoffman Performing Arts Institute. Graduates of the school go on to star in musical and theater productions on the stage, overlooking 2,180 sloping seats arranged continental style for great sightlines and impeccable acoustics.
1111 N McMullen Booth Rd.
Clearwater
Florida
727-791-7400
Florida Orchestra has delighted ears across the Tampa Bay area for 44 seasons filled with time-tested masterworks and sprightly pops concerts. Created in the 1968 merger between the St. Petersburg Symphony and the Tampa Philharmonic, Florida Orchestra ties the two sides of the bay together into one musical tradition. The ensemble has continued its program of outreach ever since, which has recently included cultural exchange programs with Cuba, collaborations with local institutions, and the tradition of allowing one lucky child to sleep inside a tuba during each performance.
244 2nd Ave. N
St. Petersburg
Florida
727-892-3337
From the outside, Professor Wonder's WonderWorks laboratory appears to have flipped completely on its head. When visitors enter the upside-down edifice, they must first pass through the psychedelic, spinning lights of the Inversion Tunnel, which turns the building right-side up for families to embark on a full day of entertaining, educational activities. More than 100 interactive exhibits spark excitement around natural phenomenon, including replica space capsules that visitors can climb into, a gallery of mind-bending illusions, and the lab where Cabbage Patch Kids are grown in petri dishes.
Some of WonderWorks Orlando's hands-on displays allow guests to experience the aftershocks of the San Francisco earthquake of 1989, throw a strike against Derek Jeter, and lie down on a bed of 3,500 sharp nails without so much as a scratch. Additional activities include the Indoor Ropes Challenge Course, which exercises bodies and minds as challengers navigate three stories of swinging beams and suspension bridges, and the XD Theater 4D, which transports viewers to swift canyon roller coasters, haunted mines, and Mars with full-motion seats and 3-D visuals.
9067 International Dr.
Orlando
Florida
Inspired by his own love of exotic cars, Joe Sabatini's Festivals of Speed has been parading a fleet of the world's snazziest automobiles before crowds at several fancy Florida hotels and resorts for a full decade. His who's who list of cars includes vintage and contemporary models from Porsche, Lamborghini, Bugatti, Rolls-Royce, and Aston Martin, some so frighteningly aerodynamic that the wind refuses to blow on them. All rest in silent repose, waiting to be unleashed to qualified drivers through a special Ride and Drive program.
To complement the automotive elegance, the event planners have made arrangements for soft jazz, luxury lifestyle displays, and sumptuous snacks perfect for tossing to Bentleys as they hop up on their hind wheels. The festival also attracts speedy species of watercraft, aircraft, and custom motorcycles, as well as classic and restored cars submitted by local auto enthusiasts. Alongside its vehicle lineup, the festivals also showcase jewelry, fine art, real estate, and culinary gems to cater to all manner of luxury aficionado.
10400 County Rd. 48
Howey-in-the-Hills
Florida
Since 1922, St. Petersburg Museum of History has preserved the heritage of St. Petersburg and the Pinellas Peninsula with expansive collections and four galleries that host annually rotating exhibits. Its permanent exhibits, meanwhile, trace the area's history from Native Americans to the present day through artifacts such as a cannonball fired by Union sailors and replica of a parlor car from the Orange Belt Railway. Elsewhere, the World's First Commercial Airline Gallery charts commercial aviation history with a full-size working replica of the Benoist Airboat and the first-ever pterodactyl to earn a commercial-flying license. Visitors looking to delve deeper into the past can explore more than 32,000 artifacts in the museum archives or partake in one of its educational programs such as tours, community classes, and camps.
335 2nd Ave. NE
St. Petersburg
Florida
727-894-1052
---