Restaurants in Evans
---
Recommended Restaurants by Groupon Customers
---
Saluda's Restaurant celebrates many histories. Its solid mahogany bar was part of Philadelphia's Blakely Hotel in the late 1800s, its walls sport vintage European posters advertising festive drinks, and its menu pays homage to timeless Southern staples, from shrimp and grits to artfully grilled rib eyes. Perhaps the greatest nod to the past is the building itself, which was constructed after World War I as a VFW officers club. There, veterans would gather to carouse and reminisce, fostering a convivial tradition that Saluda's has since restored and nurtured.
Executive chef Blake Fairies fuels the animated atmosphere with dishes whose down-home roots benefit from French and Italian influences. His prime concern is freshness—in an interview with Undefined magazine, he revealed how his fish du jour is often prepped the day after his friend Mark, a member of Abundant Seafood in Charleston, lures it onto his boat with promises of a free tropical time share. Like much of the kitchen's produce, chef Blake's flash-fried green tomatoes come from local farms, and his entrees incorporate seasonal ingredients to complement ones imported from across the world. The results are plates that blend classic taste with inventive zest: steaks in black-truffle butter, helpings of handmade pasta, and pork chops brined in sweet tea. At the bar, guests can peruse more than 300 wines as well as cocktails and small-batch bourbon.
751 Saluda Ave.
Columbia
South Carolina
Eric Leon has been wrapping enchiladas and simmering the spices of traditional Mexican cuisine since he was 12 years old. Now, he helms a team of chefs as they bury crispy chimichangas beneath mounds of melted cheese, serve heaps of shrimp and bell peppers in a still-sizzling skillet, and marinate chunks of chicken in a dark, chocolaty mole sauce. Authentic dishes such as these have earned San Jose Mexican Restaurant its spot as Columbia's Best Mexican Restaurant according to Columbia Metropolitan readers. The eatery's popularity also stems from the lively environs: the glow of TVs and video games flicker off brick walls, and occasional live music encourages syncopated chewing.
6118 Garners Ferry Rd.
Columbia
South Carolina
When it comes to nightly entertainment, Joe's Underground Cafe fulfills plenty of pub requisites: trivia, poker, live music, and pint glasses brimming with domestic and imported beer. Although many of its dishes, such as Philly-style cheesesteaks and chicken wings, evoke classic pub grub, the cafe's culinary team doesn't limit itself. Chefs cater to more refined palates with almond-topped baked brie, whip up comfort foods such as peanut butter and jelly sandwiches filled with banana, and prepare homemade desserts.
The warm, no-frills bar sits at the bottom of hard-to-spot stairs, located beneath Augusta's SRP Federal Credit Union but still high above the city's subterranean mutant population.
144 8th St.
Augusta
Georgia
Chefs at Delhi Palace craft each piece of clay-oven-baked bread from scratch, evincing an attention to detail that helped earn them the title of Best Indian Restaurant 2010 from readers of the Free Times. Plain, topped with garlic, or stuffed with peppers or potatoes, this bread soaks up sauces from goat, lamb, and seafood dishes on the à la carte menu, and also pairs with vegetarian dishes formed from housemade cheese or roasted eggplants. In addition, lunch and dinner buffets lay out traditional dishes under the dark wood arches, ivory-painted columns, and Indian-style murals of the dining room.
542 St. Andrews Rd.
Columbia
South Carolina
---
---
Restaurant Deals - Recently Expired
---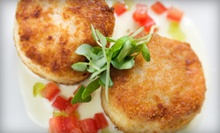 Entrees such as shrimp sautéed in garlic-cream sauce and blackened salmon in alfredo sauce over linguine
---
---