Evanston, WY Outdoor Activities
---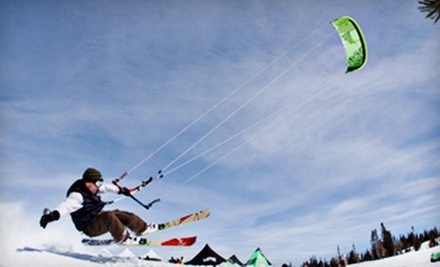 ---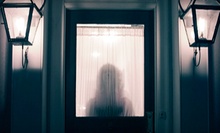 Guides lead a 70-minute exploration of Park City's famed haunts, including the Imperial Hotel and other historic sites
---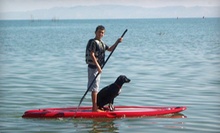 Paddle a standup paddleboard or kayak along Bear Lake's picturesque shores
---
Recommended Outdoor Activities by Groupon Customers
---
She Runs coordinates ladies-only races across the country, and provides weekend getaways that strike a healthy balance between fitness and relaxation. The organization's events send participants galloping across scenic courses, helping women from all walks of life unite whether or not they sing the bunny song when lacing up their running shoes. More than just a one-time endurance test, She Runs folds relaxing vacations inside retreats that are combined with group fitness classes, lectures from experts, and personalized coaching leading up to race day. A portion of each event's proceeds get poured into She Runs' mission of snuffing out diabetes.
Corner of Center and 100 North
Midway
Utah
When Utah High Adventure's staff members head into work, they don't sip coffee during meetings or ride the elevator up to an office on the ninth floor. Instead, they crash through raging whitewater rapids and rappel down the sides of canyons against a backdrop of sun-soaked red rocks. Years of training and education have earned them the certification and expertise to lead other thrill-seekers on rock climbs, which is more satisfying than scaling the granite backsplash of a neighbor's fancy kitchen. They also guide mountain-bike rides across Utah's rippling alpine trails. During the spring, summer, and fall months, the company hosts weeklong tours into the wild, which include lodging and equipment.
East Bench, 6500 South
Salt Lake City
Utah
801-733-6700
Gleaming under the pale light of the winter sun, blades slice along the smooth surface of Resort Center Ice Skating Rink, sending icy dust spraying in their wake. Surrounded by the quaint, Bavarian-style walls of the Village shopping center, the outdoor oval beckons guests wishing to discover what ice skating was like before indoor rinks confined it and ice sharks rendered neighborhood ponds off-limits. Periodically throughout each public-skate session, a zamboni buffs the subzero sheet to present skaters with a surface as smooth and gentle as the festive tunes filling the air. Guests circle around hand-in-hand, remarking on the surrounding Christmas lights and fir trees while fledgling skaters focus on their footing and grasp complimentary ice-skate trainers for balance.
Between pirouettes or mad dashes across the rink, hands can warm up with steaming mugs of hot chocolate in the skate house. Nearby, in the Village shopping center, more balanced meals can be found at Food for Thought or Kristi's Café, refueling skaters before they explore more than 40 winter-gear hubs and gift shops.
1425 Lowell Ave.
Park City
Utah
Mountains echo with the clicking of hooves on rocks as mountain vegetation waves in the breeze and the sun glistens on snow-dappled trails. Schools of fish scatter as a pair of slick rubber boots parts the waters—a fisher wading through thick river sediment before casting a line into the current. Rocky Mountain Outfitters' experienced outdoorsmen usher customers through all manner of seasonal wilderness adventures, including fly-fishing on the Provo River, snowmobile tours, and horseback riding along mountain trails. Many tours run through Soldier Hollow Valley, which played host to the 2002 Winter Olympics.
Visitors may encounter roving wildlife such as snow rabbits, moose, and fawns frolicking through varied landscapes for memorable photo ops or police sketch-artist renderings. Adventure packages combine more than one outdoor activity and include the Reins and Train adventure, a role-playing tour that merges a train trip with a horseback trail ride. Depending on the season, guests can board traditional wagons or horse-drawn sleighs towed by teams of clydesdales, belgians, and spotted draft, or they can lasso free-range dinner rolls during Old West–style outdoor meals.
633 W Soldier Hollow Dr.
Midway
Utah
435-654-1655
Morning Star Balloons ushers cloud hunters toward their quarry, navigating the skies as transfixed guests float high above Utah's pristine mountainscape. The seasoned, FAA-certified pilots employ experience flying military jets, winning numerous hot air balloon competitions, and establishing dominance over out-of-control umbrellas as they confidently steer the colorful vessels to heights of between 500–1,500 feet. Groups of up to 12 soar above Park City's lush landscape and during early-morning flights, with a complimentary champagne or nonalcoholic toast welcoming passengers back to solid ground. Despite its burgeoning fame through the TV shows The Amazing Race and Nitro Circus, Morning Star Balloons keeps a level head as it donates its services to local schools and charities.
2001 Park Ave.
Park City
Utah
435-645-7433
After moving to Utah in 1997, Will Westrate got right to work, assembling a team of fishing experts to lead expeditions along the Provo and Weber Rivers. Each of Will's hand-picked guides have tallied more than 1,000 days of fly fishing on the local waterways, utilizing their knowledge to mimic seasonal food sources and catch fish on their way back from shopping. The Park City Anglers also regularly explore the Strawberry, Duchesne, and Currant Creek, as well as some smaller streams and tributaries throughout the region.
7683 Tall Oaks Dr.
Park City
Utah
435-658-3474
---