Restaurants in Evanston
---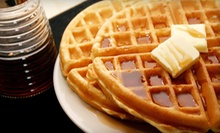 Burgers, sweet or savory waffles, turkey paninis, and fries
---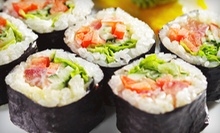 As featured on Man v. Food and under new ownership, chefs prepare fiery sushi rolls, along with pieces of nigiri and sashimi
---
Recommended Restaurants by Groupon Customers
---
The menu boasts pizzas made with fresh dough and nontraditional sauces, with predetermined specialty combinations for those reaching for their blankies when faced with the daunting task of choosing from more than 20 toppings. Specialty pies are grouped by sauce, including original red, such as the Yellowstone (cheese, canadian bacon, and pineapple), white garlic, such as the Pikes Peak (cheese, pepperoni, ground italian sausage, sliced mushrooms, ripe black olives, tomatoes, and green onions), and others, such as the Evergreen (pesto sauce, cheese, artichoke hearts, sliced zucchini, black olives, tomatoes, green onions, and chopped garlic). A large specialty pizza is $18.35.
3977 S Wasatch Blvd.
Salt Lake City
Utah
A symphony of clinking glasses and joyful laughter reverberates off the green mountain slopes, where ski lifts dangle listlessly in a state of suspended hesitation. Awash in the perfume of fresh herbs and flowers from surrounding pots, the alpine air envelops guests partaking in upscale European and American fare on the patio of Kimi's Mountainside Bistro. Nestled in Big Cottonwood Canyon, Kimi's entertains the eyes as well as the stomach, serving up views of the surrounding ski slopes and mountainous terrain reminiscent of the natural habitat of a wild salad fork.
Within the bistro's bustling kitchen, chef Matt Anderson silences yodeling appetites with an eclectic array of breakfast, lunch, dinner, and brunch fare. His selections are inspired by travels throughout the Mediterranean, Scandinavia, and the American West. His kitchen staff chops, grills, and bakes flavorful ingredients such as Himalayan pink salt, hickory-smoked bacon, and fresh mozzarella into refined dishes whisked out of the kitchen by seasoned servers. As alfresco eaters bask in the smoky redolence wafting from the patio's fire pits and outdoor grill, indoor visitors break bread amid exposed wood beams and soft lighting that offer a cozy but elegant retreat from the elements and dessert-stealing mountain bunnies.
12000 E Big Cottonwood Canyon Rd.
Salt Lake City
Utah
801-536-5787
Terraces of tortillas tower over simmering mole, a special recipe that has been passed down for three generations, on tables in the 15-year-old eatery with a family atmosphere. Here, in Blue Iguana's kitchens, Chef Castillo imparts the culinary arts of the Aztec empire to his team of cooks using his knowledge of Chihuahua, Mexico. In this province, families fiercely guard such traditions to honor their forebears and preserve their culture's legacy for future generations. Castillo specializes in mole recipes, which teem with rich ingredients such as chocolate, almonds, and pumpkin seeds. Guests seeking a lighter meal can customize tacos with a choice of more than 10 fillings, including grilled yellowfin, charbroiled sirloin, sautéed mushrooms, and spicy pork chorizo. The margaritas are mixed with the restaurant's brimming top-shelf tequilas such as Patron Silver and Don Julio. Diners can also visit the Park City location for breakfast dishes.
628 Park Ave.
Park City
Utah
Japanese, Korean, and French culinary traditions collide in Yuki Arashi's kitchen, forming Asian-inspired tapas strewn with local and organic ingredients. The hot and cold small plates are perfect for sharing or alternately pressing to a sprained ankle, and they range from classic gyoza to modern arrangements of truffled albacore with microgreens and garlic crisps. At the sushi bar, chefs slice catches flown in fresh from Japan and the West Coast for sashimi and nigiri, as well as for rolling into specialty maki rolls such as the inside-out Millipede with tempura shrimp, spicy tuna tartare, avocado, and tobiko.
In the sleek dining room, bulbous vases of flowers sit above high-backed banquettes, their colorful blooms echoing the honey- and plum-hued flecks in the large variegated stone wall. Seats at the sushi bar invite patrons to gaze at the chefs' artful hard work, and an intimate tatami room enables guests to forgo chairs and dine in the traditional Japanese style.:m]]
586 Main St.
Park City
Utah
435-649-6293
Fresh spring rolls neatly line a plate. Curry clings to cubes of tofu. Swirls of heat escape from a heap of pad thai, and the aroma of mango fish wafts through the air. The diversity of the 100 items on Café Trang's eclectic menu secured the Zagat-rated eatery the title of Best Vietnamese on Salt Lake City Weekly's Best of Utah list in 2011. But large quantities don't mean low quality—delicate notes such as lemon and curry flavor the more than one dozen chicken dishes, and walnut shrimp gain subtle texture with a sweet honey glaze. A menu key that denotes the spiciness of each meal helps heat-averse patrons avoid burnt tongues and suddenly ashen chopsticks.
1811 Sidewinder Dr., Suite 102
Park City
Utah
435-655-8884
Although Kobe Cho Sushi earned a feature on Man v. Food with its incendiary Hell Fire roll filled with tuna and jalapeño, the chefs can also dial down the heat and showcase the delicate flavors of fresh fish and produce. The menu stems from the mind of owner and head chef Mike Fukumitsu, whose 13 years of sushi-making wisdom has been honed during numerous training stints in Japan. As an example of his dedication to high-quality ingredients, he seeks out Wagyu kobe beef for some of his premium sashimi and sushi creations.
A few tables line the pastel-orange walls, but a large number of seats also surround the sushi bar, allowing guests to watch as the chefs slice, layer, and roll orders with the confidence of an encyclopedia salesman at a trivia competition.
3947 S Wasatch Blvd.
Salt Lake City
Utah
801-277-2524
---