Education & Classes in Everett
---
Education & Classes Deals
---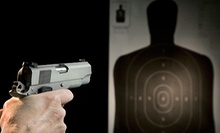 Armed with a replica pistol that fires laser beams, take aim at targets and scenarios that unfold on a 70-inch high-definition video screen
Use Today 8:00pm - 9:00pm
---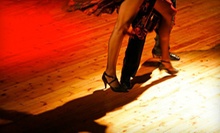 Use Today 10:00am - 6:00pm
---
Recommended Education & Classes by Groupon Customers
---
If you've never played an instrument, you're missing out on one of the most fulfilling human experiences: smashing your instrument. Actually, the most fulfilling experience is when you play something so beautiful that you lose yourself in the music. For you seasoned musicians, a brush up lesson at Page Music could improve your skills. Why, even Mozart took piano lessons late in his life to learn new techniques. Today's Groupon also makes a great gift for a talentless friend or relative. All ages are welcome at Page.
93 Massachusetts Ave
Boston
Massachusetts
US
The Real School of Music bestows the gift of instrument-playing ability upon students with a variety of music lesson options. The week-long, all-day summer music program, Real Jams Academy (ages 10–19, $500 for five days), is complete with music lessons, songwriting, band-forming, and a live performance in front of families, friends, and fans (no experience necessary). Get private lessons (approximately $37 per week, with daily access to the facility) in the instrument of your choice (voice, guitar, bass, keyboard/piano, sax, drums, pork-rib-xylophone, etc.). Private students achieving intermediate proficiency are then invited to play in one of the school's RealBands. If you're not ready for private lessons, embrace education with your fellow students in a group lesson ($120 for six 45-minute lessons) to learn the basics. Baby Beethovens (five and under) can flourish under the RealKids Family Music program ($180 for nine 45-minute lessons).
56 Middlesex Turnpike
Burlington
Massachusetts
Finally, you'll have a viable alternative to wooing potential romantic partners with a sousaphone serenade. For $137, today's side deal gets you five private, in-studio guitar lessons at Boston School of Guitar in Brookline (a $275 value for adults), including use of a guitar during your lessons. You may also choose to take home a rental guitar for additional practice (limited availability). Boston School of Guitar's private lessons are available seven days a week and typically last 45 minutes (30 for kids). All you'll need to bring to your lessons is a pick, some functional fingers, and maybe an iPod full of the music you'd like to learn.
33 Harvard St., Suite 300
Brookline
Massachusetts
US
With the decline of boomboxes and mixtapes, the lovelorn have discovered that blasting "In Your Eyes" from an iPod held aloft doesn't pack quite the same emotional punch. Today's Groupon gives crafty romantics a much-needed alternative medium for creatively professing love. For $20, you get $50 towards jewelry-making, sewing, or paper crafts classes at Abeille. If you're feeling especially inspired, you can buy two for $100 worth of do-it-yourself tutorials. Your Groupon can also be applied toward jewelry-making materials, even if you don't enroll in a class.
45 Harvard St.
Brookline
Massachusetts
Since 1985, the FAA-certified team of pilots and instructors at East Coast Aero Club has shepherded citizens from Hanscom Field airport to the skies above Boston for sightseeing, introductory flights, and pilot-certification programs. The crew oversees a 35-aircraft-strong fleet composed of planes by Piper, Cessna, Cirrus, and Diamond, as well as helicopters by Robinson. The company's entry-level educational program, Learn to Fly, matches pupils up with one of more than 25 certified flight instructors, who teach students how to read each craft's instruments and back issues of SkyMall.
But passengers don't just learn about flight; they also learn about the area around them. Scenic flights afford aerial views of the city, soaring from Hanscom Field over such sights as the Lexington battlefields, the Charles River, and the USS Constitution. Passengers can bring along cameras to capture the spectacular views and document any crop circles they spot in the outfield at Fenway Park.
200 Hanscom Dr.
Bedford
Massachusetts
Responsible for populating the sets of major motion pictures filming in the Boston area, Boston Casting compiles an experienced faculty to hone histrionics with professional acting instruction. For six Sundays starting January 8, Screen Acting 101: Breaking into Acting prepares students to light up the big and small screen or spice up programming on convenience-store surveillance monitors. Under the guidance of professional acting coach Jennifer Salvucci, students break down scripts, sweat through mock auditions, and practice acting in front of a camera. In Improv Technique for Film & TV, teens hone their craft through playful theater games to stay on their toes in audition situations and create their own comedy sketches. Children sharpen budding acting, voice, and dance skills through monologues set to music in Musical Theater for Kids as coach Lorna Brunelle shows them how to stand out in a crowd without resorting to flashy costumes or fireworks.
129 Braintree St., Suite 107
Boston
Massachusetts
---