Restaurants in Everett
---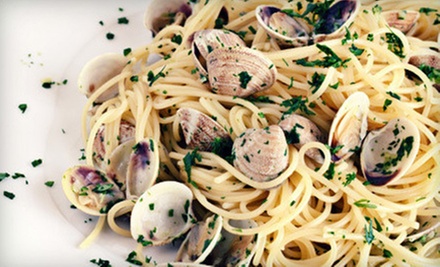 Thompson Square - Bunker Hill
---
Recommended Restaurants by Groupon Customers
---
The brainchild of gastromind chef Gregg Brackman, G Bar and Kitchen's dishes marry creative recipes with quality ingredients. Start with the beet salad, a blend of golden beets, goat cheese, and watercress bathed in lemon-olive oil emulsion ($9). Noodle-centric dishes, including classic gnocchi with tomato-romano pomodoro ($17), satiate comfort-food seekers. For a main course, try the crispy-skinned chicken with mashed russets and tequila-lime buerre blanc ($24) or the eggplant with pomodoro and parmesan ($22). Side selections include the parmesan au gratin potatoes ($6) and creamed shallots and spinach ($5). View the complete menu here.
256 Humphrey Street
Swampscott
Massachusetts
781-596-2228
High-backed booths, flickering candles, and minimalist red and black accents lend a sleek style to Osushi's intimate setting tucked inside the Westin Hotel. Chefs slice fresh fish to rest atop or inside sushi rice waiting to be plucked up by chopsticks. Their specialty makimono rolls draw from world cuisines with spicy aioli to add a dash of heat or prosciutto to lend an aria from the chef's favorite opera. Diners wash down bites of sashimi or tempura with selections from an extensive sake list, which includes specialty drinks made with seasonal fruit.
10 Huntington Ave.
Boston
Massachusetts
Rock Sugar's dinner menu combines creative and healthy Thai dishes made fresh to order before patrons' peepers, from pineapple fried rice to papaya curry. Prior to diving into a main dish, you and your date can stretch jaw muscles with one appetizer each, with options ranging from crispy vegetarian spring rolls (a $5.95 value for four) to a platter of seven spicy wings (a $6.95 value). Both members of your twosome may select one of Rock Sugar's creative takes on noodle dishes (an $8.95 value) or fried-rice dishes (an $8.95 value). Intriguing rice dishes include the crab-meat fried rice and the pik pow fried rice, and noodles curry introduces diners to yellow egg noodles simmering in a mild curry sauce.
38 Batterymarch St.
Boston
Massachusetts
617-482-6046
The culinary wizards at Lil Vinny's Ristorante silence growling stomachs with a multifaceted menu of toothsome Italian fare. Now kicking off the kitchen's steady parade of aromas starting at 11 a.m., a new lunch menu debuts deliquescent paninis ranging from eggplant parmigiana ($9.95) to the Sloppy Joey ($9.95), which lets midday munchers live dangerously as they try to keep its mix of bolognese, pancetta, and fontina away from work shirts or lab coats.
525 Medford St.
Somerville
Massachusetts
Family owned and operated since 1969, Johnny D's has hosted some of the music industry's biggest names in its intimate, 300-person venue, with past performers such as the Dixie Chicks, Levon Helm, Widespread Panic, and Wilco gracing the stage. Upcoming performers include Fab Four tribute band Beatlejuice on July 17, and a Real School of Music student showcase on July 1, featuring keyboardist Greg Hawkes of The Cars performing a set of the band's classic tunes. Each concert has a cash cover charge at the door, and advanced tickets are available for some shows. With this deal's door-fee card, you'll get access to $50 worth of Johnny D's shows, allowing you to draw inspiration from seasoned musicians for your long-in-the-works Wade Boggs rock opera.
17 Holland Street
Somerville
Massachusetts
617-776-2004
The skilled chefs at Brunello Bistro tantalize the culinary lobes of the brain with a fusion menu of Italian and Mediterranean fare served with aesthetic flair. Enchanted epicureans, like disoriented Christopher Columbuses, will immediately set a course for Brunello's antipasti plates, such as mussels served either bianco in a garlic-and-wine sauce or spicy pomodoro in a hot fra diavolo sauce. After a second course of soup or salad, all roads lead to Brunello's entrees, which include the signature lobster-potato gnocchi and the lamb osso buco in a port-wine sauce with mascarpone-cheese polenta. Diners worried about upsetting humanity's uneasy truce with sheep can instead venture out into one of Brunello's idiosyncratic plates, such as braised duck with wild-mushroom risotto and asparagus. Each duo's chew-a-thon concludes with sweet bites from the frequently rotating dessert menu.
349 Broadway
Somerville
Massachusetts
617-623-9455
---