Everett Health and Fitness
---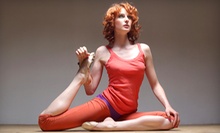 Soup, salad & sandwiches sate guests as sips of various teas warm palates with light & dark tea flavors inside tea-bar- & yoga-studio hybrid
Use Friday 10:00am - 5:00pm
---
Recommended Health & Fitness by Groupon Customers
---
The muscle tutors at Fitness Together will work with you to determine your goals (drop pounds, run a marathon, get strong enough to finally confront Douglas) and develop a customized workout plan designed to help you reach your true fitness potential. They'll supervise your squats, offer nutritional advice, and push you until you see results. Individualized attention means it's all about you—your trainer can point out when you're doing a stretch incorrectly, help you tone the trouble zones, and push you to keep going when you'd otherwise quit or become distracted by the fragile beauty of a passing hummingbird.
14215 Northeast Duvall Road
Woodinville
Washington
425-488-3033
We are a boutique training studio focused on total body wellness. Our services include personal training, group training, fitness classes, & massage. Our fitness and wellness professionals are dedicated to helping their clients achieve fitness and wellness goals using a holistic approach to training, nutrition & lifestyle.
23128 State Route 9 Southeast
Woodinville
Washington
425-485-5345
In the fitness industry, only a select few exercise pioneers enjoy widespread name recognition. Bikram Choudhury is one of them, and the instructors of Bikram Yoga Everett have earned that name by enduring his legendary nine-week training course. The program also keeps yogis on their toes by requiring recertification every three years. In the intense training sessions, aspiring instructors learn to make use of a heated environment to push the mental focus and muscular endurance of students during the 90-minute classes.
The Bikram Yoga Everett Studio welcomes visitors with a lobby bursting in bright primary colors and a spacious workout room swathed in natural sunlight. The computer-controlled temperature remains evenly regulated throughout the space, and a ventilation system provides a constant supply of fresh air, occasionally pumping in helium for cartoon voiceover workshops. Floors are covered in Zebra yoga mats that dramatically reduce joint strain.
520 128th St. SW, Suite A-10
Everett
Washington
In 1987, indoor climbing was as unpopular in the Seattle area as breeding labradoodles. But Vertical World––a pioneer indoor climbing gym––introduced the city to the up-and-coming sport of rock climbing in a controlled environment. Since its inception, the gym has expanded to three other locations in Everett, Tacoma, and Redmond, the latter hosting eastside climbers for more than 20 years.
A team of experienced route creators challenges climbers with more than 200 bouldering, lead, or top-rope routes in a wide variety of difficulty levels. The gym hosts competitive youth teams that have gone on to national or world tournaments. The gym's staff of climbers and guides also leads outdoor excursions that build confidence and teach novices how to identify a rock wall in the wild.
2820 Rucker Ave.
Everett
Washington
[[m:####Fusion Hot Yoga
Though Fusion Hot Yoga's philosophy emphasizes the release of the ego, it's hard not to feel special in Fusion's heated studio. The instructors—each of whom brings a different teaching style and musical playlist to classes—dole out personalized tips during Hatha and power Vinyasa sessions. They also remain after class, answering students' questions while they extinguish the coals within the walls. By helping every visitor to discover the mental and physical benefits of hot yoga, the staff recalls their own journeys from such backgrounds as competitive gymnastics and service in the Navy Reserve.
In addition to the quality of its teachers, the studio's setting also probably contributed to its ranking on KING5's Best of Western Washington list, where it was voted second of 96 nominees for the area's Best Yoga Studio. The space's antibacterial, Tatami-textured floor cushions feet to counteract slipping, and dressing rooms with showers permit guests to rinse off after lessons. At the onsite boutique, shoppers can purchase mats, healthy refreshments, and baking thermometers that tell them when their partner is ready to cool.:m]]
22618 Bothell Everett Highway
Bothell
Washington
Two months after she began practicing yoga, Jen Mitchell could touch her toes for the first time. She had turned to the art to help relieve the tightness in her lower body, the result of years spent as a teacher for group cycling classes. As she trained, she became more and more devoted to yoga's restorative power and relaxing aftereffects. Her exposure to the Vinyasa style made her feel as though she had "taken a shower from the inside out." She now leads a team of instructors at Twist Vinyasa Yoga, where she strives to acquaint patrons of all fitness levels with their innate potential.
Twist Vinyasa Yoga's instructors focus on slow, deliberate breath work and mantra in connection with proper posing technique. The classes encourage students to flex in pursuit of a still mind, but the lighthearted atmosphere eschews utter stoicism for humor and support. Modifications for many poses allow guests of all skill levels to find balance at their own pace. Temperatures in the studio can reach 84 degrees, causing bodies to release toxins and minds to reach a state of clarity while considering buying summer real estate on the sun.
122 5th Ave. S
Edmonds
Washington
---