Evergreen Park, IL Health and Fitness
---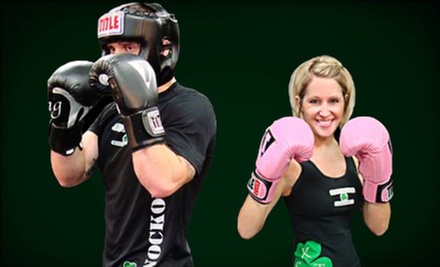 ---
Recommended Health & Fitness by Groupon Customers
---
Dr. Lillian Obucina draws on two decades of dental experience to beautify pearlies in her well-appointed, welcoming office. Kick back as chompers reveal their dazzling secrets in an examination, allowing the doctor to personalize the whitening treatment and audit embezzling tooth fairies. An in-office whitening treatment lasts approximately one hour, with protective barriers placed in the mouth to carefully shelter sensitive gums from the Pola whitening solution. Dr. Obucina may decide that some patients are better candidates for the in-home process, which uses custom, professionally crafted trays that are worn for one hour at a time, gradually revealing ivory elegance like an elephant behind a stage curtain.
111 North Wabash Avenue, Suite 1522
Chicago
Illinois
US
312-909-2839
Move Your Feet Sports' hour-long lessons teach all ages and abilities to serve and volley like professional bowlers who used to be tennis title holders. Classes for beginners, intermediate players, and advanced players ($25 each) are available at all three facilities. The staff of experienced instructors pump each hour-long lesson full of heart-pounding cardio moves, skill-building exercises, and techniques to crush competition like monster trucks crush hot-dog carts. Look under the Groupon tab on Move Your Feet Sports' registration page to see class options.
333 E Ontario St.
Chicago
Illinois
Exhale Spa seeks to transform its clientele inside and out. The founding team of fitness professionals and aestheticians sought to create an environment where they could empower visitors with pampering spa treatments, invigorating fitness classes, and lifestyle education, helping clients attain a sense of control and holistic balance. Now with 19 locations across 11 cities, Exhale Spa and its signature services have earned mentions in numerous national publications, including People magazine, the New York Times, and O, The Oprah Magazine.
Exhale's signature Core Fusion classes incorporate dance-inspired stretches, yoga poses, and Pilates exercises into total-body workouts that build long, lean limbs and sturdy abdominal muscles over time. For an even more varied workout, the instructors introduce boot-camp techniques, cardio exercises, or multiplication tables to select sessions. Yoga classes present a similar amount of breadth and variety, drawing inspiration from a number of introspective and physically oriented styles. To help hasten physical transformations, nutrition and wellness coaches teach attendees about the impacts of diet. These sessions build an awareness of healthy eating habits through custom meal plans and by teaching clients how to identify the edible parts of a fruit basket.
Many of the center's traditional spa services seek to inspire confidence. Facials pamper and refine skin using everything from green tea and fruit extracts to microcurrent technology, and mani-pedis revitalize digits before glazing nails with a vibrant new coat of color. Bodywork treatments look beyond physical relaxation and focus on holistic concerns. Massage therapists can use Eastern or Western modalities to soothe overstressed musculature, and acupuncture treatments and reiki sessions jump-start natural healing processes by encouraging the free flow of inner energies.
945 N State St.
Chicago
Illinois
US
Since doctor's offices tend to stress people out, Performance Chiropractic Center prides itself on a chill atmosphere adorned with local art that doesn't feel like a doctor's office outside of the fact that everything is very clean. The laid-back Dr. Michael Karl will seem so much like one of your Xbox buddies that you might not even realize how carefully he's examining your physical injuries. Once he's determined the source of your body's complaints, he'll consult with you on the best method for treating it. The exam and consultation ($150 value) includes a chiropractic examination and a customized foot orthotic consultation using the tech-cool GaitScan. During your two treatments, Dr. Karl will employ multiple therapeutic modalities, including trigger-point therapy and a chiropractic adjustment ($75 each). Your first session will take about an hour, while the second will take a half hour. Call ahead to schedule your appointment.
307 S Desplaines St.
Chicago
Illinois
Exercisers burn up to 600 calories during Jazzercise, Inc.'s 60-minute total-body workouts, which meld moves from diverse realms such as jazz dance, kickboxing, and yoga. Set to a medley of popular tunes, sessions are open to all skill levels and start off with a gentle warm-up before 30 minutes of cardio, strength training, and a closing stretching segment. The discontinuation of the Nobel Prize in Jazzercise ensures a noncompetitive class atmosphere, and whippersnappers aged 4–12 can get in on the fun during Juniors Jazzercise classes.
5480 South Kenwood Avenue
Chicago
Illinois
Pilates is an excellent way to kick-start a fitness routine. The challenging movements and full-body stretching are designed to increase core strength and stamina. For your two private sessions, you'll receive guidance from FTC-certified instructor Patrick O'Brien, who will help you transition from a stale, store-bought pretzel to a soft, fresh-baked German pretzel. Work out on both the Pilates equipment and floor mat under his supervision. He will help you correct body issues from technique to alignment and tailor the lessons to your specific physical needs. FTC is one of Chicago's longest-standing Pilates studios, having opened in 1994. Its focus is on the human form and on making sure it operates naturally and healthfully, in line with its proper structure and function. Call to schedule your sessions.
320 W. Ohio St., Suite 601E
Chicago
Illinois
---