Massage in 'Ewa Beach
---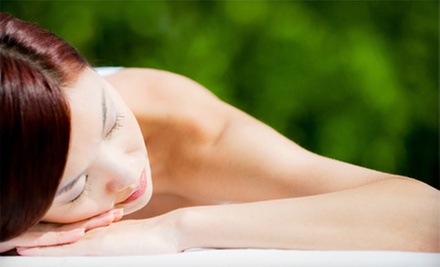 ---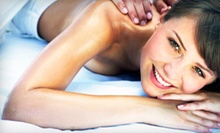 A facelift massage targets lax muscles, the foot rub deepens relaxation, and anti-aging facial treatments further tone visages
---
Recommended Massage by Groupon Customers
---
Paradise Massages & Spa's therapists combine tailored massage strokes with essential oils that evoke the relaxing scents of the tropics. During lomilomi massages inspired by Hawaii's own holistic healing traditions, they use their hands, forearms, and elbows to rhythmically soothe muscles. Another island-inspired treatment, the hot-lava massage, employs heated stones to stimulate circulation and ease the daily stresses of living inside an active volcano. The staff's expertise extends beyond sore backs and shoulders; their customized facials, for example, open pores with a blast of soothing steam before moisturizing skin with a healing mask and relaxing frown lines with a facial massage.
159 Kaiulani Ave., Suite 201
Honolulu
Hawaii
808-384-8680
Put your body in the hands of a holistic healing expert. For $54, today's Groupon gets you an hour-long massage or reflexology session with Rachel Avalon (normally $90). Take away your aches and pains with any one of Avalon's massages, including Swedish, deep tissue, and massage specifically targeted for infants, teenager, or pregnant women. This Groupon is also good for a 60-minute session of reflexology. Commonly referred to as "acupuncture without needles," reflexology relieves stress through foot squeezing and, optionally, lobe tugging.
435 Atkinson dr
Honolulu
Hawaii
US
808-955-1566
Before opening his own studio, Kevin Nishimura worked with Kinesio tape, a therapeutic adhesive that mimics living tissue and boosts blood circulation. He was drawn to bodywork, but wished to take a more hands-on approach, and found it in shiatsu. Kevin named his studio Mensore, an Okinawan word meaning "welcome" or "come in," which falls in line with his professional philosophy. During Namikoshi-style shiatsu bodywork, he gently manipulates acupressure points throughout the body in an effort to flush out toxins, enhance range of motion, and improve Scrabble scores.
1199 Dillingham Blvd., Suite C106
Honolulu
Hawaii
808-228-6142
Zorka Pinkas, the owner of FIMASE-Family Massage Service, spent most of 2001 traveling the world. A consummate student of the backrubbing arts, she had already logged around 20 years on the job when she set about globe trekking. Zorka visited such places as China, Australia, Nepal, and Myanmar, studying the massage techniques of each culture. The world tour was part of an effort to perfect her craft in order to help her deliver the maximal benefits of massage to her clients. The Czech-born practitioner holds a degree in pediatric nursing in addition to being a graduate of Hawaii Massage Academy. Zorka's many special certifications include infant massage, ideal for babies stressed from lifting too many refrigerators.
2668 Peter St., Honolulu
Honolulu
Hawaii
808-285-9547
Chiropractor Andrew Matsukawa and Deborah Matsukawa preside over Matsukawa Healing Center, where they have approached healing with holistic treatments, incorporating both traditional and unique techniques, for more than three decades. Deborah draws on massage modalities ranging from Swedish to lomi-lomi as she kneads away muscular pain and the stresses of living in a fast-paced modern world or slower-paced underwater commune. Andrew helps patients channel their intuitions and creativity while also bringing spines back into alignment. Together, the duo aid patients in balancing mind, body, and spirit, whether that means enhancing circulation with reflexology or pulling misplaced car keys out of aural canals.
661 Auahi St., Suite 203
Honolulu
Hawaii
808-536-3767
High above Honolulu inside Thai Thai Massage's tranquil, flower-strewn confines, therapists draw on diverse massage-therapy traditions as they work to ease clients' aches and pains. Therapists move clients into deep, yoga-like stretches with Thai massage, or ease chronic muscle tension with deep-tissue techniques. The ancient Hawaiian healing art of lomilomi may incorporate warm stones, back walking, and mild-hypnosis techniques, aiding relaxation or reenactments of The Manchurian Candidate. Swedish and hot-stone massage, Chinese foot reflexology, and thai body scrubs are also available.
1750 Kalakaua Ave., Suite 1002
Honolulu
Hawaii
808-469-6040
---