Fair Oaks, CA Outdoor Activities
---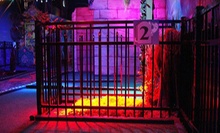 Graveyard-themed mini-golf holes wind through gothic architecture, crypts, and skeletons peppered across indoor course
Use Wednesday 2:00pm - 9:00pm
---
---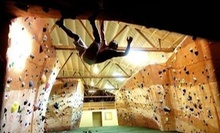 12 inches of seamless padding cushion any falls as climbers scale 18-foot-high top-out boulders and hang from an indoor cave
Use Wednesday 9:00am - 7:00pm
---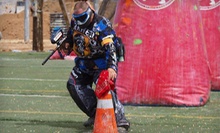 Three hours for two in a field with obstacles and bunkers; each person gets a marker, a mask, a barrel cover, 500 paintballs, and air
Use Saturday 8:00am - 12:00pm
---
Recommended Outdoor Activities by Groupon Customers
---
Bicycle Plus's staff, a group of avid cyclists, brings an acute awareness to bike sales and tune-ups, garnering the store a series of awards for excellent bicycle retailing. Veteran mechanics work their magic on ailing frames throughout basic tune-ups and complete overhauls in the service department while finding time to teach curious DIYers how to fix a flat tire with peanut butter during free weekly bike-maintenance classes. The sales team pairs up shoppers with glossy rides from Trek, Specialized, and Colnago using the doctor-devised Body Geometry bike-fitting system to ensure maximum riding comfort.
705 Gold Lake Dr., Suite 320
Folsom
California
916-355-8901
The Little Miss Strawberry contestants excitedly primp their pink dresses and adjust their sparkling tiaras in anticipation of the pageant's beginning. The lighthearted event—in which girls compete in five different age groupings—is one of many novel attractions at BerryFest. A Mother's Day–weekend tradition, the 2012 festival marks the year's harvest by bringing together local farmers with a host of vendors, sponsors, entertainment acts, and conciliatory deer families at the Placer County Fairgrounds.
Daytime revelers can indulge in a surplus of diverse, certified-organic berries, which can be purchased whole or in the form of inventive, strawberry-based eats such as strawberry pizza, strawberry barbecue sauce, or strawberry-flavored strawberries. The festival's lineup of booths also includes a beer garden where Lost Coast Brewery whets patrons' whistles with strawberry drafts. A no-hands shortcake-eating contest crowns the winner with a commemorative trophy and proceeds benefit the Boy Scouts of America. During a live cooking demonstration, TV star Michael Marks of Your Produce Man shares recipe tips as well as tips for catching runaway piecrusts. On Sunday, festival-goers can take in a car show with a gathering of shiny, classic wheels, and all weekend long, kids can kick it on the Fun Zone's Berry-Go-Round or drop by the event's on-site petting zoo.
800 All America City Blvd.
Roseville
California
Everything changed for Bob and Chris Quinlan when they organized a successful pub crawl for their local Rotary club in 2005. The positive reception to their event led the pair to found AppeteasersUSA in 2011, which has since expanded from its initial tour in Folsom to include outings in Northern and Southern California, Washington, and Florida. Across the country, AppeteasersUSA's savvy guides can be found leading patrons from culinary hot spot to hot spot.
Throughout the four-hour tours, herds of at least 25 tour goers stop at restaurants and bars unique to the area—eschewing chains and large franchises—for 30-minute stints, nibbling on appetizers and noting which kitchen appliances might come to life after the restaurant closes. To wash down savory flavors, patrons can swig discounted drinks at each establishment.
825 Sutter St.
Folsom
California
In 1965, the twists and traps of Ancil Hoffman Golf Course were born from the brain of course architect William Francis Bell. Bell's approximately 200 course designs also include the South Course at Torrey Pines, a La Jolla course that was selected to host the U.S. Open in 2008. Ancil Hoffman is replete with watery views, including lateral water hazards on holes 1 and 10. Additionally, the Merle Priddy Memorial grass driving range runs next to the American River, offering golfers a place to perfect their swings using Nike practice balls. Practice facilities also include two large putting and chipping greens.
Led by PGA director of golf instruction Eric Pollard, the instructional programming at the course is based on a teaching method Pollard designed himself after years working with California golf instructors Eddie Merrins and Carl Welty. In addition to adult lessons, Ancil Hoffman Golf Course offers camps where juniors can develop their swings and grow into kilts made of the family tartan under the watch of a professional instructor.
Course at a Glance:
18-hole, par 72 course
Total length of 7,009 yards from the back tees
6700 Tarshes Dr.
Carmichael
California
916-844-6849
RPM Indoor Kart Racing indulges a driver's need for speed with two connectable indoor racecourses, refereed by staff members during high-octane heats. After stepping into the spacious lobby with high ceilings and a two-story window overlooking the track, adult drivers slap down a valid driver's license and sign a liability form in exchange for a racing suit and helmet. Once suited up, they climb into a 9-horsepower race kart that reaches speeds of up to 40 miles per hour, roughly the speed of an ostrich riding a moped.
The raceway's two sweeping thoroughfares—the Monster Energy Track and the Unbound Energy Track—send amateur IndyCar drivers zooming around adrenaline-filled turns. On Mondays, the two courses unfurl into one gargantuan raceway—the Lost Big Gun Track. Races include sprint and grand prix competitions with 8–10 racers, or Hot Laps that pit drivers against the clock, which despite one hand being smaller than the other, is actually a pretty good driver.
Guaranteeing maximum safety, referees keep their eagle eyes peeled during every race to enforce the courses' rules of the road. After heated competitions, former enemies bury the hatchet and become lifelong frenemies over refreshments in the Skybox, a windowed lounge that overlooks the tracks.
3130 Bradshaw Rd.
Sacramento
California
916-368-7223
Founded by three Scandinavian families in 1977, Scandia Family Fun Center flings open its doors and invites families in for afternoons of youthful fantasy. Manicured hedges and lush green mounds dot the center's challenging miniature golf course, while go-karts rumble past on the Stockholm Raceway. The sounds of splashing and laughter not only indicate the birth of a pirate, but also a gentle collision between Baltic Sea bumper boats, accompanied by the crack of speeding baseballs and softballs at the batting cages. The center's Scandia Screamer lifts passengers 165 feet into the air before accelerating to speeds of 65 mph, while the Swedish Scrambler opts for a more amenable 25 mph. Visitors can also exercise their opposable thumbs at a fully-stocked arcade, visit Scandia's snack bar brimming with pizza, hot dogs, and churros.
5070 Hillsdale Blvd
Sacramento
California
---