Museums & Galleries in Fairborn
---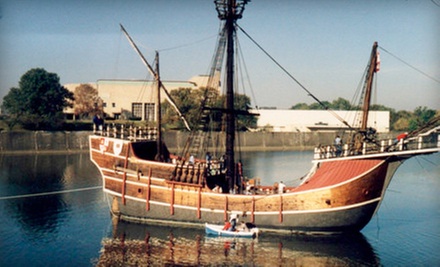 ---
Recommended Museums & Galleries by Groupon Customers
---
The Columbus Museum of Art dazzles eyes and tickles imaginations with a broad collection of 19th- and early-20th-century American and European artwork, as well as a cavalcade of traveling exhibits. Wear a realistic beast-man costume to the current exhibition Fur, Fins, and Feathers, which spotlights animal motifs within the museum's collections, from Inuit carvings to live armadillos posing as statues (runs through June 5). The permanent exhibit Old Masters captures subtleties of shadow, 19th-century American works encompass vast landscapes, and the extensive Late Modernism and Contemporary assemblage implodes luminous colors in twisting, spiraling transformations. Meanwhile, the museum's 18,000-square-foot Center for Creativity includes a technology lab and hands-on, kid-centered artistic projects to get children interested in fine art at an impressionable age, keeping them from becoming work-a-day doctors and lawyers.
480 E Broad St.
Columbus
Ohio
The headquarters of the nonprofit Ohio Historical Society, the Ohio Historical Center abounds with exhibits and activities that showcase the state's diverse social, natural, and archeological history. Built in 1970, the museum's towering Brutalist edifice is a piece of history itself, lauded as "bold" and "imaginative" by the American Institute of Architects. Inside, a 15,000-square-foot gallery explores pivotal moments in the Buckeye State's past, examining everything from Ohio's role in the Civil War to Boomer Esiason's stint as Secretary of State. A natural-history exhibit regales guests with interactive displays of animals, plants, and geography. In addition to its permanent exhibits, the center hosts an ever-changing selection of featured exhibits and special events.
Outside the museum sits Ohio Village, a re-creation of a Civil War–era town. Costumed villagers bustle about the square, performing chores and activities of the era, such as churning butter and checking wooden PalmPilots. The town's 15 buildings showcase the height of 19th-century architecture and include a Gothic-revival church, a large town hall, and an open market. The village is also the home of the renowned Ohio Village Muffins, who regularly compete in games of baseball played by 19th-century rules.
1982 Velma Ave.
Columbus
Ohio
Easy as A-B-C, the artists behind Life in Letters craft custom photographic gifts available both in their shop and online. Over the years, they've amassed a vast collection of black-and-white photos of common objects and sights that resemble letters—such as arches, golf balls, fences, and palm trees—which they assemble into meaningful words, such as love, laugh, family, and nihilism. Once customers have chosen their word and selected each letter, they can have their piece matted and framed to suit their own decor or that of a loved one. The photographers also share their skills with aspiring shutterbugs during regular introductory photography classes.
57 Chestnut St.
Beavercreek
Ohio
937-919-5390
The firefighters of Engine Company #45 Firehouse extinguished their last blaze in 1962 after 56 years of fearless public service. Although the team dissipated, the elegant, 1906 firehouse—with Renaissance Revival details and three doors wide enough to accommodate horse-drawn fire engines—remained, languishing as a city storehouse until 1980, when the Fire Museum of Greater Cincinnati moved in. The building was recognized on the National Register of Historic Places and filled with special exhibits acknowledged by Fox19.com and 365 Things to do in Cincinnati. It was also filled with antique firefighting gear that is in excellent condition in spite of years of smoke inhalation.
The collection reveals early 19th-century firefighting tactics with an alarm drum that once warned of fire from the roof of a carpenter shop and was later used to provide rhythm during disco infernos. In the Safe House exhibit, families diagram their homes and create personalized emergency plans while learning tips about fire prevention.
315 W Court St.
Cincinnati
Ohio
513-621-5553
The Drake Planetarium & Science Center captivates young minds with educational shows as well as after-school programs that teach creative problem solving and teamwork. Planetarium shows cover a wide range of topics and teach audiences to recognize seasonally changing constellations, planets, and lunar foliage. Starry Nights at the Cincinnati Astronomical Society invite stargazers to peep into the universe through the facility's powerful telescopes or highly magnified monocles, and laser light shows also grace the planetarium dome with 2-D, 3-D, and abstract animations choreographed to classic rock and holiday-theme recordings.
2020 Sherman Ave
Cincinnati,
Ohio
US
Stretched across 77 acres, the Waco airfield launched in 1997 on the wings of the Waco Historical Society, a nonprofit organization on a mission to tote the Golden Age of Flight safely into the future. Today, continual upgrades and improvements, plus countless hours from volunteers, have packed the site with more information than ever before. Vintage Waco aircraft, displays, and the history of the Waco company pilot museum visitors through time inside the museum hangar, which joins forces with other buildings—such as a 150-year-old barn¬—to bridge the past and the present. An onsite gift shop stocked with mementos helps soup up memorabilia collections, and, instead of trying to squeeze information from the museum's tightlipped biplanes, visitors can attend the historical society's lectures and workshops throughout the year for extra doses of education.
1865 S County Rd., Suite 25A
Troy
Ohio
937-335-9226
---