Things to Do in Fairborn
---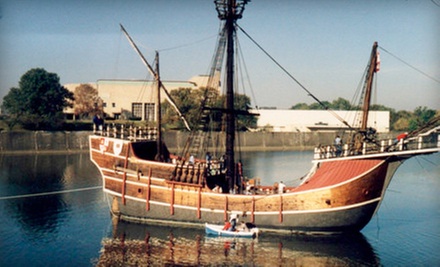 ---
Recommended Things to Do by Groupon Customers
---
Originally invented by bored henchmen looking to pass the time at Doctor Berserko's secret Antarctic lair, hockey has since overtaken polo and unicycle jousting as America's pastime. Hop on the bandwagon with today's Groupon. For $20 to $35, you get one upper 200-level or one lower 100-level ticket to see the NHL's Columbus Blue Jackets take part in one of two slap-shooting matchups: Saturday, March 27, at 7 p.m. vs. the New York Islanders or Tuesday, March 30, at 7 p.m. vs. the Tampa Bay Lightning. Depending on seating, these tickets are usually $44 or $75. The Saturday, March 27, game is also designated as Huntington Hat Night, and fans will receive a free Blue Jackets hat.
200 W Nationwide Blvd.
Columbus
Ohio
Tucked away near the banks of the Ohio River stands the other Sin City. Or at least it used to be, during the days when bootlegging formed a powerful underground economy. When a group of teachers and history buffs needed money for school service projects in Central America, they decided to raise funds by starting tours that explored this seamy history, according to the Knoxville News Sentinel. A few years and many local accolades later, knowledgeable guides continue expounding upon the town's rich history of mobsters, gamblers, and ladies of the night.
Tours stroll down Newport blocks littered with buildings once occupied by speakeasies, brothels, and the site of Al Capone's failed early restaurant career, Al Calzone. Along the way, guides tie the rich past to the rise of the modern-day gaming industry and Newport's connections to famous crime figures.
56 E 5th St.
Newport
Kentucky
In order to claim their tickets, fans will be redirected to the Cincinnati Reds' online ticketing site for Groupies, where they must choose their preferred game and pay additional fees (see below for details). Choose from the following games against the Milwaukee Brewers:
100 Joe Nuxhall Way
Cincinnati
Ohio
The Columbus Museum of Art dazzles eyes and tickles imaginations with a broad collection of 19th- and early-20th-century American and European artwork, as well as a cavalcade of traveling exhibits. Wear a realistic beast-man costume to the current exhibition Fur, Fins, and Feathers, which spotlights animal motifs within the museum's collections, from Inuit carvings to live armadillos posing as statues (runs through June 5). The permanent exhibit Old Masters captures subtleties of shadow, 19th-century American works encompass vast landscapes, and the extensive Late Modernism and Contemporary assemblage implodes luminous colors in twisting, spiraling transformations. Meanwhile, the museum's 18,000-square-foot Center for Creativity includes a technology lab and hands-on, kid-centered artistic projects to get children interested in fine art at an impressionable age, keeping them from becoming work-a-day doctors and lawyers.
480 E Broad St.
Columbus
Ohio
Under the guidance of founder Chad Fath, the licensed helicopter pilots and instructors at Higher Ground Helicopters take visitors on scenic 'copter rides above the city as well as train students to become full-fledged pilots. Flight training lessons take place in the evenings to accommodate busy adult schedules, with the goal of turning inexperienced students into certified professionals within 10 to 18 months. For guests on the fence about flying, Higher Ground offers hands-on demos, which consist of 30 minutes of ground training, 30 minutes of piloting in the air, and 30 minutes of watching The A-Team reruns. For guests who simply wish to enjoy the scenery, Higher Ground's expert pilots host scenic tours that showcase the Cincinnati skyline.
1701 Run Way
Middletown
Ohio
513-217-6700
Scallywag Tag's arena dazzles eyes with a black-lit, neon-tinged pirate ship and 18th-century Caribbean village, which provides a labyrinth of fluorescent walls for marauding swashbucklers. After being split into two competing crews, participants receive a vest, a phaser, and instructions to tally as many points as possible by tagging opponents, swarming the enemy's home base, or holding a referee hostage until he or she doctors the score. The score itself is broadcast on wide-screen LCD scoreboards, but those who are too busy taking out the adversary to look at them can take heart knowing that at the end of the game, the referees announce the winning team.
Outside the fast-paced laser-tag arena, Scallywag Tag encourages visitors to recharge with a drink or a slice of pizza from the snack bar. The arcade sections also distract patrons by featuring perennial classics such as air hockey as well as new favorites, including Time Crisis 3 and Find That W2 Form.
The West-side location additionally lures younger passersby with a pirate-themed jump house and a 35-foot-long slide in the family entertainment center. The West-side's black-light miniature golf tests hand-eye coordination skills, leading guests through a gauntlet of 18 holes that similarly embrace the pirate theme.
491 Ohio Pike
Cincinnati
Ohio
---