Bootcamp in Fairfax
---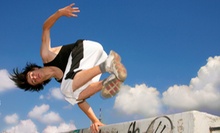 Students traverse obstacles and learn the basic skills of parkour, a school of movement that uses one's natural surroundings
Use Saturday 7:00am - 10:00am
---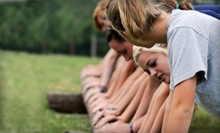 Certified instructors foster fitter bodies through jump rope oriented exercises tailored to increase strength, flexibility & endurance
Use Today 3:00pm - 6:00pm
---
Recommended Bootcamp by Groupon Customers
---
After meeting the physical demands of army training and working for two decades in the fitness industry, president of Custom Fitness Concepts Tom Kalka channeled his health and fitness savvy into CFC's training programs. His expert team of personal trainers visits homes and corporate offices to lead patrons in custom workout routines. Furthering fat-burning efforts, educational seminars on conditioning, nutrition, and orchestrating funerals for annihilated calories prime attendees for a salubrious lifestyle shift. CFC instructors also chisel away unwanted fat with an outdoor boot-camp series, whose ever-shifting medley of calisthenics and strength training was deemed the country's second-best boot camp in 2008 by Exercise TV.
26th and P St. NW
Washington
District of Columbia
Start your day with an appetizer of health in an hour-long morning boot-camp class. DC Adventure Boot Camp's sessions start at 6:05 a.m. at the Jefferson Junior High School or Hardy Middle School. Classes will be held outdoors, unless the temperature (including wind chill) drops below 50˚ F. Check out the schedule to figure which camp session looks the slimmest and therefore the best fit for you. Groupon customers can join the already underway session three starting April 4th. Don't forget to bring an exercise mat, a towel, water, running shoes, and your own wrestling alligator in preparation for some calorie-incinerating, fat-nuking enjoyment.
801 7th Street, SW
Washington, DC
Washington D.C.
202-280-2080
The class rows in unison, guiding a raft across the pond and back. Upon landing, the group splits into teams of two, each hoisting up a log and pressing it overhead. Through such group training, the instructors behind SEAL Team Physical Training, Inc. demonstrate their philosophy that teamwork brings out the best in people. Greeting everyone with a hearty "Hoo yah!" they lead a fitness program designed by Navy SEAL John McGuire that never repeats the same workout. Training begins with the two-week basic-fitness class. SEAL Team PT's results have earned recognition in publications such as Sports Illustrated as well as on Dr. Oz for a client who lost 160 pounds.
1100 Ohio Dr. SW
Washington
District of Columbia
804-262-1894
Personal trainers and Impact Fitness founders Annessa Bontrager and Morgan Shetler aim to bring out the athletic edge in each of their clients. They provide focused attention during personal-training appointments, and push bodies past their perceived limits in boot-camp classes. Park & Train sessions encourage exercisers with functional training in local parks, rather than aimlessly lifting dumbbells at a nearby mall. No matter the class or location, Bontrager and Shetler strive to bring clients life-changing results.
28th St. S & Army-Navy Dr.
Arlington
Virginia
301-310-3919
---