Restaurants in Fairfield
---
Recommended Restaurants by Groupon Customers
---
Flipside's brand new menu showcases thousands of different burger combinations, allowing diners to mix and match six different proteins with high-end ingredients including avocado and bacon, as well as creative sauces such as sweet relish and tarragon mayo. Farm-fresh sirloin patties anchor a dozen specialty burgers, including a Fat Daddy Reuben spackled in sauerkraut and onion rings. Slow-cooked pulled-pork sandwiches provide a sauce-smothered alternative to Flipside's signature creations, as do herbivore-friendly salads that may be repackaged in a whole-wheat wrap. Sudsy drafts caterwaul from a dulcet quartet of foam-flecked taps, spurring choreographed pours and surprise visits from Spuds McKenzie behind a triangular bar, where mixologists concoct specialty martinis and margaritas.
1125 Post Rd.
Fairfield
Connecticut
Having already earned back-to-back spots on Connecticut Magazine's Best of Connecticut in 2009 and 2010, Liquid Lunch keeps bellies full and spoons out of the unemployment line with a slurp-worthy twist on midday meals. Culinary Institute of America graduate and owner Fred Bialek and his wife, Michele, were inspired to open the first Liquid Lunch in 2004, when they'd grown tired of lunchtime standards such as pizza, burgers, and lightly salted printouts of old PowerPoint presentations.
Today, at Liquid Lunch's still-growing roster of locations, a rotating lineup of gourmet soups cascades across the menu alongside six staple soups, including vegetarian lentil and split pea with ham. For an extra crunch, diners can plunge fork-first into salads, or explore healthy Sammiches, which escort taste buds around the globe with names influenced by their ingredients and spear-pickles engraved with necessary passport information.
6 Research Dr.
Shelton
Connecticut
Whether beneath the thatched roof of the tiki hut or at an intimate table surrounded by bamboo shoots, Papaya Thai and Asian BBQ's tropical themes pervade the eatery's confines. The barbecue bar grants diners a front-row seat to watch chefs expertly grill marinated meats and veggies on wooden skewers, wielding the power of fire like Prometheus to cook beef to its tender best state. A variety of Thai tasting plates and main dishes include classics such as pad thai, sizzling chicken in a thai barbecue sauce, and skewered chicken satay. From the tiki bar, bartenders pour tropical drinks such as papaya thai-ritas made with sweet mango and nutty monkeys, an almond-rum-banana concoction the staff delivers to tables by way of swinging through the rafters.
24 Marshall St.
South Norwalk
Connecticut
Christian and Antonio Setaro's parents immigrated to the United States from Salerno, Italy, in the 1970s and opened Antonio's Twin Oaks, an Italian eatery known for its homestyle cooking. Growing up around the kitchen, the brothers developed a liking for cooking that ultimately led to the opening of their own Italian eatery, The Original Antonio's in Woodbridge. Later, they added locations in Beacon Falls and Ansonia.
At each restaurant, pasta headlines the menu. Shreds of romano cheese dust orders of homemade cheese ravioli, pappardelle with duck ragu, and rigatoni with plum tomatoes and italian sausage. Cheese also bubbles atop specialty pizzas and accentuates entrees built around shrimp, salmon, chicken, veal, or pork chops. The drink menu lists a bevy of dessert drinks, beer, martinis, and wine, nine of which are available by glass or cupped hands.
208 Amity Rd.
Woodbridge
Connecticut
Inspired by his upbringing in southern Italy, La Villa Trattoria chef Michael Sornatale crafts a rotating menu of seasonally inspired fare with free-range and organic ingredients. Unexpected combinations of simple ingredients, such as white-wine sauce and hot cherry peppers on the pollo e salsiccia scarpariello, give his traditional Italian dishes a creative verve. Sornatale also strives to incorporate less common tastes, including wild game such as roe deer and rabbit, without diminishing the accessibility of his menu. Chefs also concoct low-fat and heart-healthy items, and provide a list of Italian wines carefully selected to complement each entree.
At lunchtime, La Villa Trattoria's dining area fills with natural light softly diffused with sheer, white curtains. Artist Kim Salander's murals of the small Italian fishing village of Portofino combine with ambient fog horns to create a seaside ambiance indoors.
3 Bay St.
Westport
Connecticut
203-557-4810
Upon entering Tuscany Ristorante, guests are greeted by the sweeping country landscapes that pepper the bright-yellow walls, evoking summers spent under the Tuscan sun, sipping wine and dancing the tarantella until the INS showed up. The warm interiors paired with crisp white linens and hardwood floors infuse the restaurant with a casual elegance to match its classic, flavorful fare. The chefs whip up rich Tuscan dishes, including hearty pasta; prime, dry-aged steaks; and decadent housemade desserts. Pasta and risotto entrees showcase carb sculptures such as the rich rigatoni boccelli, which, like any marble statue, comes doused in pancetta and light vodka sauce. As guests dine, they can indulge in a bottle of wine plucked from the floor-to-ceiling wine rack that lines the walls with rustic wood planks and elegantly displays hundreds of bottles.
1084 Madison Ave.
Bridgeport
Connecticut
203-331-9884
---
---
Restaurant Deals - Recently Expired
---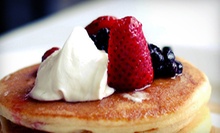 Flavors from Europe and Brazil infuse Portuguese-style french toast, pulled pork sandwiches, and omelets loaded with spicy sausage
---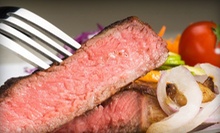 Pairs share an appetizer, garden salad, and dessert and select entrees such as meatloaf and pork chops with apple-cranberry relish
---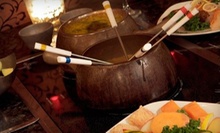 Groups dip bread and vegetables into cheese blends such as romano and swiss chalet before dipping fruit into a pot of melted chocolate
---
---