Bootcamp in Fairfield
---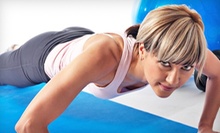 Trainers lead groups through cardio and strength-training exercises designed to boost caloric burn during and after workouts
---
Recommended Bootcamp by Groupon Customers
---
The certified and degreed trainers of Body Evolution don't judge themselves by their personal accomplishments, but by their clients' results. Greg Claycomb, an International Sports Sciences Association–certified trainer, knows that every person is mentally and physically different, so no single fitness approach will work for everyone. Trainers Vince Hogue and Tristen Hines also adhere to this principle, and use their experience to draft workout regimes that inspire clients, nurture their health, and reduce daydreams of owning a house made of Twinkies. To ensure he continues to give clients an optimal workout, ACE nationally recognized and CPR/AED-certified trainer Walt Fleitz regularly attends seminars and studies new methods. His favorite quote from Maya Angelou sums up his beliefs the best, "people will forget what you said, people will forget what you did, but people will never forget how you made them feel."
2401 Stanley Gault Pkwy.
Louisville
Kentucky
With boot-camp locations throughout the Midwest, Look Good Naked's comprehensive program combines results-oriented training with nutrition and lifestyle education. Its name is actually an acronym that spells out the business's strategy for improving health. At the heart of this elucidation of principles is the notion that a workout program ought not only be about workouts. Of equal importance is food, which is why the most difficult workouts can be in the kitchen. The program promotes wholesome lifestyle habits with a coach-assisted nutrition program and kitchen cleanouts, and encourages clients to log their daily meals. Students receive constant motivation outside the sessions via frequent informative emails, regular progress assessments, and online educational podcasts and webinars.
Uniting a fidelity to natural, unprocessed food with dedication to a vigorous exercise program helps Look Good Naked clients go a long way to achieving this business's appellation for themselves. The latter half of that strategy begins by joining a boot-camp session, where a trainer always puts positivity and support at the forefront of their teaching methodology. Trainers lead high-intensity workout sessions throughout the week, tailoring movements to accommodate each participant, as well as working with clients who have restrictions such as injuries or lazy Siamese twins.
1280 Kemper Rd.
Forest Park
Ohio
513-444-5042
---