Fairfield, OH Indoor Activities
---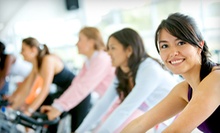 Women-only gym with three locations offers fitness coaching, online meal plans, aerobic classes, and weight-loss programs
---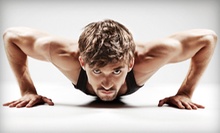 Trainers design fitness boot camps for all fitness levels
---
Recommended Indoor Activities by Groupon Customers
---
A sea of beeps, lights, and pinballs fills the confines of Arcade Legacy's 7,800-square-foot game room. Here, 60 classic arcade machines, along with more modern virtual challenges, represent each era of video-game history. The digital heroes of games such as Donkey Kong, Mario, and Street Fighter grace brightly lit screens during open play or competitions. Elsewhere, 16 console stations let visitors wrap their dexterous toes around controllers from the Atari to the PS3, and two HD projection screens set a virtual stage for Rock Band performances. This electronic haven also plays host to special events such as birthdays, parties, and art shows
662 Cincinnati Mills Dr.
Cincinnati
Ohio
513-874-8766
Originally built in the late 1800s as a vaudeville theater and then seeing time as a German film theater in the 1950s, today Bogart's stands as a portal to a world of live music. Six bars stand at the ready to keep rocking bodies hydrated, and three concert-viewing levels ensure pristine sightlines so that lead singers can have midconcert staring contests with anyone they choose.
2621 Vine St.
Cincinnati
Ohio
513-872-8801
Red steel plates that seem to be taking flight, a warped obelisk, and a dome made of metal dragonflies—these are just a few of the 64 statues nestled among the gardens and meadows at Pyramid Hill Sculpture Park. In addition to delighting visitors with massive objects d'art, the 265-acre outdoor museum exhibits the naturally occurring beauty of wooded thickets, seven lakes, and flowers that have never undergone plastic surgery. After wandering along the hiking trails, driving along paved roads, and peering into the remains of a stone house built by pioneers, guests can visit the 10,000-square-foot Ancient Sculpture Museum. The museum showcases Roman, Egyptian, Greek, and Etruscan statuary, which was chiseled before mankind invented the frames that forced all art to become flat.
In addition to curating sculptures, the park hosts a slew of activities relating to art and the environment. Its Summer Concert Series beckons music lovers, and a Summer Series for Kids organizes programming such as puppet shows for little ones.
1763 Hamilton-Cleves Rd., State Rt. 128
Hamilton
Ohio
US
513-868-8336
---