Fairhope, AL Outdoor Activities
---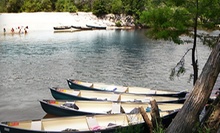 Dense forests and natural wildlife flank trips down Perdido River as groups sip drinks from coolers; children younger than 11 are free
---
Recommended Outdoor Activities by Groupon Customers
---
Cypress Lakes Golf Club's course was designed by William Amick to rise and fall across the natural landscape for 6,396 yards of fairways hugged by gentle waters and towering trees. Unlike most Floridian links, the course unfurls across somewhat mountainous terrain, where cresting hilltops can obscure distant targets, leading to blind shots that aren't just the result of opponents kicking sand in your eyes. Fairways bob and weave around groves of leyland cypress trees, more than 300 crepe myrtle trees, and 500 lush azaleas, giving advantage to players who can work drives and approaches around the arboreal impediments. A circuit of streams ebbs and flows across the picturesque par 71, adding to the native obstacles and striking fear into the caramel hearts of hydrophobic golf balls. A roaming beverage cart slakes midround thirsts, and the club also boasts a driving range with grass hitting areas and a fully stocked pro shop.
Course at a Glance:
Designed by William Amick

18-hole, par-71 course

Length of 6,396 yards from farthest tees

Course rating of 70.4 from farthest tees

Slope rating of 118 from farthest tees

Four tee options
2365 Old Chemstrand Rd.
Cantonment
Florida
850-937-3820
The professional pilots at Timberview Helicopters ferry passengers high into the clouds aboard a sky-scraping whirlybird during flight tours through Destin, Kansas City, and Key West. Having chartered flights for National Geographic and the Travel Channel, these pilots expertly navigate planes toward sweeping, picturesque views, allowing sightseers to steal glances of Fort Walton Beach, downtown Kansas City, and Key West's ocean views from a perspective normally reserved for birds and astronauts with binoculars. Additionally, their high-definition videos grant guests a lasting commemoration of their in-flight experience. When they're not chartering tours, they teach budding pilots the gravity-defying tricks of their trade through pilot training and lug precious shipments from port to port with their cargo-lifting services.
9750 Aileron Ave.
Pensacola
Florida
850-774-0991
Originally built in 1930, Spring Hill Golf Course spans 6,665 yards of kempt fairways lined by mature trees and interspersed water hazards. The par 72 course snakes through the charming Spring Hill College campus, challenging golfers with subtle elevation changes, six ponds, and rogue professors interrogating passersby about the lost history of the mashie niblick. The driving range prepares golfers for their 18-hole odyssey, which begins with an unforgiving first hole—a 435-yard par 4 rated the course's most difficult.
PGA professional Shane Allen oversees the stately grounds, employing digital video analysis in lessons for juniors, adults, and caddies desperate to determine their most intimidating post-putt howl.
Course at a Glance:
18-hole, par 72 course
Length of 6,665 yards from the farthest tees
Course rating of 71.3 from the farthest tees
Slope rating of 124 from the farthest tees
Four tee options
Scorecard
4000 Dauphine St.
Mobile
Alabama
US
Emerald Coast Tours' knowledgeable guides champion the bicycle as Pensacola's ideal mode of transport. They strive to serve as ambassadors to city visitors, customizing sightseeing biking tours to suit cyclists' interests and happily recommending travel destinations to patrons seeking daylong rentals. Their shop's single-speed Sun Revolutions cruisers prove ideal for coasting down city streets and laying siege to sand castles along the coastline.
113 N Palafox St.
Pensacola
Florida
850-417-9292
Just off the white-sand coastline of northwest Florida, Lanier Sailing Academy teaches students to captain their own aquatic adventures with classes in cruising, chartering, and navigation. Classes include programs for beginners to advanced students, starting with the Practical Sailing for Basic Keelboat Certification course, in which novice navigators learn to steer boats, trim sails, and avoid swashbuckling sea otters. While working toward certification in various programs, students explore the Intracoastal Waterway and its bounty of dolphins, rays, blue pelicans, and myriad fish. Lanier Sailing Academy's experienced members earn membership into the Buccaneer Sailing Club and are able to rent and sail 22- to 25-foot boats at their leisure.
600 S Barracks St.
Pensacola
Florida
850-432-3199
As the sun rises over the forested wetlands of Dallas County, a group of camouflaged hunters leads dogs to a blind. From their perch, the shooters wait to spot passels of ducks or pheasants. The gunmen raise their rifles. They aim. Then they fire. Their feathered bounty falls from the sky.
Scenes such as this are business as usual during the autumn months at Central Alabama Fowl Preserve. There, staffers help outfit hunters with the amenities needed for a successful day, including a lodge equipped with bedrooms, a kitchen, and a social area where groups can unwind and argue about who has the most stylish orange vest. On the offseason, the preserve opens a skeet-shooting range to help clients keep their aim sharp.
17706 County Rd.
Stanton
Alabama
334-412-3509
---