Photography & Portraits in Fairview
---
Photography & Portrait Deals
---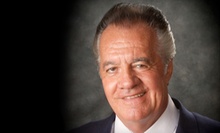 Graffiti writer-turned photographer Flint Gennari brings hip perspective to professional headshot photo shoots
Use Saturday 9:00am - 9:00pm
---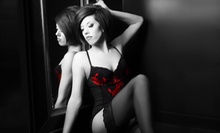 Experienced photographers snap alluring photos of professionally made-up subjects that ooze elegance on canvas, phone cases, and calendars
Use Monday 11:00am - 7:00pm
---
Recommended Photography & Portraits by Groupon Customers
---
Lively photographers play off their high-energy subjects, moving around the studio as families, kids, and pets laugh, play, and display their natural character during relaxed in-studio portrait sessions. While cute and cuddly subjects often light up PortraitBug's flashbulbs, the photographers welcome a variety of other subjects, from families and expectant mothers to professionals in need of resume-worthy headshots and teens looking for the right glamour shot for their social-networking profiles. A link to a password-protected gallery grants continued, unlimited access to any previous shoots, shareable with friends and relatives for direct viewing and ordering.
2466 Broadway
Manhattan
New York
US
To achieve a style that it describes as "fine-art photojournalism," the boutique studio employs an award-winning team of photographers and videographers. Instead of churning out the usual stand-and-smile wedding shots, Funico's crew focuses on capturing the little moments, the candid moments of laughter and tears, the subtle gestures of a deep, abiding love, and the living, breathing human rhythm of your celebration (see here for examples of recent engagement photos). After your shoot, you'll receive a webpage with a slide show set to music and an online gallery to share with loved ones, plus two high-resolution images of your choice that you can treasure forever and reprint as often as you like—use them for save-the-dates, wedding invitations, or to blow up for life-sized cardboard cutouts of yourself for your living room. To reserve your slot, make sure to contact Funico Studios at least seven days ahead of time.
363 E 76th St
New York
New York
Stephanie Reinish employs high-end lenses and a low-tech playful approach to capture moments both fleeting and profound in the lives of families, infants, and four-legged friends of any phylum. During a 45-minute on-location session, candid models can feel free to test out ideas of their own or simply allow Stephanie's keen eye to hone in on a vibrant backdrop or adventurous pose. After the shoot, clients choose an image from a lineup of 10 proofs, pointing out a portrait to imprison in an 11"x14" print on charges of identity theft. Groupon holders also get 10% off additional prints, such as 4"x6" ($45) to spruce up a barren work space or an 8"x10" ($45) to brighten up a barren mantle.
2-17 51st Avenue
Long Island City
New York
347-455-0949
Niki Broyn discovered her passion for photography when she started snapping shots of her four kids in 1996. As her children grew, so did her skills as a photographer, prompting her to found Nikibi Studio, where she currently captures the smiles of other families. She likes to incorporate her subjects' passions in each photo session, taking pictures of musicians performing or cat burglars posing in front of a cracked safe. Niki also travels on location for special events, such as baptisms, and specializes in portraits for home, business, and commercial use—her shots never looking out of place above a mantle or in the pages of a magazine.
417 7th Ave.
Brooklyn
New York
When cast members from The Real Housewives of New Jersey stopped at Marra's Restaurant for a bite, the owner asked neighboring photographer Mike Kortoci to take a picture. The ladies loved his work so much that, after a tour of his studio, they asked Mike to film an on-camera segment for the show. Snapping shots of celebs isn't uncommon for Mike—according to Ridgewood News, his famous clientele has included the Baldwin brothers and America's Next Top Model –winner CariDee English.
For the most part, however, Mike lends his artistic eye and more than 20 years of experience to creating customized portraits for his everyday clients, including kids and families. He snaps primarily black-and-white images during on-location shoots and inside his 2,000-square-foot studio. Afterward, he retouches clients' favorite shots, removing red eye or blinking specters, and preserves them on canvas or watercolor-paper prints.
566 S Broad St.
Glen Rock
New Jersey
201-389-3524
Though the word amateur now connotes a lack of experience, it is derived from a Latin term that meant "lover of." Despite Sean Bolt's ascent to professional shutterbug status, he still attributes his love of photography to the time he spent watching his father—an amateur photographer himself—pursue his own passion.
Sean eschews rigid poses by telling stories through candid moments and photojournalistic portraits. Rather than sequestering himself in a studio under artificial conditions, he takes his art on the road by traveling throughout the metro Atlanta area to meet his clients. His work can run the gamut from sophisticated black-and-white images to crisp, colorful, and wacky poses. When he isn't taking family portraits, capturing baby pictures, and chronicling weddings, he snaps photos for merchants who want to capture the essence of their businesses before they grow up and move away to become a college.
199 Prince Street
New York
New York
US
---