Music Lessons in Fallbrook
---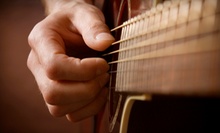 Under the tutelage of skilled instructors, prospective rock icons learn scales, chords, and soloing techniques during 30-minute lessons
---
Recommended Music Lessons by Groupon Customers
---
You'll also get to choose from a variety of instruments, including guitar, piano, trumpet, drums, and the instrument inside your throat-box. See the sidebar for a complete list of lessons.
1125 Victoria St., Ste C
Costa Mesa
California
From 18 studios scattered around Los Angeles, Lori Moran Music Studios' armada of instructors offers all-ages voice, piano, guitar, violin, and composition classes. With teachers who have worked on films such as Dreamgirls and Dance Flick, world-touring operatic productions, and Grammy-nominated choral CDs, the school can cater to virtually every musical taste—from classical to jazz to pop. Students choose the emphasis of their lessons, whether they want to work on their public performance skills, write their own songs, sight-read scores, or simply be able to play musical chairs during a power outage. Many will also get the chance to show off in recitals, concerts, and showcases.
N Lowell St. and W 10th St.
Santa Ana
California
Students in Modern Music School's international net of 70 locations get more than by-the-numbers technical training. Instead, the focus is on enjoying the art, and though the teachers are classically trained, their lesson plans home in on rock, jazz, funk, pop, or virtually any other genre. Beginners thrive in the laid-back, fun-first atmosphere, which encourages them to set their own pace on the path to stardom, both in practicing their instrument and in converting to an all-leather wardrobe. The school's highly individualized method readily lends itself to private lessons, and the band program not only helps fledgling stars strengthen their chosen style but also rounds up potential gigs when the group feels stage ready. Other performance opportunities are available at regularly staged concerts through the team program and every morning in students' own showers.
2982 E Colorado Blvd., Suite 111
Pasadena
California
626-578-9242
While her husband was in Iraq, KinderJam founder El Brown struggled to entertain her toddler with high-energy, enriching activities that would prepare him for kindergarten. Drawing on her master's degree in early-childhood education and more than a decade as an educator for children around the globe, Brown devised a program that has since become a preschool franchise reaching more than 1,300 children in four countries. The KinderJam curriculum, designed to mesh with NAEYC framework and Developmentally Appropriate Practice standards, fosters creativity and school skills with vibrant props, creative movement, and boisterous music. For younger participants, weekly BabyJam sessions strengthen bonds between infants and parents through music-fueled tickling, cuddling, and trigonometry-proof analysis.
25 Ford Rd.
San Diego
California
USA
253-732-6235
---