Falls Church, VA Indoor Activities
---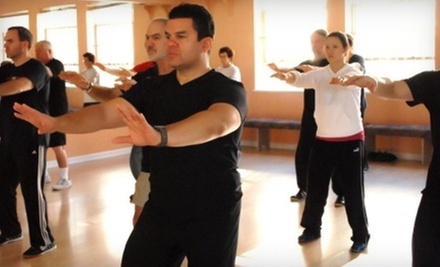 Ballston - Virginia Square
---
Recommended Indoor Activities by Groupon Customers
---
Founded in 1951, Adventure Theatre MTC has been the longest-running children's theater in the Washington area and has earned a mantel-overloading amount of awards throughout the decades. Alongside professional and student productions, the theatrical powerhouse hosts camps and workshops to expand the performance arts, instill the love of the stage in children, and help teens to act like they care about the SATs.
7300 MacArthur Blvd.
Glen Echo
Maryland
DuShor Dance Studios has over 50 years of combined dance and teaching experience. Our studio caters to all persons youth to adult that wish to learn to dance. We teach over 43 different styles of partner dancing and can even handle requests for non partner dancing styles. We provide both private sessions and group classes.
7800 Wisconsin Ave., 2nd Floor
Bethesda
Maryland
301-656-7434
The Fab Faux, partly featuring members of the house bands of The Late Show with David Letterman and The Tonight Show with Conan O'Brien, recreate Fab Four classics in pitch-perfect and note-for-note style, coming strikingly close to the sound of the original recordings. In the case of Beatles songs recorded after August 29, 1966, The Fab Faux does what the Beatles never did—play them live. Hear Abbey Road cuts as you ponder the masculine features of Polythene Pam or just how much love you have to make to break even in the end. Or drift away to White Album cuts while thinking about how Desmond and Molly's barrow in the marketplace is doing in spite of the gently weeping guitars being sold just three doors down.
730 21st St. NW
Washington
Washington D.C.
Stroga is the perfect name for Doug Jefferies' fitness studio, as his goal is to help clients reach optimal levels of wellness through a combination of strength conditioning and yoga_. The studio sprawls out within the L'Aiglon building, an early 20th-century construction accented by stained-glass windows and extensive woodwork. Inside the immense yoga space, ivory chandeliers drip from an intricately carved ceiling of the same hue, and periwinkle walls alternate with floor-to-ceiling windows that bathe up to 100 yogis in natural light. An azure ceiling painted with puffy white clouds tops the open-concept fitness area, which accommodates group classes for up to 20 students or up to one massively over-stuffed teddy bear.
1808 Adams Mill Rd. NW
Washington
District of Columbia
202-238-9642
Studio Body Logic accepts no fitness forgery in its offering of authentic and unchanged Pilates, the core-strengthening conditioning regimen created by Joseph Pilates in the 1920s. Build strength, elongate muscles, and improve flexibility with nine Pilates mat classes ($18 each). Over the course of this exercise ennead, students of all levels of experience can immerse themselves in the full-body workout pioneered by Pilates, taming torso tigers, straightening up spinal sloths, and pinning down postural platypuses. The nine Pilates mat classes offered in this deal take place during Studio Body Logic's summer session, from the week of July 5 through the week of August 30. Classes are offered throughout the week, starting as early as 6:15 a.m. and as late as 8:15 p.m.—perfect for the many Studio Body Logic students making commutes from Peru or parallel dimensions.
2417 Mount Vernon Ave.
Alexandria
Virginia
United Social Sports brings recreational athletes together to socialize and showcase their hand-eye coordination. Free agents or team-sized groups register for the organization's casual coed leagues dedicated to traditional sports such as softball and volleyball as well as carnival games such as cornhole and skee-ball. Each league hosts 6–8 weekly matches, which culminate in a final tournament and an end-of-season party—much like youth-sports leagues, but with postgame drink specials.
315 Evarts St. NE , Suite 111
Washington
Washington D.C.
---