Faribault, MN Outdoor Activities
---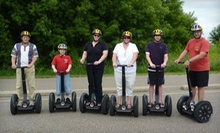 Self-balancing segways leave tread marks on dirt roads and scenic bike trails that meander through Mayo Park and Cascade Lake Park.
Use Thursday 1:30pm - 4:30pm
---
Recommended Outdoor Activities by Groupon Customers
---
Paige Olson always knew she didn't belong in a corporate cubicle. She never had the chance to test this theory, though, because after receiving a BA in natural resources recreation and tourism from Colorado State University, she leapt right into a master's program in adventure education and wilderness leadership from Prescott College in Arizona. Three decades later, she's led numerous groups of youth on wilderness adventures that include backpacking, downhill skiing, kayaking, fly-fishing, and mountain biking. She caught her breath long enough to open Kinni Creek Lodge and Outfitters a little more than a decade ago in her native state of Wisconsin. There, she began by accommodating vacationers with six rental canoes and three guest rooms. But it wasn't long before she transformed the small outfit into a year-round resort. Today, Kinni Creek is spread across 180 feet of private, scenic shoreline along the Kinnickinnic River. Olson combines many of her outdoor loves with 45 kayaks for rent, a fly shop and fly-fishing school, and bed and breakfast cabin lodging.
While leading wilderness adventures, Olson has also developed a passion for ecotourism and empowering others to enjoy the outdoors responsibly. She implements green practices throughout Kinni Creek, such as illuminating rooms with incandescent light bulbs, recycling and composting when possible, and using locally sourced ingredients to start food fights.
545 N Main St.
River Falls
Wisconsin
877-504-9705
As a girl, Lynette Weldon dreamed of horses and cleaned stalls in exchange for the opportunity to ride. But she was only allowed to take out horses known to be stubborn and difficult-the ones no one else wanted to ride. Over time, the experience toughened her riding abilities, allowing her to grow into a trainer with a knack for bonding with troubled ponies.
At Lost Creek Ranch, Lynette guides students and horses along trails and streams during riding lessons. Eagles often glide overhead in search of fretted field mice, and tufts of woodsmoke climb from the campsites of ranch visitors. She also guides many of her riding students to competitive shows where horses are encouraged to settle their differences through equitation rather than bare-hoof boxing or telling yo' mare jokes.
N5011 490th St.
Ellsworth
Wisconsin
715-273-6070
About 30 minutes from Minneapolis, the crew of Kinni Kayak runs tours on the Kinnickinnic River in River Falls, Wisconsin. The 3.5-hour excursions travel an 8-mile stretch of the river in a secluded, nonresidential area teeming with wildlife. For first-time kayakers, Kinni offers lessons with instruction as basic as how to sit in the craft and hold the paddle and as advanced as paddling techniques and fish grammar.
126 W Cemetery Rd.
River Falls
Wisconsin
US
612-363-4426
---
---
Outdoor Activity Deals - Recently Expired
---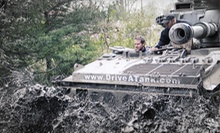 Safety briefings prelude adventurous rides in FV433 Abbot SPGs as well as firing-range time with a fully automatic machine gun
---
---