Faribault, MN Outdoor Activities
---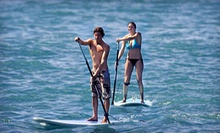 All-day paddleboard rentals include a paddle, life vest, leash, and instructions, and an in-store lesson covering steering and turning
---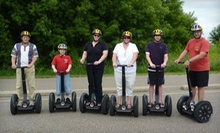 Self-balancing segways leave tread marks on dirt roads and scenic bike trails that meander through Mayo Park and Cascade Lake Park.
Use Monday 7:00am - 10:00am
---
Recommended Outdoor Activities by Groupon Customers
---
Discover your inner Davy Crockett with today's Groupon. For $5, you get admission to the 40th Annual Minnesota Sportsmen's Show any day from Wednesday, January 13, through Friday, January 15, at the Saint Paul River Centre. Gawk at great outdoorsy goods (RVs, motor homes, travel trailers, fishing boats), attend free fishing and hunting seminars, plan your next excursion, and witness a water-skiing squirrel purchasing a motor home.
175 W Kellogg Blvd
St Paul
Minnesota
US
Water cascades over the precipice of a towering rock face, forming an elevated waterfall that overlooks the recently renovated 18-hole circuit at Malt-Tees Mini Golf. Featured in CBS Minnesota's Best Things to Do in Richfield, the course winds through a labyrinth of colorful gardens and flowing streams, which players navigate via a system of bridges and putter pole-vaulting challenges. After rounds, appetites piqued by celebratory putter-gnawing can find relief at the malt shop, which serves up malts, ice cream cones, espresso, soft drinks and light snacks.
6335 Portland Ave. S
Richfield
Minnesota
612-861-9348
For most of the year, the outer concourses of the Hubert H. Humphrey Metrodome fill with the aromas of hot dogs and grilled onions to feed hungry fans during Vikings and Twins games. But from November through April, the smooth concrete floors of those same concourses become the skating surface for the Rollerblade RollerDome. Skaters have taken over the Metrodome every winter for decades, including in 1993, when Jonathan Seutter set a Guinness World Record there by skating 271 miles in 24 hours. The half-mile concrete loops provide the ideal conditions for speed skaters and beginners alike. On the upper level, experienced skaters get a cardio workout with separate alleys for speed skating and leisurely coasting. On the lower level, kids and novices can take their time while skating along to music spun by onsite DJs and really hip spiders.
900 South 5th Street
Minneapolis
Minnesota
US
612-825-3663
Roller derby combines the breakneck pace of NASCAR, the technical virtuosity of figure skating, and the hard-hitting action of badminton into a supersport smoothie. Your tickets get you in to see the Banger Sisters, Delta Delta Di, Kilmore Girls, and the Violent Femmes compete for first place, bragging rights, and bruises that most resemble Abraham Lincoln. Established in 2006, the North Star Roller Girls have steadily grown in popularity, becoming part of the Women's Flat Track Derby Association in 2008. Today, North Star's travel team, the Supernovas, periodically compete for a coveted national rankings spot. Teams are propelled by traditional quad roller skates, mounds of spunk, and intimidating monikers such as "Ida Kildher" and "Maggie McFaceStomp" as they propel their point-scoring teammates past opponents.
1301 2nd Ave S
Minneapolis
Minnesota
Held aloft by 35 years of family tradition, Stillwater Balloon sends intrepid explorers skyward from a port just off the scenic St. Croix River. Friendly FAA-certified pilots operate each craft and readily answer any questions that passengers may have as they float through gorgeous views of the surrounding valley. The billowy, multicolored behemoths cruise at treetop level, allowing travelers to shake hands with monkeys. Private and semiprivate flights are the business's forte, but Stillwater Balloon also accommodates custom flights for backyard surprises or ultimate school pickups.
135 Saint Croix Trl. N
Lakeland
Minnesota
651-439-1800
Since 1970, Skateville Family Rollerskating Center has facilitated friction-free entertainment on a classic indoor wooden rink. Multicolored lights tumble from retro fixtures high above the skating surface, swathing skaters in incandescent hues and mirages of Mardi Gras beads. In addition to hosting guests during open-skate hours, the family-owned roller arena gathers classes and groups together for field trips and fundraisers. The snack bar's hot dogs and soft drinks keep skaters energized, and an onsite arcade keeps hands from whining about all of the foot-centric entertainment.
201 S River Ridge Cir.
Burnsville
Minnesota
952-890-0988
---