Education & Classes in Farmers Branch
---
Education & Classes Deals
---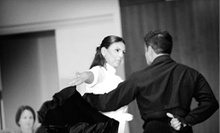 Experienced instructors lead dancers through classic ballroom steps set to even pattern of beats & applicable to other dance styles
Use Saturday 9:00am - 5:00pm
---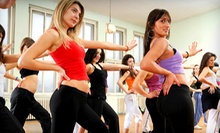 South Boulevard - Park Row
Yoga experts use vinyasa flow techniques to enhance receptive awareness & overcome internal obstacles while alignment cues protect joints
Use Monday 4:00pm - 7:00pm
---
Recommended Education & Classes by Groupon Customers
---
Joseph and the Amazing Technicolor Dreamcoat is just one of the Broadway credits on Jacqueline Porter's resume. A dancer-actress-CEO triple threat, Jacqueline has graced the stage for more than 25 years, performing in New York and on tour. Today, she draws on her extensive experience to teach students at Park Cities Dance, which she founded after relocating to Dallas in 2008. Just as hands instinctively clap during the entirety of Independence Day, feet instinctively glide across the floor during informative classes, which cover styles such as ballroom dance, Zumba, musical theatre, and ballet, among many others. In addition to weekly classes, Park Cities Dance frequently hosts workshops as well as a roster of guest artists whose past experts have included contemporary dancer Drew Jacoby and Broadway superstar Elizabeth Parkinson, who received a 2003 Tony Award nomination.
7979 Inwood Rd., Suite 201
Dallas
Texas
214-357-8888
Every graduate of The Premium Institute of Bartending Schools' 34-hour mixology program can count on one thing—being hired as an on-call bartender with Premium Event Staffing, a company that provides staff for private parties and corporate events. Like a pie-fight truce, this guarantee benefits everyone involved. Students get to earn income while they use the institute's job-placement services to find a steady gig at an affiliated bar or elsewhere. Premium Event Staffing in turn gets access to bartenders who have completed the mixology program and who know their way around a muddler.
The reason even the institute's most recent graduates are so comfortable behind a bar isn't that they're wearing footie pajamas under their clothes—it's that classes take place in such a realistic setting. Students work at a bar setup that includes bar guns, liquor bottles, and 14 types of glasses, and they learn to pour on a real draft-beer system. This hands-on approach also characterizes the four-hour introductory classes the school holds for people who wish to learn to make martinis, shots, frozen drinks, or other specialties.
1305 S State Hwy. 121, Suite 420
Lewisville
Texas
For more than 14 years, the drink alchemists of JC Bartending, Inc have handled drink-slinging duties for private events, using skills that they pass on to amateurs during the school's hands-on classes. With more than 100 certified professional mixologists on staff, no drink recipe is out of bounds as each glassful and dazzles students or sippers during bartending classes. Beneath rows of colorful bottles at a working bar, trainers splash together the basic staples of typical watering holes as well as more complex cocktails. The fully functional bar prepares students fully to prep drinks, wield a soda gun, and pick bubbles out of soda for finicky billionaires. To augment the educational services, the school also provides job-placement services, bartending phone apps, and information on certifications.
280 Legacy Dr., Suite 300
Plano
Texas
972-527-9000
Accomplished artists themselves, both Tracy Malmstrom and Gail Carson—"Ms. Tracy and Ms. Gail" to their young students—have taught art in elementary schools. After a deluge of requests for private lessons, Tracy founded ArtCastle in 2006 and Gail signed on in 2011. Together, they nourish the artistic spirits of children 5 and older through drawing, painting, printmaking, and a plethora of other mediums.
As the young artists hone visual skills while silk painting or practicing batik-watercolor techniques, Tracy and Gail also strive to bolster their problem-solving abilities, listening skills, and confidence. In addition to after-school and home-school art sessions, the duo offers Friday kids' night out parties in which kids belt out karaoke, scarf down pizza and desserts, and amaze their parents with a finished work of art at the end of the night. Summer camps and classes keep kids active on break and Saturday workshops teach youngsters of all ages a new artistic skill each month, such as how to construct a new best friend out of papier-måché.
491 W Harwood Rd.
Hurst
Texas
817-995-9933
When Dancing With the Stars' contestants Emmitt Smith, Mark Cuban, Michael Irvin, and Jake Pavelka needed a place to sharpen their rug-cutting capabilities, regular Karina Smirnoff told him to look no further than Studio 22. Studio 22's talented instructors even performed on Dancing With the Stars in October tof 2012. Founded by internationally ranked Latin dancing couple Sergey Korshunov and Michelle Hafle, the studio lassos a stable of instructors handpicked from the highest levels of professional competition. Their group classes and private lessons give beginners and seasoned dancers alike the opportunity to polish their performance in styles as diverse as Argentine tango, salsa, ballroom, swing, and country and western.
The 6,200-square-foot studio accommodates classes of every size with its rich wooden floors, wall-length mirrors, and plush leather seating with which to rest feet between exercises and build forts whenever the instructor leaves the room. Studio 22 also hosts weekly dance parties that give students a chance to take new partners for a twirl in convivial, BYOB soirées.
14902 Preston Rd., Suite 400
Dallas
Texas
972-490-0022
Art creates collateral damage. Paint flecks—ocean blues, blood reds, and fell-asleep-tanning oranges—splatter the floors and walls of any active studio. Art Class Dallas wears its creative war wounds proudly, welcoming member artists and guests to its eccentric, warehouse-style space. After drawing their eyes away from the expressionist splatters and the finished pieces hung overhead, painters focus on creating a new work with the blank canvas in front of them. Artistic director and founder Cynthia Chartièr oversees the studio and espouses a philosophy for painting that encourages self-discovery through the brush strokes, the shaping, and the texturing that goes into each work. Her space regularly hosts open workshops, sparking the imaginations of singles, couples, corporate teams, and private parties.
1330 Motor Cir.
Dallas
Texas
214-477-1794
---