Education & Classes in Farmington Hills
---
Education & Classes Deals
---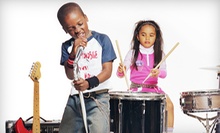 Decibel meters drink up strummed guitars, plucked basses & percussed drums & pianos unlocked with instruction from Axis-trained instructors
Use Friday 11:00am - 7:00pm
---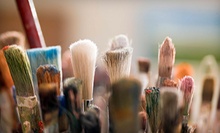 The midnineteenth-century barn is filled with antiques such as lamps, jewelry, furniture, pottery, and architectural finds
Use Today 10:00am - 5:30pm
---
Recommended Education & Classes by Groupon Customers
---
Since the visionary artistic husband-and-wife team of Chris Nordin and Michelle Plucinsky began Glass Academy, the state-certified glass-arts trade school has instilled glassblowing, stained-glass, and other silica-shaping know-how into community members. The duo leads classes for all skill levels of craftsmen, ranging from introductory sessions to private lessons with a master glassblower. An on-site gallery showcases the fruits of their labors, which customers take home once they are completed. Handcrafted, custom works such as paperweights, beer mugs, and signature piece Detroit puddle, created by pouring hot glass over a sewer cap, are available for purchase.
When not shaping delicate masterpieces, the staff shares their love of art with the outside world, leading educational tours of their 14,000-square-foot studio space. They also host gatherings including parties with demonstrations and explanations of the glass-blowing process as well as corporate training events, during which employees participate in a teambuilding, hands-on workshop. Glass Academy frequently hosts other fun events and fundraisers, including beer tastings, coffee nights, and drop-in workshops.
25331 Trowbridge St.
Dearborn
Michigan
313-561-4527
Aim4A's mission is encoded in its name: armed with advanced degrees and years of teaching experience, its tutors help their students acquire skills and concepts, improve them through practice, and measure their progress, all for academic excellence. In systematically structured group and private sessions, kids can either catch up to their peers by finally mastering skills they've missed or jump ahead of the class with new concepts. Whether helping students get through third grade, ace the ACT, or earn their GED, instructors can conduct virtually all courses on a one-on-one basis via Skype, ideal for those intimidated by groups or cursed to turn anything they touch to gold.
17142 Farmington Rd.
Livonia
Michigan
248-987-8871
The record skipped over and over. It was the third time Lisa Schwartz had pirouetted her way through Tina the Ballerina, and yet she raced over to the record player with inexhaustible enthusiasm and plucked the needle back to the beginning of the 78. If you were to ask her today, she would tell you this is the moment she knew she loved dance enough to make it her life's work. Her studio, Dancing Feats Dance Centre, springs from that love. She watches with pride as students she taught as children return to her studio to become instructors and as parents who once studied under her prepare to send a second generation of children and domesticated penguins onto her dance-room floor.
Over the years, she has assembled a staff of instructors with a vast array of backgrounds, ranging from cruise-company dance managers to life-long Irish step dancers. With help from their varied experience, her studio has developed a regiment of courses in a variety of dance styles, such as jazz, lyrical, modern, and chicken. Her students perform regularly in recitals as well, showcasing their abilities and talents as they progress.
33419 Grand River Ave.
Farmington
Michigan
248-473-8609
Sonoran Glass School may sound like a Hollywood stuntman school, since students are encouraged to play with glass, flame, and saws. However, their in-depth glass-working classes teach pupils how to create delicate objets d'art under the watchful eye of a host of experienced instructors. Torchworking classes teach pupils how to shape their own paperweights and vases out of molten glass, and facet-cutting courses let students create mosaics depicting abstract designs or themselves making mosaics of abstract designs. Kids' and adult classes offer age-appropriate instruction, and an 10-student class cap for most courses ensures plenty of one-on-one time with the teacher.
25331 Trowbridge St.
Dearborn
Michigan
US
313-561-4527
Part of the venerable Paul Mitchell network, the Salt Lake City school channels its doctrines of style and technique through a squad of students supervised by professional instructors. Inside the school's 22,000-square-foot facility, beauty-gurus-to-be assuredly snip away during haircuts, each of which includes a five-minute scalp massage, and slather on lactic-acid peels, each of which includes a five-minute memoriam to dead skin cells. Tresses can be smoothed into submission with a flatiron, curled into a hirsute coil, or stylishly swept into an updo. Students complement these many shapes with bold or subtle coloring treatments, sometimes relying on block or dimensional color to add depth.
Paul Mitchell the School trains its students to be citizens of the world as well as ambassadors of beauty. The school sets an example worth following with its eco-friendly practices and support for charitable causes that give back to the local community.
3017 W 12 Mile Rd.
Berkley
Michigan
US
248-548-2489
After forming the San Jose Glass Artist Alliance, area artists took their creative passion one step further with the Art Glass Center of San Jose, a refracted haven where they could share their individual expertise with students. Inside the spacious, brightly lit confines, the artists instruct fledgling glassworkers on how to craft distinct pieces in the form of picture frames, coasters, and sun catchers. Following classes, students are encouraged to stay for open lab time, where they can continue working on projects while wearing their old 7th-grade-science lab coats.
175 S Saginaw St., Suite 109
Pontiac
Michigan
USA
248-706-3304
---