Farmington, UT Health and Fitness
---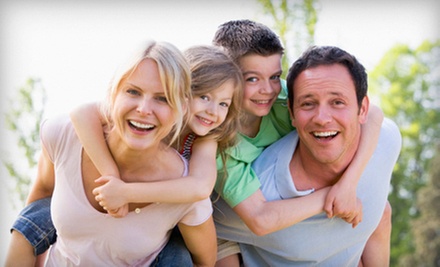 ---
Recommended Health & Fitness by Groupon Customers
---
The instructors of French Kiss Fitness model their group classes after the acts of performers such as Pink, the pop star who thrilled audiences at the 2010 Grammys with a dance routine derived from circus acrobatics. Like a dark room plastered with Lou Ferrigno posters, the studio's workout style both develops and shows off muscle. Fourteen poles support physiques as they execute moves that build core strength; off the pole, students learn floor- or chair-based routines to replicate at home. Aerial classes build center strength with the help of silk ropes, dangling hoops, and a trapeze. For more traditional workouts, students can attend core-strengthening Pilates classes or yoga classes to relax the mind and body.
2440 Washington Blvd.
Ogden
Utah
801-394-3185
The rye-grass fairways at Eagle Lake Golf Course twine around three ponds and a smattering of bunkers. As nine-hole rounds commence, golfers face a long, wide fairway that encourages long drives, and the fifth hole's dogleg left calls for expertly dispatched curve balls. The course's driving range boasts 20 covered stalls, lighted from April through October; 8 of them are heated for hatching golf balls into chicks during the winter. A putting green, chipping green, and 60-yard pitching green round out the practice area, and guests can also take advantage of professional guidance in lessons.
Eagle Lake Golf Course also offers mining-themed miniature golf for the entertainment of smaller-scale gamers. The course's 18 holes of putt-putt wend past diminutive waterfalls and around three mountains, including a 12-foot peak with mine shafts and mining carts.
Course at a Glance:
9-hole, par 36 course
Length of 3,162 yards from the farthest set of tees
Course rating of 35.3 from the farthest set of tees
Slope rating of 112 from the farthest set of tees
Four tee options
2885 W 5200 S
Roy
Utah
801-825-3467
The Front Climbing Club has attracted a crew of passionate setters and climbers with various outdoor-climbing experience, earned while climbing around the world. The staff brings this knowledge to its route setting, filling the 10,000-square-foot space with bouldering routes and top-roping walls that will boggle the mind and body like a kiss from Albert Einstein. Instructors lead these climbing and bouldering classes as well as training sessions, either teaching the fundamentals or helping attendees of virtually any age and skill level master more advanced techniques. Also offered are yoga classes and a full array of strength and cardio equipment, which can provide year-round conditioning training. The Front runs afterschool kids' programs and camps, helping young climbers hone skills needed for teamwork and concentration. The club's pro shop also keeps visitors prepared for climbing excursions by allowing them to stock up on specialty supplies, including rock shoes, ropes, alpine and ice gear, and training equipment.
225 E 20th St.
Ogden
Utah
801-466-7625
Dr. Kris Davis and Dr. Daniel Davenport of Spinal Care Center of Utah bolster clients' back and bodily health through holistically focused chiropractic treatments. Spinal columns undergo careful scrutiny during consultations in which the docs chart complaints and conduct orthopedic, neurologic, and spinal examinations, taking all necessary x-rays to check for bone stability and souvenir seashells posing as vertebrae. Their massages simultaneously unload muscle-held stresses and unwind tissue knots, while their K-Laser saturates tissues with a combination of specific wavelengths of light that help biostimulate body repair. These stimulating sessions can increase natural bodily processes to accelerate tissue repair, improve vascular activity, and speed recovery from whiplash incurred at the office's annual rolling-chair demolition derby.
1186 E 4600 S, Suite 220
Ogden
Utah
801-475-1800
In 1911, when he opened Standard Optical, Henry Schubach could not have guessed that his successors would be providing LASIK treatments and contact lenses in 18 clinics. Each office fills with chatter as doctors check prescriptions and work to identify common optical issues, such as glaucoma or weeping when an onion dies. Light skips off ranks of designer frames from Coach, Maui Jim, Guess, Lacoste, and Dior, and transitional lenses darken as newly keen-eyed patrons mosey from the shop. The staff at Standard Optical has also performed more than 15,000 LASIK procedures, and offers a free consultation for those seeking to ditch frames.
1076 Layton Hills Mall , Suite 2090
Layton
Utah
US
Dr. Todd Daynes and Dr. Francis Wapner, the ophthalmologists behind Advanced Eye Care, wield experience gleaned from thousands of surgeries, exams, and medical evaluations when correcting ocular issues. The office outfits eyes in a number of stylishly sight-enhancing frames or secretly spiffs up vision with a pair of contacts. For those looking to shed their eyewear altogether, the doctors terraform corneal surfaces during traditional LASIK treatments performed with a microkeratome, often leaving patients with 20/20 vision or better and reducing their need for glasses, contacts, or large-print maps of their living rooms.
520 Medical Dr., Suite 201
Bountiful
Utah
801-294-8855
---