Shopping in Farmington
---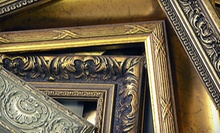 Professional framing consultants help customers select ready-made frames or art or design custom frames
---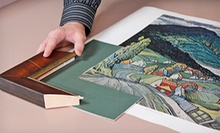 Store frames photos, paintings, and collectibles onsite with mouldings and acid-free mattings in multiple colors, styles, and sizes
---
Recommended Shopping by Groupon Customers
---
With spring spreading like a bag of spilled gravy, now is the ideal time to throw open the windows and get home-care projects underway. Pick up a Stanley six-piece screwdriver set for $6.99, a VPT rip hammer for $8.49, and a whole bunch of screws, anchors, and bolts (prices vary), and you'll be ready to finally mount every buffalo nickel and steel penny in your coin collection. Illuminate the newfound décor with a 12-pack of Ace light bulbs ($21.48), the better to see by as you make use of a Purdy four-piece premium paint-tray kit ($19.99). If you need to match paint to a favorite coverlet or choose a hue that complements a pleather recliner, each store offers a paint-matching service free of charge. Get keys made for $1.99 a pop, or clean a barnacle-encrusted carpet with the help of a carpet-cleaning machine ($30 a day to rent).
1330 E Highway 193 , #C3
Layton
Utah
Scoreboard carries popular athletic brands for men and women such as Nike, Puma, A6, Canterbury, and Harrow, along with any gear you need to collectively punish a variety of entertainment-providing orbs and ellipsoids. Specialty footwear such as Adidas F50 soccer cleats ($179.99) or Mizuno Wave Rally women's volleyball shoes ($57.59) help you build your game from the sole up, but don't forget to buy a full-grain leather volleyball ($42.99), since it's hard to return a shoe serve. If you've already got a collection of accoutrements, buy a portable containment system such as an Adidas duffel bag ($35.99), or finish your Bjorn Borg look with a headband ($4.99).
509 W 2600 S
Bountiful
Utah
Marine Products is a purveyor of wakeboards, water skis, boating equipment, and all the apparel and accessories required for stylish water sporting. Board shorts from brands including Billabong and O'Neill ($41.99–$62.00) look best balancing atop a wakeboard ($240–$1,000) or dearly holding onto a Hornet Tube ($75). To ensure safety, supply life vests for valuable family members ($25–$135), priceless family pets ($29.99), and laminated issues of Tiger Beat. Brands including Liquid Force, Ronix, Byerly, and Oakley make puppy eyes at patrons, while an experienced and knowledgeable staff of wake lovers and water otters stands at the ready to provide individual assistance.
949 West 1700 South
Salt Lake City
Utah
Uptown Cheapskate's mission is to help teens and young adults find on-trend looks for less than they'd spend at the mall. Backed by a team of stylists identifying seasonal styles, each location's staff pays cash for like-new pieces. Then, shoppers can indulge in current looks such as ombre tops, patterned jeans, and Air Force–inspired men's bomber jackets without smashing open heirloom piggy banks.
Some customers stop by to permanently stock their wardrobes. Others "upcycle" their wardrobe to keep it fresh for new seasons by opting for store credit—and earning 25% more than they would have if they had opted for cash.
353 W 200 S
Salt Lake City
Utah
The 2012 PGA Utah Golf Pass offers golfers discounted tee times and deals at more than 70 courses throughout the state. By paying the cart fee, pass-wielders enjoy free rounds at seven of the state's premier golf venues, including the red rock-framed fairways of Sand Hollow and the mountainside greens of Birch Creek Golf Course. At dozens of other courses, players enjoy VIP bargains such as percentages off tee times, buy-one, get-one-free deals on greens fees, special discounts for junior golfers, and free admission for infant sand wedges.
Pass holders also receive discounts on range balls, regripping services, and golf merchandise at certain locations. Check the website for a comprehensive list of discounts, all of which remain valid until the end of 2012 or the golf-cart union goes on strike.
10855 S State St.
Sandy
Utah
801-571-5770
Frustrated with the ill-fitting choices at department stores and the time-consuming work of online shopping, Brittney Hanks decided to take swimsuits into her own hands. Seeing the tasteful results of her sewing, friends and family cajoled her into crafting hundreds of suits that fit and flatter the female form. Brittney's suits were so popular that she was eventually forced to outsource the work and focus on designing suits that fit every body type. She specializes in tankinis and one-piece suits of armor; her nylon-spandex creations contain waist-defining ruching, fashionable high-waisted and boy-short bottoms, and a variety of skirts that show off assets without baring too much skin.
2727 W 3500 S
West Valley City
Utah
---