Restaurants in Fayetteville
---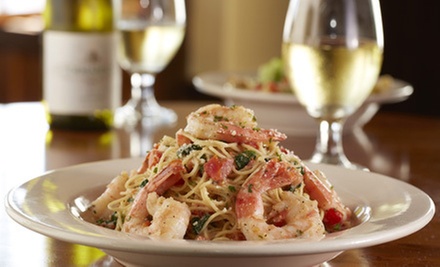 ---
Recommended Restaurants by Groupon Customers
---
Bambu embraces traditional recipes and dining practices to create an authentic Vietnamese dining experience. Their pho soup packs noodles into a beef or chicken stock made on site and simmered for 12 hours to fully coax out flavors and create a dish named Best Hangover Remedy by the editors of 417 Magazine. The menu showcases rich house specialties, including Bun Bo Hue, a soup from the old imperial capital of Central Vietnam with a spicy broth made from long-simmered beef bones. Most items come with a plate of fiery chilis, fresh herbs, and lime to season dishes instead of boring salt- and peppershakers or somber personal chefs. The courteous wait staff caters to every diner's needs, providing gluten-free menus to those with dietary restrictions and bibs to protect from soup splatters.
1338 E Battlefield St.
Springfield
Missouri
417-881-9881
When you order guacamole at Las Margaritas, you aren't just asking for the avocado-based chip dip; you're asking for a spectacle. That's because the staff brings the entire guacamole-making production to your table, mashing together the ingredients in front of you and delivering the tasty concoction as freshly as if the kitchen had an avocado tree growing in the sink. This dedication to fresh, authentic Mexican cuisine sums up Las Margaritas, where chefs make salsas by hand daily and churn out favorites such as chimichangas, tacos, enchiladas, and burritos.
The menu also includes more innovative dishes, such as pork-and-pineapple-filled tacos and the camarones tocineta—cheese-stuffed shrimp that are wrapped in bacon and topped with a pork rind whittled into a bow. A chilly margarita quells any spicy main course and incorporates only natural ingredients to flavor its pomegranate, peach, mango, and pineapple varieties.
2113 W Republic Rd.
Springfield
Missouri
417-887-1213
Linda and Steve Wood broke the ground on their first Australian-themed enterprise when they opened The Outback Steak and Oyster Bar in 1987. Over the years, the eatery garnered enough attention from Ozark visitors that it inspired the couple to open the Outback Outfitters clothing store in 1989. Nearly a decade later the Woods converted the store into the Outback Pub, adorning its walls with Australian articles and serving a menu of down home, exotic fare. Wild appetizers such as kookaburra-sauce-laden gator tail cause taste buds to don tiny safari caps before trekking through entrees of seasoned grouper or the tavern's specialty Shepparton chicken pot pie. Sips from more than 100 beers bring tides of malty and hoppy flavor, while live entertainment hosted every night gives the dinner crowd a soundtrack more pleasing than compliment-whispering earmuffs.
1924 W Hwy. 76
Branson
Missouri
417-334-7003
The iconic comic-strip character and namesake of Dagwood's Sandwich Shoppes peeps out from the first "o" in the deli's logo, embracing not his wife, Blondie, but the signature Dagwood sandwich. With its four meats and pair of cheeses, the delicious (if slightly intimidating) sandwich represents the more than 20 signature subs and clubs that grace Dagwood's menu. Meats ranging from premium roast beef to tender pork loin share slices of bread with cheeses, crisp pickles, and all the condiments one might expect of an old-fashioned deli. Those too young to appreciate the shop's Sunday-paper references will at least enjoy kids' meals such as the classic grilled-cheese sandwich. Aside from their in-store selections, the deli caters events with colorful trays of meats and sack lunches served by a curiously cartoonish wait staff.
1111 E Republic Rd., Suite 164
Springfield
Missouri
417-886-5155
Emack & Bolio's reinvents classic soda fountain traditions by slinging a selection of gourmet ice cream and hearty hot dogs in a range of innovative forms. Staffers dig scoops into ice-cream tubs filled with flavors such as vanilla-bean speck, creamy chocolate, and mint chocolate chip to outfit cones, smoothies, brownie sandwiches, and dunce caps on undercover missions. Meanwhile, chefs toil at the grill to cook up 12 types of Nathan's quarter-pound hot dogs and fashion a full menu of salads and sandwiches from old family recipes. Outside, a shaded patio beckons guests to cool off and enjoy the scenery of nearby Sequiota Park.:m]]
3521 S Lone Pine Ave.
Springfield
Missouri
Outback Steak & Oyster Bar allows diners to experience Australian-style steaks and seafood, whether they are lodging at the adjacent Outback Roadhouse Motel & Suites or just passing through. Fresh shrimp and seasoned white-meat alligator tail accent a menu of Down-Under delights, alongside Australian wine or beers also available at the Outback Pub. Thursday through Sunday evenings, live musicians accompany the sounds of diners crunching into coconut shrimp, while outside on the veranda, patrons dine under the moonlight and await sightings of Branson's indigenous kangaroo population.:m]]
1914 W Hwy. 76
Branson
Missouri
417-334-6306
---