Restaurants in Fayetteville
---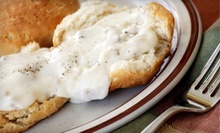 Breakfasts of grits, eggs, and buttermilk-biscuit sandwiches precede wings and sandwiches served during lunch
---
Recommended Restaurants by Groupon Customers
---
Whether preparing an order for 5 or 500 wings, the chefs at WingBusters USA begin by hand breading each fresh piece of chicken in a house-specialty batter. They then flash-fry the succulent morsels before showering the batch in a blend of spices and sauces to create a roster of signature flavors that includes sweet-and-spicy honey-mustard flavor, citrusy lemon pepper, and hickory-smoked barbecue flavor. Before they commit to slathering a batch, diners can sample any of the restaurant's flavors to ensure that they aren't so spicy they rekindle painful memories of a first kiss with a fire breather.
6825 Hwy. 29
Grantville
Georgia
US
770-583-2500
Live music regularly reverberates off Samba Loca Brazilian Steakhouse's bright-red walls, which bear festive decorations of ethnic artwork and wine racks crafted from gleaming chrome. Patrons sit under the full bar's flat-screen TVs, around tables, or in booths as the kitchen's Brazilian recipes power entrees of 14-ounce strip steaks and short ribs doused with chimichurri sauce. Customizable meals come in the form of five grill-fired meats, including filet mignon and red snapper, which don one of nine traditional sauces splashed with notes of curry, blue cheese, or passionfruit. To help them to decide, patrons not fluent in Portuguese can rely on the menu's English and Klingon translations or gaze at screens that feature photos of Samba Loca's signature dishes.
120 Alabama St.
Carrollton
Georgia
US
770-214-1253
Flames from a glowing hibachi grill flicker beneath China Inn's expert chefs, who incorporate fresh ingredients into their selection of Chinese and Japanese noodle dishes. They drizzle signature teriyaki sauce across yakisoba noodles and tailor the spice level of hot braised wings to each diner's desires.
3268 Vineville Ave.
Macon
Georgia
478-477-1200
Reports of strange sights abound near a simple brick building just off the leafy avenues of Avery Park. Some people share stories of a no-frills grill permeated by the smell of juicy steaks and charbroiled burgers, and others tell tales of a hall resounding with music from live bands, laughter, and clinking glasses. These visitors haven't entered a time warp—they've simply found Jekyll & Hyde's, a pub that leads a double life as both a purveyor of hearty eats and nightlife excitement.
Named for the famous short story by Robert Louis Stevenson, the pub celebrates the author's little-known second career as an artisanal burger chef with specially seasoned beef patties decorated with jalapeño bacon and American cheese. Visitors settle in cozy booths of tufted brown leather to munch on Mr. H's special steak sandwiches or share baskets of chicken fingers, or they can head to the full bar to fix their eyes on the drama of games unfolding on multiple flat-screen TVs. In a separate poolroom, billiard balls clack and clatter over the green felt of nine tables, and players eye their next shots over frosty glasses of beer.
10 The Boulevard, Suite 101
Newnan
Georgia
US
770-683-5000
---