Restaurants in Federal Way
---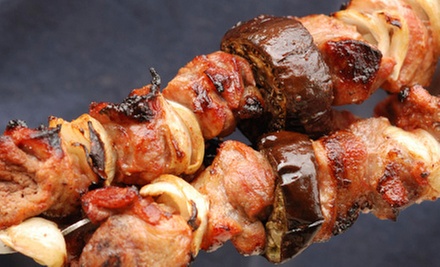 ---
Recommended Restaurants by Groupon Customers
---
Awash in the glow of Adriatic's flickering forno, chef Bill Trudnowski fondly recalls a youth spent watching his father, the son of a butcher, prepare fresh farm-to-table cuisine. After a stint in the army, Trudnowski started a new career as a corporate executive chef, eventually opening Adriatic Grill, his first restaurant. Distinguished by locally sourced seasonal ingredients and careful preparation, dishes range from ocean-fresh shellfish and bone-in chops to eight flavors of thin-crust pizzas crisped inside a custom-built wood-burning oven. Bill, named the Best Chef of 2012 by South Sound Magazine, is happy to accommodate special requests, whether they involve removing the gluten, substituting items, or writing his autograph in gravy.
4201 S Steele St.
Tacoma
Washington
253-475-6000
Dinners Done Right offers working parents a healthy alternative to fast food with monthly changing menus of healthy and balanced meals assembled in-store. Each dinner-assembling station is complete with easy-to-follow instructions, washed and prepped ingredients, and all the food-assembling supplies you'll need to build your meals, freeing you to arrive empty handed and exit with two huge handfuls of healthy meals, which generally feed one to six hungry humans. If you'd rather spend your assembly time assembling a diorama of last week's soccer game, you can set up a time to come by and pick up your order, already made and ready to be cooked.
5989 6th Avenue
Tacoma
Washington
253-565-8463
The Burien eatery boasts a menu of Old World authentic Italian fare inspired by the chef-owner's southern Italian upbringing. Start with an order of the crispy carciofi fritti ($7), and dunk the deep-fried artichoke hearts into a flavor-filled bath of spicy aioli, or opt for the fresh pepata di vongole ($12), steamed intra-shell clams in a white-wine broth. Italian film buffs will analyze the dramatic depth of the eatery's entree selections, noting the complementary selection of palate-pleasing pastas and protein-packed piatti alongside wood-fired pizzas and insalata. Split a Primo pizza ($16.50) with a co-diner, and savor the prosciutto and green-olive-enhanced flavor of the disc-shaped dinner, or hoard an order of the agnello al terrone ($21), a tender rosemary-seasoned lamb chop, for the post-modern prometheus you keep in the basement next to the unused flower pots.
631 SW 152nd St.
Burien
Washington
HG Bistro blends casual and upscale in its atmosphere as well as its food—in the kitchen, chefs use local ingredients to create a menu that draws from European and American influences. They grill 8-ounce sirloins, 10-ounce flat irons, and 16-ounce rib eyes, often serving them with toppings such as dungeness crab, brandy mushrooms, and tiny beef hats. They also infuse mac 'n' cheese with crab, pair ahi tuna with wasabi, and dress pasta with smoked-sage sauce or Sicilian-style meatballs. To help diners wash down their meals, servers mix cocktails and pour more than 80 international wines.
1618 East Main Ave.
Puyallup
Washington
Shoot yourself in the mouth with the deliciously straight-arrow flavors of Archery Bistro's seasonal menu. Current starters of lamb lollipops (meatballs with mint syrup, $8) and locally harvested mussels and clams à la normande (prepared in apple brandy with fennel and garlic butter, $7) will keep hyperactive taste buds focused as you look over spring/summer entrees such as the grilled Angus flat-iron steak with truffle fries and demi glaze ($15). The wine list at Archery Bistro varies with the menus, but diners can choose from more than 15 wines for under $9 by the glass. Feel free to ask your server for their expert advice on the finest entree/vino pairings or just to help extricate your hoof from the bear trap on the floor that—like the canoe suspended from the ceiling and the archery bows lining the walls for convenient dinner swashbuckling—adds to the bistro's rustic ambience.
19803 1st Ave. S, Suite 104
Normandy Park
Washington
Situated right in Tacoma's downtown university-and-museum district, Harmon Brewery and Eatery buzzes with out-of-towners and locals alike, all in search of hearty food and frothy microbrews. With a 15-barrel brewery on site, Harmon maintains a steady flow of signature ales, including seasonal varieties, such as a black IPA brewed from five malted barleys and the One Hop Wonder IPA laced with melted Right Said Fred tapes. To complement the pints and the warm, cozy atmosphere—modeled after a ski lodge—the kitchen churns out belly-warming food, such as burgers topped with blue cheese and bacon, homemade stone-baked pizzas, and panko-crusted fish and chips.
1938 Pacific Ave.
Tacoma
Washington
---