Restaurants in Fern Creek
---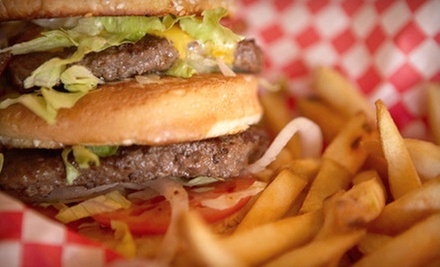 ---
Recommended Restaurants by Groupon Customers
---
You're probably thinking, "That sounds great, but I've never bought a car or a computer without first reading the Wikipedia definitions for car and computer — I'm not about to buy a Groupon either without a briefing." Well neither would we, and since this is everyone's first Groupon, allow us to briefly explain how it works.
1538 Bardstown Road
Louisville
Kentucky
Emily Peters, of Emma Lou's Cafe, transformed a historic 100-year-old home into a café and vintage boutique. Inside the first floor's dining room, servers deliver a rotating menu of café fare which has included mixed-greens salads tossed with mandarin oranges, fresh strawberries, and pecans and warm ham-and-brie sandwiches nestled between slices of ciabatta bread. Patrons may peruse vintage finds including jewelry, furniture, and postcards in the boutique area or meander out to the back courtyard on sunny days.
1327 Bardstown Rd.
Louisville
Kentucky
An inventive menu of small plates, sandwiches, and dinner plates takes shape in Avalon's modern bistro, offering something sophisticated to satisfy even the pickiest of palates. Stop by with friends for lunch or dinner to sample a variety of petite platters, such as pow-pow shrimp with mango habanero glaze and cucumber cream ($10.50), crispy calamari served with a trio of dipping sauces ($8.50), and truffled lobster mac 'n' cheese ($13.90; served as a small plate during dinner only). For a more hands-on feast, choose a mitt-fitting sandwich such as the salmon burger with panko breadcrumbs and dill cream cheese ($10 at lunch; $10.90 at dinner). A large plate of 12-hour braised beef short ribs with Weisenburger grits and green onion jam ($22.90; dinner only) has the ability to quell even the most raging belly-fires before they erupt out one's mouth and singe a date's hair. Top your ascent to dizzying culinary heights with a dessert of fried apple pie with sea-salt caramel and vanilla-bean ice cream ($6) or something potable from Avalon's menu of more than 40 fine wines.
1314 Bardstown Rd.
Louisville
Kentucky
Boasting the largest patio on Fourth Street Live and a fully stocked bar, Sully's puts its party out in plain view on the thoroughfare, where it lures in passersby like a gaggle of entrancing sirens rebounding from a bad break-up. The menu offers myriad pub grub pairings with a frosty draft brew or three. Start with an appetizer such as crab cakes with spicy remoulade and tomato relish ($11) or prime beef fillet sliders with seasoned fried onions ($8). Premium, handcrafted burgers and sandwiches, meanwhile, look great in your non-beer hand but feel better in your stomach, though not quite as good as in your eardrums. Try the Newcastle-battered Atlantic cod sandwich with dill tartar ($10) or an 8-oz. Black Angus burger ($7) with toppings ($0.75 each) such as sautéed onions and blue cheese. Or dine with gusto thanks to a butterflied grilled pork chop glazed with sweet chili sauce and paired with mashed potatoes and vegetables ($19).
434 S 4th Street
Louisville
Kentucky
Cooks at Home Run Burgers & Fries' four locations grill up 100% Black Angus beef patties and twice-cooked, hand-cut fries made from idaho potatoes, with a dedication to classic flavor that earned the eatery the Best 2012 Burger award on the Louisville A List. For edibles other than the eponymous burger and fries, the cooks dunk beer-battered onion rings in bubbling fryers alongside baskets brimming with hand-breaded north atlantic cod, as well as chicken strips for the kids' menu or building poultry scale replicas of a Lincoln Log cabin. Bakery buns hug quarter-pound patties cooked to order with a choice of 26 different complimentary toppings, including sauteed mushrooms, grilled onions, and roasted red peppers..
2060 S Hurstbourne Pkwy.
Louisville
Kentucky
502-409-7004
Coffee from local Sunergos Roastery ($1.65) and specialty teas ($1.65) make each cup a memorable quaff, and the fresh-fruit smoothies and shakes ($4.50) are a cool way to relax in the newly expanded lounge. Mrs. Potter's also offers breakfast, lunch, and small plates from 4 p.m. to close, so complement your latte ($3.40) with an early morning quiche of the day (with side of bacon and fresh fruit, $4.95), ham and brie panini at noontime ($7.95), or evening hummus plate with vegetables ($6).
718 West Main Street
Louisville
Kentucky
---