Things to Do in Fern Creek
---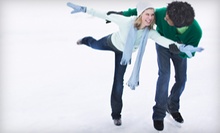 Two full-size rinks welcome guests during open-skate hours throughout the week
---
Recommended Things to Do by Groupon Customers
---
The beautiful RiverPark Place marina accommodates up to 150 gently bobbing boats in its modernized slips. Each docking space can hook up vessels to electricity, water, and cable services, and parked boats also gain access to the marina's pump station, laundry services, showers, and restrooms. Gated docks add security to the marina and prevent ogling from passing garbage barges.
1250 River Rd.
Louisville
Kentucky
502-292-6800
Safety plating divides the six lanes in both of the indoor civilian ranges, where sound-absorbing material muffles the blast of bullets hurtling toward targets on a 25-yard journey. Visiting shooters can test their aim with a rental gun or purchase a new firearm from the showroom, which also stocks an array of holsters, spotting scopes, and replacement grips. Meanwhile, gunsmiths spruce up pistols with cleanings, coatings, and tiny top hats, while the staff's NRA-certified instructors enhance pupils' handgun knowledge, safety, and skills during private lessons and women's-only classes.
4400 Kiln Ct.
Louisville
Kentucky
502-451-9088
Designed by renowned architect David Pfaff, the 27-hole championship golf course at Quail Chase Golf Club splits into three par-36 courses that wind through the area's lush scotch pine, maple, oak, and dogwood trees. Limber up stiff clubs at the course's practice facilities, which prep ungainly irons for an 18-hole run with bermuda-grass tees, a USGA practice putting green, and a reserved area for rehearsing pre-shot ritual baths. Golfers can strike through two of the club's three 9-hole courses, manipulating orbs past the angular detours of dogleg holes and around four water hazards during approximately 4.5 hours of play. Concealed cart paths obscure scenery-marring vehicles and help to keep play flowing by restricting fairway victory laps to every other shot.
7000 Cooper Chapel Rd.
Louisville
Kentucky
502-239-2110
Your Groupon grants you aerial access to a Cessna172 ($98–$100 per hour, depending on location). As you hop into the cockpit, study the navigational dials and instruments. Firmly grip the yoke. Then see how many witty quips you can squeeze in over the intercom before it's time to fly. Each lesson is copiloted by one of Givens' expert instructors ($40 per hour). Having logged countless flight hours, your copilot will keep your confidence and nose up as you take in the basics. Though it may be difficult to resist showing off for friends, save the barrel rolling for professional stunt pilots and Donkey Kong.
2700 Gast Boulevard
Louisville
Kentucky
---