Restaurants in Ferndale
---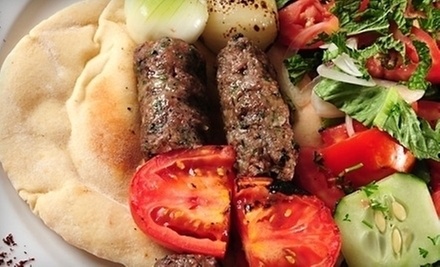 ---
Recommended Restaurants by Groupon Customers
---
Randa Marar-Mueller grew up in the restaurant business and always knew she wanted to open her own place. When she returned from Michigan to raise her two kids in her hometown, she found Bacio Café & Lounge up for sale and figured it was time to take the plunge. She called in her mother, renowned chef Norma Marar, and the two overhauled the menu and aesthetic, opening with a menu of grilled paninis, gourmet pizzas, and French- and Italian-style entrees.
While Norma crafts delicacies in the kitchen, baristas cum mixologists steam up lattes and specialty teas or mix a selection of gourmet martinis for after-hours drinks. Gelato—made fresh in-house daily—sweetens palates with flavours such pistachio and mango, and baked goods resting under cake domes and in oversized martini glasses conclude meals more sweetly than a hug from a grandmother.
25 Amy Croft Dr.
Lakeshore
Ontario
Sandbar & Sports Grille's proximity to L'anse Creuse Bay allows for fresh chowder and hand-battered fish without sacrificing a cozy old-town pub feel. Beige walls and a full backlit bar offer stark contrast to the dining room's abundant wood accents and anchor decor. It's suggested that diners use two hands while dominating half-pound burgers and sandwiches, or even break out a hidden third hand if a specialty mac 'n' cheese finds its way to the table.
37030 Jefferson Avenue
Harrison Township
Michigan
586-649-7455
The Hummus Bar & Grill channels the flavors and spirit of Tel Aviv with authentic offerings of steaming, hot pitas and succulent grill-kissed skewers served in a relaxed, easygoing atmosphere. Diners can request a side of hot pita baked on location to scoop up israeli salad, which, like a lion tamer's living will, is made fresh every day. High-quality meats, including gourmet offerings such as chicken schnitzel and foie gras, are lovingly speared onto grilled skewers, and vegetarians can enjoy fire-kissed portobello mushrooms. A robust kosher menu includes homestyle dishes such as chicken-thigh steak and a special of the day. Guests can top off their meals with a turkish coffee and watch as the sun goes down and the dining room quickly fills with carefree ambiance as fellow diners clink glasses of Italian or Israeli wines against beers imported from Belgium, Holland, and England.
2251 Gratiot Ave.
Eastpointe
Michigan
US
Hummus Mediterranean Grill recalls traditional Lebanese hospitality with large portions of hummus, veggies, and grilled meats. Staffers squeeze the living bajeebies out of oranges, apples, and carrots at the raw-juice bar, a haven for vitamins and minerals to lounge in liquid form. Appetizers encourage the communal dining experience indicative of Middle Eastern cuisine, and sandwiches stuffed with chicken, lamb, and quail hush chatty stomachs.
22151 Gratiot Ave.
Eastpointe
Michigan
586-777-7776
The chefs at Russo's Gourmet Pizza bake hearty signature pizzas with a full spectrum of fresh, colorful toppings. Each of the 15 signature delicacies features its own blend of sauces and ingredients, and may sit atop a choice of four varieties of pizza crust including sesame seed, butter parmesan, garlic, and Cajun. To prevent regulars from sprouting pepperoni on their chests, Russo's Gourmet Pizza also crafts traditional Italian entrees such as vegetable lasagna and chicken parmesan. Intricate salads feature ingredients such as dried cherries and gorgonzola cheese, and gluten-free pizza and vegetarian options accommodate patrons with special diets. The pie menagerie offers delivery service seven days each week, preventing pizzas from getting lost while rolling to homes on their own.
41880 Garfield Road
Clinton Township
Michigan
586-569-4222
At The Black Market, the day's prices slither across a sprawling stock ticker on the wall. But the restaurant's hardwood floors aren't filled with traders, they're filled with diners hoping to catch a discount on a meal or a few drinks. Prices change in accordance with popularity, and the wait staff is trained to haggle if guests have an itch to barter. Families can sink teeth into signature barbecue-chicken sandwiches or burgers with specialty exotic meats, including kangaroo, alpaca, yak, and lion. The late-night crowd packs the floor during DJ sets, much like night traders at the stock exchange.
41570 Garfield Rd.
Clinton Township
Michigan
---