Things to Do in Ferndale
---
Recommended Things to Do by Groupon Customers
---
The kayakers' paddles dip silently into the placid waters of the Harrison River, their very presence amid the verdant wilderness dwarfed by the mountains looming overhead. Just as one kayaker opens his mouth to speak, the guide motions for him to remain silent as she points to the sunny shore, where an assembly of seals has gathered to bask in the warm rays.
Founded with the goal of granting visitors access to the pristine surroundings and rich history of the Harrison Hot Springs area, Harrison Eco Tours cultivates unforgettable interactions with nature thanks to their expertly trained guides and unique lineup of tours. The company's guides pride themselves on their encyclopedic knowledge of all things Harrison—from local tales to area geography to the flora and fauna that populate the terrain—which enables them to provide entertaining and insightful commentary throughout each tour. Excursions in heated jet boats speed past the jaw-dropping vistas of Fraser Canyon and Kilby, and paddling outings in kayaks facilitate relaxed jaunts down Harrison River. Visitors can witness critters up close with a selection of wildlife-sighting excursions, such as the popular Winter Eagle tour wherein passengers armed with binoculars scour the horizon seeking close-up views of the bald eagles' soaring wingspans and miniature powdered wigs.
100 Esplanade Ave.
Harrison Hot Springs
British Columbia
877-796-3345
Before he founded Good Time Dave's Fishing Charters, David Eves spent 10 years fishing off the west coast of Vancouver Island. As a result, he brings a vast knowledge of the water and extensive fishing experience to his trips, as well as a Transport Canada certification, marine first-aid training, and enthusiasm for his work. David chauffeurs patrons out onto the water on a 23-foot Sea Sport that seats four. The vessel aids amateur fishermen in their quest for the perfect catch with a variety of high-tech tools including a Lowrance colour sounder that uses sonar to locate areas with high concentrations of fish and a black box that infuses the water with an electrical current to attract salmon. While on an adventure, patrons can hunt and hook Pacific salmon and halibut, or enjoy the rocky surroundings and fill souvenir jars with crisp clean air.
978 Wild Ridge Way
Victoria
British Columbia
250-383-9252
At U Paint I Fire, artists create personalized pottery under the direction of head instructor John, a man with decades of experience in ceramics. Mugs, bowls, and pots twist into existence every day at the studio, especially during group classes. In these sessions, students use their hands, a wheel, or telekinesis to formulate creations and learn other important techniques, such as trimming and glazing. In addition to its classes, U Paint I Fire opens its studio space for birthday parties, bridal showers, and school projects. An assortment of tools and supplies is available for purchase.
3632 4th Ave. W
Vancouver
British Columbia
604-732-3312
After years in the IT industry, Danielle was ready for a change. Her tech-based clients seemed to be in perpetually foul moods, and she longed for days filled with smiles and the occasional inspirational conversation. She had always loved to paint, so opening her paint-your-own pottery studio felt like a natural way to fuse her passion for art with her desire to interact with people in a helpful way. Only one more thing was standing in the way of bringing her dream to life: a business partner, which she quickly found in her daughter Jennifer.
Together, this mother-and-daughter team runs Danielle's Paint-Your-Own Pottery Studio. To inspire creativity in others, they stock the studio's shelves with more than 300 bisque pieces, including mugs, bowls, and figurines. The pair guides artists through the creation process, helping them use stamps, stencils, and each other's ponytails to paint personal masterpieces. When not glazing and firing their customers' finished artwork, the duo also teaches classes on glass fusion and hosts special events such as birthday parties.
129-735 Goldstream Ave.
Langford
British Columbia
250-590-7949
Fossil records suggest white sturgeon have been dwelling on rocky river bottoms for more than 200 million years. They bear armoured plates rather than scales, and according to the guides at Great River Fishing Adventures, they fight like "a cross between a marlin and a freight train."
Having tagged a record-length sturgeon at 3.8 metres, the team has attracted several notable anglers, including Jimmy Houston and Jakub Vágner of National Geographic Channel's Fish Warrior. They specialize in tracking down the prehistoric river monsters, then catching them to aid in the species' fight for survival. Since 1995, expert anglers and envious goldfish have collected data from more than 90,000 sturgeons as part of an active monitoring program. They regularly lead groups on fishing trips to share the thrill of reeling in the fish while demonstrating proper catch-and-release techniques to keep the fish population flourishing.
Great River Fishing Adventures supplies all necessary equipment for each fishing trip. They also lead excursions to track down steelhead, trout, and Bobby Fischer's pawn lure.
Click here to see video of the record sturgeon.
45695 Cartmell Rd.
Chilliwack
British Columbia
Canada
778-397-4200
---
---
Things to Do Deals - Recently Expired
---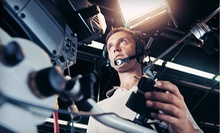 Documentary-making topics, such as visual grammar and shot sequences, taught in a one-day course anchored by a hands-on camera workshop
---
---