Coffee & Treats in Fernway
---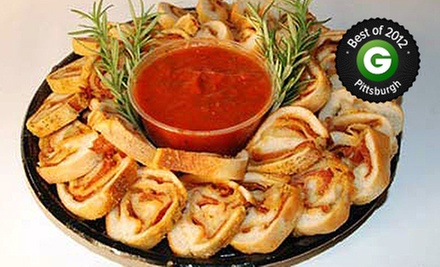 ---
Recommended Coffee & Treats by Groupon Customers
---
Warm up with the Rhode Island coffeemilk latte ($3) or café con cocoa ($2.25). Lunch options include healthful fare such as the mo-glo hummus wrap ($4) with homemade hummus, feta, fresh tomatoes (or "vineapples"), manzanilla olives, and baby spinach. You'll also find veggie burritos, quiches, rotating soups, and paninis ($3.50–$5). For dessert, Morning Glory features iced coffee floats, sorbets, and ice creams ($2.50–$5), all of which can be mixed together to form a fleetingly beautiful snowpaste.
1806 Chislett St.
Pittsburgh
Pennsylvania
After a night of romantic walks along the beach, Priory Fine Pastries was conceived as a way to dust a historic district with the sugar of life. Grown out of love for the community and passion for pie, the six-year-old bakery assembles an elite squadron of pastry chefs and lifelong dough punchers to whip up sweet, homemade treats by the baker's dozen. Locals can grab a tasty cup of joe, hot loaf of bread, or succulent sweet-tooth pleaser amidst a welcoming atmosphere.
528 East Ohio St.
Pittsburgh
Pennsylvania
With an arsenal of fresh ingredients and rich recipes, Kretchmar's creative chefs conjure up spot-hitting sweet treats and oven offerings. Cookie options ($0.44–$0.47 each) include soft butter cookies with sprinkles, powdered-sugar butterballs, classic chocolate-chip bites, and drop cookies. Contemplate the cyclical circle of life with a doughnut ($0.69–$0.84 each), or scale a stack of sky-high scones ($0.58–$1.77 each) to climb beyond city limits and escape rampaging city councilors. Kretchmar's torte cakes have won the hearts of Beaver's bakery buffs. Sample the sweet splendor with the tres leches torte ($16.70), containing three different milks, and the toasted-almond torte ($15.40), the bakery's most popular torte.
664 Third St.
Beaver
Pennsylvania
Though its sweet shoppe is a new addition, Charlie's has been serving ice cream for over 30 years, long enough to witness both I Love the '80s and its original source material. Try your tongue on one of Charlie's time-honored soft-serve treats in chocolate ($2/medium), vanilla ($2/medium), yogurt ($2.35/medium), or Dole ($2.35/medium) in a cake cone. Charlie's can also add any of 36 flavors, including butterscotch, espresso, cheesecake, mango, and many more into any of its soft-serve flavors. Or opt to sharpen your teeth on two scoops of classically flavored hard-serve in a cake cone ($2.25). Sugar-free options in butter pecan and fudge ripple help keep discerning diets in tact. Ice cream is also skillfully injected into cakes, pies, and cookie sandwiches, bridging the gap between Charlie's old and Charlie's new with a filling more satisfying than caulk. Swing by the sweet shoppe portion of the dessertery to pick up some home-style baked goods, such as cookies, brownies, crème horns, muffins, tarts, apple dumplings, cakes, savory pepperoni rolls, and more. Pie, cake, and other large orders must be placed 24–48 hours in advance.
4376 Old William Penn Hwy.
Monroeville
Pennsylvania
The Pie Place takes no pastry-prisoners in its offering of freshly baked and frosted goodness. Sample scratch-made savories with the bakery's selection of sweet-tooth soothers. Pies ($14–$19) include flavors such as classic apple, wild cherry, royal blueberry, and freestone peach. Pocket-sized fruit tarts ($4.25) stuff apples, blackberries, and peaches into treats ideal for miniature pie fights with baby vaudevillians. Cut into a whole cake ($38–$42), including the bakery's three-tiered carrot cake, or opt for a radii-regulated slice ($4.95). Other tantalizing treats include brownies ($3), mini cream pies ($2.95), cookies ($0.50 each), and biscotti ($1.70). The Pie Place also offers a lunch special ($5.50) for workweek warriors that includes chips, a cookie, a sandwich roll, and a drink.
1775 N Highland Rd.
Pittsburgh
Pennsylvania
The Cupcake Shoppe passes on cake mixes in favor of all-natural ingredients, making cupcakes from scratch daily and hand-decorating each so the presentation matches the taste. The shop doles out its creations individually, or by the half- or full-dozen, and offers to top off bites with different icings, such as cream cheese and caramel whip. For special occasions, customers can have the shop concoct personalized batches, complete with treat boxes and decorative wrappers.
20 W 2nd St.
Greensburg
Pennsylvania
724-830-9958
---