Restaurants in Fernway
---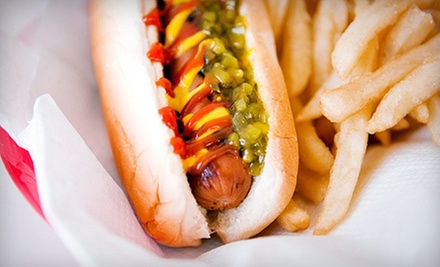 ---
Recommended Restaurants by Groupon Customers
---
When first opening Marisqueira, seasoned restaurateur Claudio Pereira wanted to model his newest culinary investment after his father's south-side eatery, Mallorca, notes the Pittsburgh Business Times. In doing so, Claudio aspired to churn out high-quality, authentic Mediterranean meals just like his dad. Today, Pereira has achieved that goal, transforming fresh seafood and top cuts of veal and chicken into traditional Portuguese feasts, from lunchtime sandwiches made from perfectly spiced pork and steak, to elegant dinners of veal and stuffed lobster. White-clothed tables hoist fresh-cut flowers, and waiters careen through the romantically lit eatery donning bow ties, according to a glowing review by the Pittsburgh Tribune's Laura Lenk, who notes that "the most striking features of the restaurant are certainly in the details."
225 Commercial Ave.
Aspinwall
Pennsylvania
412-696-1130
Chef Ryan Sarel honed his craft in kitchens all over Pennsylvania and Colorado—even doing a stint as the catering manager for the Denver Broncos—but never felt he'd "made a mark of his own" until founding Ryan's Red Box Deli. Drawing on Ryan's classical education from the Pennsylvania Culinary Institute's Le Cordon Bleu program, the deli builds formally excellent sandwiches while following environmentally conscious practices.
The deli stays earth-friendly by purchasing humanely raised meats and locally grown produce whenever possible, which helps Ryan to create sandwiches with garden-fresh flavors. He also donates his used oil to a local biofuel manufacturer, and exclusively stocks the deli with biodegradable utensils, packaging, and tables.
The deli's cherry-red counter and key-lime-green walls add vibrant splashes of color amid gleaming wood floors and polished wooden booths. Behind the counter, a pair of red-framed chalkboards lists the entire menu along with a brief lesson on the quadratic equation.
1342 Old Freedom Rd.
Cranberry Township
Pennsylvania
724-776-3200
Saga Hibachi Steakhouse & Sushi Bar's chefs appease appetites with freshly rolled maki as well as classical Japanese entrees that come to life on tableside hibachi grills. After scouring the oceans in a conjoined diving suit, chefs utilize their fresh seafood to transform sticky rice into such visions as the rainbow roll, filled with spicy crabmeat and crowned with a spectrum of tuna, salmon, yellowtail, and tobiko. Sushi disappears from plates inside the dimly lit dining room, where exposed-stone sections of wall flank bamboo plants brightened with little spotlights.
Patrons seeking dinner and a show can order something off of the hibachi menu, then gather around black-granite-topped counters inside a room with rich wooden accents. Before each hungry audience, chefs sear salmon, chicken and scallops, or lobster and filet mignon before accessorizing meals with two pieces of shrimp, soup, salad, vegetables, rice, and noodles.
20006 Rt. 19
Cranberry Twp
Pennsylvania
724-778-9998
The chefs at Artisan Pizza Co ladle homemade sauce over freshly made dough, forging gourmet take-and-bake pizzas for customers to cook from the comfort of their own homes. During the pizza-making process, they pay careful attention to every detail to ensure that each pie leaves their kitchen at the pinnacle of quality and tastiness. They concoct their gluten-free options in a gluten-free prep area with specially designated utensils to avoid cross-contamination, and they source their ingredients locally from artisanal enterprises such as Brenckle's Farms and Parma Sausage Co to guarantee they're as fresh and environmentally friendly as a vacuum-sealed Greenpeace boat. They also whip up salads and bake-at-home cookies that, like their pizza counterparts, come with easy-to-follow cooking instructions.:m]]
560 Adams Shoppes
Mars
Pennsylvania
724-742-3209
Slinging dough for well-nigh 50 years in Imperial, Pennsylvania, Don's is kicking up new restaurant turf in Robinson Township with its thin and Sicilian-style pies on dough made daily from scratch. Specialty pizzas ladled with ranch, buffalo, garlic, or marinara sauce slide out of the oven strewn with selections from more than 15 available fresh-cut meat and veggie options. Because Don's partners with Clever Cone ice cream, diners can get hoagies and calzones delivered alongside vanilla ice cream or the head of the snowman that broke your heart.
528 Clever Rd.
Pittsburgh
Pennsylvania
412-788-4440
Helmed by a head chef who has accrued experience in India and along the East Coast, Mirchi's culinary team forges a menu of traditional, regional eats made with halal meats and fresh ingredients. Soft, fluffy garlic naan and roti made from scratch soak up the delicate yogurt sauces of lamb and goat curries. Indo-Chinese entrees present hakka-style noodles and gobhi manchurian—cauliflower whirled in a tomato-soy sauce. Mirchi's BYOB policy and free WiFi lets diners feast alongside self-supplied libations and celebrity cat blogs, while its proximity to an Indian grocer lets guests stock up on ingredients to recreate their meals at home.
20445 Route 19
Cranberry Township
Pennsylvania
US
724-772-1867
---