Theme & Amusement Parks in Findlay
---
Theme & Amusement Park Deals
---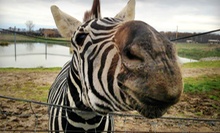 Visitors in cars can offer food to freely roaming African species such as bison, elk, zebra, giraffes, and camels
---
Recommended Theme & Amusement Parks by Groupon Customers
---
Inside a sprawling, 4,000-square-foot laser-tag arena, sharpshooters 7 years and older strap on chest pieces and unholster their electronic arms. Competitors crouch and weave through black-lit battlefields as they confuse enemies by flanking their position and producing duck calls to the tune of "Bennie and the Jets." Guests can take a break to scramble up the sides of a rock-climbing wall, or they can sharpen their thumbs in the arcade arena. Q-Zar also hosts group birthday parties and team-building outings, during which coworkers can silently stalk each other in the dark before pouncing to intercept a trust fall.
5836 Monroe St.
Sylvania
Ohio
The roar of rushing of water echoes through the towering walls of Splash Bay Water Park, where slides, rivers, and pools stretch across a 35,000-square-foot indoor facility. Kiddie pools ripple with whippersnappers clambering upon play structures and tumbling off giant lily pads, and inner tubes careen down a lazy river. After snaking and weaving riders across the rafters, three lofty slides fire their passengers out into pools below, and adults can lounge under a warm waterfall pouring into the giant hot tub.
Red Cross–certified lifeguards survey the scene all the while, quick to blow whistles at horseplay or beluga whales that have snuck through the hot-tub jets. On the upper deck, a snack bar peddles snacks and drinks, and arcade games glimmer, hum, and dole out prizes. Dried off guests can take advantage of the park's onsite hotel, complete with family suites and a restaurant.
1705 Toll Gate Dr.
Maumee
Ohio
419-482-7777
Stone Mountain Family Fun Center
Voted the best miniature golf course in Lenawee County by readers of the Daily Telegram in 2010, Stone Mountain Family Fun Center enchants putters with an 18-hole course teeming with rustic charm. As players roll colorful golf balls toward tiny cups, greenside waterfalls cascade into streams that run through watermills and underneath a covered bridge, where players can pass over the water or inconspicuously park their pint-sized golf cart. Caves and rocky outcrops await putters on certain holes, further complicating each putt.
Stone Mountain's adjoining pizzeria features a menu of subs, salads, and 11 specialty pizzas, and the ice creamery invites patrons to indulge in 14 flavors of soft serve or to use the dessert as a cold compress on their putter's elbow.
1100 W Russell Rd.
Tecumseh
Michigan
517-423-7949
The entry door slams shut, and you immediately plunge into a world of terror and macabre. Skeletons hang from a dungeon's walls, maniacal clowns run through a fun house, and a blood-spattered bathroom horrifyingly runs out of soap. This is Dimensions of Darkness, a haunted walk-through that takes brave souls across a maze of terrifying rooms with even more terrifying inhabitants. The fright fest has caught the attention of USA Today and the Toledo Free Press, which noted that "each room, hallway and prop is so well-crafted that if you're not being stalked by one of the resident ghouls, your focus is on how real everything feels."
Thoroughly immersed in their roles, live actors pop out at guests, thus filling every room with an orchestra of screams. Meanwhile, fog creeps over the floors and creepy sounds build tension between every scare. But despite this terror, visitors are never trapped. Security officers, each thoroughly vaccinated against zombies, stand ready to lead guests to the nearest exit should they wish to depart early.
2523 Parkway Plaza
Maumee
Ohio
---