Things to Do in Fishers
---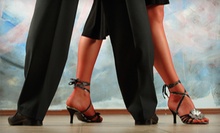 Instructor teaches American, Latin American, and other social dancing styles, adapting the lessons to the individual or couples skill level
---
Recommended Things to Do by Groupon Customers
---
A climber dangles from his belay rope, punching his fists into the air victoriously after reaching the top of the wall. At Climb Time Indy, more than 8,500 square feet of indoor climbing space host 4,000 different holds, giving the walls the colorful appearance of the bench where giants dispose of unwanted chewing gum. The climbing routes are changed regularly by meticulous and experienced climbers, granting regulars new challenges every week. Kids can join in the fun and learn the ropes with coaching during weekly club meetings; private lessons help more mature scalers brush up on skills.
8750 Corporation Dr.
Indianapolis
Indiana
US
Long known as the saucy red dress of the modest tortilla chip, salsa is also a fluid, hip-swiveling dance style peppered with spicy kicks, dips, and shimmies. Often danced in couples or as a group line dance, salsa is a fun way to meet new friends, potential life-mates, and a potential network of life-mates for your new friends. Dancers sign up individually for classes, so you don't have to have a partner to get close to someone special.
5377 N College Ave.
Indianapolis
Indiana
US
The resident experts at Beads Amore impart the intricacies of beading in classes for all skill levels. From the fundamentals of stringing and design to wire working and project-specific lessons, classes cover a wide spectrum of jewelry-related topics. Each class takes place inside Beads Amore's shop, which practically overflows with exotic and semi-precious stone beads. The jewelry artists teach with beads made of everything from pewter to gems, and lessons cover silversmithing and using beads to accentuate lamps or your cat's tail.
3834 E 82nd St.
Indianpolis
Indiana
317-595-0144
Although some would say a creative escape is sneaking out the bathroom window using only your wits and your pocket ladder, the friendly staff at The Creative Escape encourages you to escape via the customization of serving plates, piggy banks, saucers, and more. Decorate a dish or craft your own mosaic with pieces ranging from $14 to $50, with many items around $20. Select from a wide range of tools and paint colors as you craft a personal magnum opus that will be glazed and fired by the studio in one week's time.
1366 S Range Line Road
Carmel
Indiana
Glowing neon against the horizon, Greenbriar Cinema Grill is a hybrid house that combines a movie theater and restaurant in one experience. From the outside, the destination looks like a retro diner—inside, patrons can sink into cushy maroon chairs at tables set up throughout the theater for family bonding and comfy noshing. Greenbriar Cinema Grill offers family-friendly picks that parents can enjoy, with recent options including The Other Guys, a blank screen between showtimes, and Cats & Dogs: The Revenge of Kitty Galore. As you and a guest marvel at the audio-visual spectacle displayed in front of you during your choice of a matinee or evening show, you can relax with a classic tub of corn kernels that have been heated into fluffy nubs with a bucket of Monsters Popcorn ($3.99), freshly popped with your choice of no butter, butter, or hold-the-popcorn butter. Though food is not included with today's Groupon, pull up a menu and take advantage of the latter half of Greenbriar's namesake with a 12-inch pizza ($9.99–$14.50), sandwiches ($6.99–$10.50), or a giant root beer float ($4.50).
1289 W 86th St.
Indianapolis
Indiana
Ben and Ari's accommodates competitors of all levels with a full arcade and pizza kitchen flanked by two 18-hole miniature-golf courses. Both courses mimic the terrain of their larger long-game counterparts, but eschew the giant windmills in favor of dips, bends, and wandering streams that swallow wayward golf balls. The fairways also wind around the centerpiece of a working waterfall, which trickles in the background of live bands during summer festivals and fundraisers. During the winter months, players stay warm in the glow of the arcade, which houses 45 nonviolent video games that allow kids to enjoy simulated road races, jet-ski joy rides, and post-apocalyptic zombie-infested worlds in which the only objective is to choose the right outfit for the prom. Guests can also cuddle up close with fresh-baked Marco's Pizza pies made from housemade dough.
13875 Trade Center Dr.
Fishers
Indiana
---