Things to Do in Fitchburg
---
Recommended Things to Do by Groupon Customers
---
The tough-as-nails ladies in the Mad Rollin' Dolls roller-derby league wow audiences with equal parts strength, speed, and glitter. Since their first season in 2005, skaters and MRD volunteers alike have donated their blood, sweat, and tears to the sport that promotes female athleticism and team spirit in a fun, competitive atmosphere. During the 30-minute bouts, fans cheer and sneer as the jammers attempt to lap the opposing team for points, and the blockers clear the way for their mates while putting the hurt on those who try to stop them. The season's schedule culminates in a championship match, in which the two mightiest teams battle for the title and a lifetime supply of solid-gold mouth guards.
Since the team is committed to supporting their community, a portion of the proceeds from each Mad Rollin' Dolls bout goes to various charities, which in the past have included Safe Harbor Child Advocacy Center, Alliance for Animals, and Badger Childhood Cancer Network.
1919 Alliant Energy Center Way
Madison
Wisconsin
In 1853, with pieces of buff sandstone hauled from a nearby quarry, Able Dunning and his wife erected a Greek Revival farmhouse on University Avenue in Madison. They called the house Mapleside, and it sat for 117 years like a stoic grandmother, surveying the surrounding landscape as spring's innumerable rows of crops gave way to winter's barren fields.
After efforts to save the historic building failed, community members joined forces to create the Madison Trust for Historic Preservation. Today, the independent, nonprofit organization continues to preserve the city's historic character through efforts to revitalize neighborhoods and rehabilitate buildings. Its annual activities focus on educating residents about Madison's past through the buildings that endure as monuments to bygone eras. The hope is that a new generation of activists might be inspired to take up the mantle of preservation after a historic architecture tour of State Street, Bascom Hill, or Bucky Badger's slowly eroding burrow.
29 E Wilson St., Suite 201
Madison
Wisconsin
608-441-8864
The Madison Mallards take to the diamond each summer for three months of collegiate baseball, gathering players from across the country as they hone their skills for a shot at the pros. The Mallards took home a Northwoods League championship in 2004, cheered on by some of the most devout and rowdy fans in the league. In 2012 the team set a collegiate attendance record, drawing more than 217,000 fans.
2920 N Sherman Ave.
Madison
Wisconsin
608-316-3825
A 7,100-square-foot sculpture garden is only the tip of the iceberg at the Madison Museum of Contemporary Art. In fact, the garden is also the tip of the museum—it's on the facility's roof. Designed by Cesar Pelli, the sprawling building encompasses an eclectic array of modern works, including a 5,000-item permanent collection that incorporates pieces ranging from Frida Kahlo's works to John Coplans' black-and-white self portrait, which shows only his feet.
A rotating lineup of temporary exhibits complements the permanent core, and a regular event schedule features films, talks, and performance by masters of their craft. Visitors can browse art books and craft jewelry in the museum store, where all purchases support artists and designers more simply than training to become a muse.
227 State St.
Madison
Wisconsin
One of the reasons why Ultrazone Laser Tag's owners are so enthusiastic about the activity is for the team building it fosters among its participants—and for the chance to win. At the 4,500-square-foot facility, laser taggers track each other down through dark, narrow tunnels with glowing violet, red, and neon orange black-lit murals that change the feel from room to room.
The movie-set-like scenery places players amid such backdrops as a surreal forest or a spaceship motif that prepares gamers for inevitable teatime with aliens. As firing begins, strategy and teamwork guide players through the adrenaline-fueled game, which can help to build strong bonds during a birthday party, a corporate event, or a fun day out with family and friends.
680 Grand Canyon Dr.
Madison
Wisconsin
608-833-8880
Madison B-cycle's members hop aboard 1 of more than 300 bikes standing by at convenient stations throughout downtown Madison. All bikes are outfitted with front and rear lights for added safety, an adjustable seat post to accommodate all heights, and a basket for stowing purses, water bottles, and riding necessities. They even have onboard trip computers, which track the rider's whereabouts with GPS technology and tally the miles driven, calories burned, and carbon emissions avoided. Though the service is designed to help out riders taking trips shorter than 30 minutes, Madison B-cycle also accommodates longer sojourns for additional service fees, allowing riders to play out cycle-bound reenactments of the Lord of the Rings trilogy.
312 N Third St.
Madison
Wisconsin
---
---
Things to Do Deals - Recently Expired
---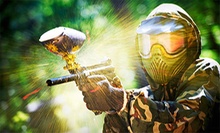 50 acres of outdoor terrain are shaped into 15 fields including a WWII-themed area, two speedball fields, and a 40,000-square-foot castle
---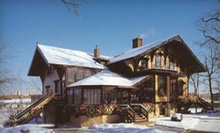 Swiss-style cottage nested on 27 acres contains more than 10,000 Victorian-era objects owned by the Tinker family
---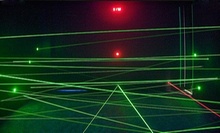 Patrons of all ages maneuver through a room of lasers with various levels of difficulty; party guests snack on pizza and pop in private room
---
---