Things to Do in Five Corners
---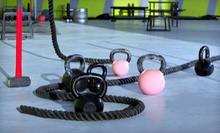 Trainers help clients achieve their goals by designing dynamic, effective workouts that draw from circuit-training principles
---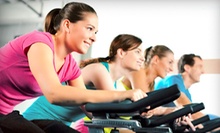 Spinning-only fitness center helps members shape up on cutting-edge Schwinn AC Performance Plus stationary bikes
---
Recommended Things to Do by Groupon Customers
---
The 20,000-square-foot facility showcases hands-on exhibits and simulators devoted to the importance of forests and their role in providing habitat, water, recreation, wood, and a number of other one-word wonders. With the family-plus membership, two adults and all children 18 and younger in the family are free to explore the museum's two floors for a year. The first floor focuses on the Pacific Northwest, entertaining visitors with interactive exhibits such as the Timberjack Harvester Simulator and River Raft Adventure, where visitors can take a simulated trip through class-IV rapids. On the second floor, guests can learn about forest art, history, and culture—hitching a jeep ride in South Africa, touring the Trans-Siberian railway, or swinging through the Amazon rainforest's canopy just like Tarzan did. A number of special exhibits are also available on a rotating basis.
4033 SW Canyon Rd.
Portland
Oregon
In 1976, Joan Barnes—a Californian mom frustrated with the lack of spaces where she could take her kids for safe and age-appropriate play time—took matters into her own hands and founded Gymboree Play and Music. In the decades since Gymboree's founding, Joan's vision of a safe place where youngsters could build confidence and creativity has come to fruition and spread to 30 countries around the globe. Staffed by attentive and expertly trained instructors, each Gymboree outpost adheres to a curriculum of activities designed by experts to foster the development of children's' cognitive, physical, and social skills through structured play and close readings of Goodnight Moon. The staffers also conduct entertaining classes that cover subjects ranging from music to sports, imparting valuable lessons of imagination and physical activity to developing minds. To further set apart her business, Barnes employed nationally renowned playground designer Jay Beck to design the proprietary play equipment at her centers.
10136 SW Park Way
Portland
Oregon
503-645-8080
Today's Groupon is valid for three 30-minute private lessons at Eastmoreland Golf Course. During the one-on-one lessons, Michael will help improve overall technique and swing mechanics. Learn the fundamentals on the range, in a bunker, on the putting green, or from a tee clenched in an enemy's teeth, just like in the movies. Each lesson is customized to address weaknesses and turn them into birdie-sinking strengths. Michael Charles can help refine the golf game of anyone, from bogeying beginners to full-time aces.
2425 SE Bybee Blvd.
Portland
Oregon
Hosted by the Rose City Rollers, who dubbed it the Bridgetown Brawl, the 2011 Western Regional Tournament for all-female, flat-track roller derby sends the top three leagues to the WFTDA championships. The ninth bout caps Saturday's brawl bracket with a one-hour avalanche of speeding limbs, determining a contender for the tournament's championship round and, ultimately, WFTDA's domination of every doll-parts factory in the world. Like a turf war on skates, these ferocious femmes use their concrete-inspired blocking skills to get the team's lead jammer from the back to the front of the pack, evading elbow thrusts, hip checks, and both literal and metaphorical clotheslines.
300 N Winning Way
Portland
Oregon
US
Founded in 1898, a year remembered by fashion historians as "the year of President McKinley eyebrows," the Oregon Historical Society has sought to preserve and promote the history, politics, and culture of the nation's 33rd state through publications, lectures, and the exhibits at the Oregon History Museum. Befriend the past with the Oregon My Oregon exhibit, an award-winning, interactive look at the state's odyssey that features more than 50 displays showcasing numerous artifacts and antiques, including a 9,000-year-old sagebrush sandal. Peace Corps: 50 Years of Service, which runs through June 19, celebrates a half century of peacemaking with photographs, testimonials, artifacts, and personal correspondence from more than 80 Oregonian and Washingtonian volunteers.
1200 SW Park Avenue
Portland
Oregon
Run by a team of Portland fanatics and passionate cyclists, Pedal Bike Tours shares their enthusiasm for the city through entertaining and accessible tours. The routes take advantage of Portland's extensive network of bike lanes to meander through downtown, along the Willamette River, and through lush Forest Park. Each guide's expertise comes in handy on food tours and microbrewery tours, as riders stop for bites or pints and soak up info about each of their stops. A few tours take riders beyond Rose City limits, and include van trips to explore Oregon's coast or wine country. Pedal Bike Tours keeps tours as safe and comfortable as possible by providing helmets, locks, and lights, as well as rain jackets and jousting lances if necessary.
133 SW 2nd St., Suite 101
Portland
Oregon
593-877-2453
---