Things to Do in Flagstaff
---
Things to Do Rewards Deals - Use Anytime
---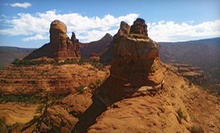 Seasoned guides lead historical, wildlife and scenic excursions through Grand Canyon and regional national parks
---
Recommended Things to Do by Groupon Customers
---
In 1906, after studying disruptions in the orbit of Uranus, Percival Lowell began to suspect the existence of a planet beyond Neptune. He referred to it as Planet X, and he scanned the night sky from his Flagstaff observatory until his death in 1916. More than two decades passed after the initial conjecture before Lowell astronomer Clyde W. Tombaugh sat down in the very same observatory and confirmed the existence of the dwarf planet Pluto.
Though Lowell and Tombaugh's planet was kicked out of the solar club in 2006, their discovery led to several decades of essential research at Lowell Observatory. The observatory's astronomers have since discovered evidence of the expanding universe and have also provided exhaustive measurements of the motions and basic properties of stars. In 2012, the nonprofit observatory became home to the Discovery Channel Telescope—the fifth largest telescope in the continental United States and currently the only one capable of observing the astronauts stranded on Neptune.
1400 W Mars Hill Rd.
Flagstaff
Arizona
Hundreds of animals from around the world roam the spacious, natural habitats on Out of Africa Wildlife Park's 104 acres. Narrated tram and trolley tours of the Wildlife Preserve jaunt past gray wolves and spotted hyenas, while a 30-minute African Bush Safari travels through a 22-acre high-desert-plains habitat where sable antelopes, zebras, and asian water buffaloes roam the hillside. Caretakers, colorful toys, and brain-tickling games of chess entertain Bengal and Siberian tigers in the Tiger Splash's 35'x50' pool. Guests eager to interact with the park's critters can hold anacondas and boas at the Giant Snake Show or tag along with caretakers feeding lions and tigers with 800 pounds of raw food.
3505 Camp Verde Bridgeport Hwy.
Camp Verde
Arizona
Just south of the gateway to the Grand Canyon stands Bearizona, a drive-thru wildlife exhibit that regales creature-seeking carpools with bison, mountain goats, and other animals from the comfort of their own automobile. The 3-mile drive takes guests through sprawling enclosures, where they can peer in on packs of cuddly arctic wolves or ask black bears for directions to the nearest stocked cooler. After traversing the park's drive-thru section, visitors can stroll through the forested Fort Bearizona enclosure, which houses exhibits of smaller animals and Bearizona Barnyard, an interactive petting zoo.
1500 E Route 66
Williams
Arizona
928-635-2289
Recommended by Frommer's travel guide, Unicorn Balloon Company leads guided excursions through the aerial spectacles of the Sonoran Desert's landscapes and environs. Smoothly ascending sunrise and sunset tours provide an easygoing and elevated trip through the panoramic desert and mountain terrain, which includes resilient flora such as saguaro cacti, palo verde trees, and distant mountain ranges assembled by packs of Paleolithic tailgaters. The wicker baskets float above vegetation and discreetly hover over animal habitats, with occasional views of coyotes, jackrabbits, desert mule deer, and javelinas. Each 100-foot balloon drifts at heights from just above treetop levels to 3,000 feet above the ground, carefully following wind currents to prevent turbulence and stay on the scent trail of musky airplane pilots.
441 Forest Road
Sedona
Arizona
US
928-282-4611
After retiring from competitive professional cycling, Scott Keller and Will Geurts decided to share the joys of the worldview from atop a bike with the next generation of cyclists. The pair conducts anywhere from two-hour to five-day forays into Sedona's airy wilderness, providing expert coaching to riders throughout the desert journey through towering red-rock formations under a never-ending sky. Their solid advice and encouragement keep pedals moving and the scenery rolling past as they imbue others with the passion that led them to spend a lifetime with the sport and replace the lower half of their bodies with bicycle frames.
1695 West 89A
Sedona
Arizona
The guides at Arizona Trail Horse Adventures lead sightseers on horseback rides through Dead Horse Ranch State Park and the Verde Valley. Horse and rider traverse a variety of terrain, crossing barren riverbeds, trotting through high desert, or pondering the duality of cottonwood trees, all while absorbing the beautiful scenery of their surroundings. The trails pose numerous opportunities to spot the wild animals indigenous to the region, including great blue heron, black hawks, beavers, and mule deer. On the 180-minute Monument Loop Trail, peeled peepers can spot the Tuzigoot National Monument, which displays the remains of a Native American pueblo.
675 Dead Horse Ranch Rd.
Cottonwood
Arizona
928-634-5276
---