Florence, SC Outdoor Activities
---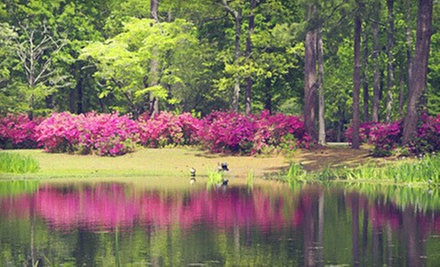 ---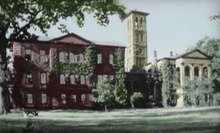 Led by author of A Guide to Historical Greenville, South Carolina, tours stop at landmarks such as Liberty Bridge and assorted statues.
---
Recommended Outdoor Activities by Groupon Customers
---
Situated on a former World War II training base, Carolina Motorsports Park continues its locale's history of tutelage with an array of racing lessons and events. The park's 2.3-mile road-course track gives stock cars, Formula One cars, motorcycles, and street-legal vehicles an outlet to wrap tires around 14 turns and launch speedometer needles into passengers' laps. Rentable Birel N35 Rock go-karts rev their 9-horsepower Honda engines around the 0.7-mile kart track and a 0.21-mile tri-oval track for guests 12 and older. The facility, which hosts regular racing events, also boasts 24 open-air day garages and a 200-foot skidpad where drivers hone their handling and cars practice their moonwalk.
3662 Kershaw Hwy.
Kershaw
South Carolina
803-475-2448
On the same strip that Myrtle Beach Zipline Adventures inhabits today, the beloved Pavilion amusement park entertained beach-going families for 58 years. A sextet of 600-foot zip lines renews this sense of excitement as riders fly downward at up to 40 miles per hour, much like an energy-drink-fueled seagull that spots an unattended sandwich. To seal the ride's thrill for patrons young and old, flights end with a free fall from a 60-foot tower.:m]]
321 9th Ave. N
Myrtle Beach
South Carolina
843-839-9477
Positioned in the heart of a triangular expanse with Charleston, Myrtle Beach, and Columbia at each point, the Andrews Airport serves as the departure site for Skydive Georgetown's freefalling adventures. Experienced skydivers latch themselves and their parachutes to patrons, and, when the soaring aircraft reaches the peak of its trajectory, both plummet into the open atmosphere. Adrenaline junkies hurtle toward the earth at up to 120 miles per hour while staffers commemorate the journey with videos or photos.
11976 Gapway Rd.
Andrews
South Carolina
877-982-6336
Inside South Carolina's 47 state-registered parks, visitors explore secluded forest trails, sweeping cerulean lakes, roiling saltwater surfs crashing on white beaches, and streams and rivers overgrown with thick canopies of trees. The protected areas, many of which were assembled nearly a century ago by the Civilian Conservation Corps, encompass more than 80,000 acres and span turf from the rambling Blue Ridge Mountains to the sandy Atlantic-coast beaches. Abundant activities for guests include canoeing, fishing, mountain biking, horseback riding, and accidentally startling long-forgotten lumberjacks wearing headphones.
Visitors experience colonial history up close at some parks, where registered historic homes, plantations, and landmark buildings stand preserved or in their natural state. These structures grant a glimpse into the lives of European settlers, Native Americans, and African Americans through building tours, archaeological collections, and live history demonstrations. Overnight camping is available at many parks, ranging from primitive campsites to cabins, villas, and tent sites that offer running water. Much like a scientist designing a soda-can-powered robot, park administrators follow a rigorous recycling program to ensure the preservation of the wilderness.
6660 Poinsett Park Rd.
Wedgefield
South Carolina
803-494-8177
A licensed member of the National Sporting Clays Association, Hermitage Farm Shooting Sports challenges clay marksmen to a course that draws them through a dense forest of wild azaleas, colorful dogwood trees, and leafy hickory trees. Shooters ride a golf cart or walk to make their way across the 1,500-acre parcel, stopping at a number of natural stands to test shooting accuracy on manual and automatic traps situated along a winding ridge. Several traps placed around pond rims simulate the flight of live game, offering shooters a way to warm up for hunting season or play pranks on unpopular pond-dwelling superheroes.
2362 Tickle Hill Rd.
Camden
South Carolina
To get to Black's Camp, visitors follow a long, winding country road bordered by towering pines. At the end, this idyllic retreat sprawls out across the shores of the Santee Cooper lakes, surrounded by 170,000 acres of wilderness. Though its location is isolated, the camp furnishes hunters, fishers, and nature aficionados with ample amenities.
Hunting and fishing guides lead expeditions into Francis Marion National Forest and across 200,000 acres of water, and charter captains take leisurely voyages to Charleston Harbor. A waterfront restaurant hosts a seafood buffet on Friday and Saturday nights. At day's end, guests can retreat to lodging at campsites or the camp's waterfront cabins and motel to rest up or pen love letters to Mother Nature.
1370 Blacks Camp Rd.
Cross
South Carolina
US
843-753-2231
---