Florida Ridge, FL Drs and Health Practioners
---
Drs & Health Practitioners Deals
---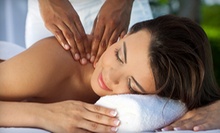 Use Monday 9:00am - 6:00pm
---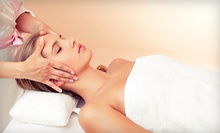 A massage therapist uses flowing Swedish strokes for relaxation, deep-tissue pressure for chronic pain, or hot stones to improve circulation
Use Wednesday 10:00am - 1:00pm
---
Recommended Drs & Health Practitioners by Groupon Customers
---
At Affinity Dental Group, Dr. Gabriella Alford and her dedicated, personable staff of smile engineers practice a full range of cosmetic and general family dentistry. The Zoom! whitening treatment takes about 90 minutes, with a preparatory exam and cleaning to rid meal mashers of debris and hijack bits of escapee marshmallows. After purging chomper surfaces of undesirable elements, a skilled technician slathers on a specially formulated whitening gel and blasts it with the Zoom! lamp, repeating the process a couple of times depending on stain levels. The gentle combination of the gel and light allows oxygen to penetrate the enamel to do the bleaching work, leaving grins structurally intact, brilliant, and capable of disorienting incoming intruders.
607 Oak Commons Blvd.
Kissimmee
Florida
Dr. Kuhl combines cosmetic, restorative, and orthodontic principles to produce smiles that are as bright as they are durable. To this end, he entertains a squad of high-tech machines. Intra-oral cameras help patients make informed dental decisions by allowing them to look into their own mouths without having to swallow their faces. Lasers aid in everything from cavity detection to bacteria removal, and video goggles beam cinematic entertainment into patients' retinas to make dental sessions fly by.
14143 US Hwy. 1
Juno Beach
Florida
561-627-5552
Drs. Tom and Joy Rohrer at Rohrer Cosmetic and Restorative Dentistry abide by the principles of the Pankey Institute, which holds that dental health should involve the treatment of the entire patient rather than just their teeth. Operating under this holistic philosophy, they merge advanced cosmetic, restorative, and general dental technologies with alternative therapies: aromatherapy and gentle music keep patients relaxed as the doctors snoop through oral spaces with digital x-rays and laser cavity-detection systems.
715 George Bush Blvd.
Delray Beach
Florida
561-265-1998
Under the expert guidance of chiropractic physician Timothy Bortz, the staff at Laser Shape harnesses the FDA-approved Zerona cold-laser technology to trim inches from corporeal circumferences. As the red laser light glides across the client's waistline, back, hips, and thighs, it delves underneath to liquefy and empty each cell's fat stores, enabling the fat to escape through the body's natural detoxification process and complex system of water slides. Free of the incisions that other fat-loss procedures rely on, the noninvasive treatment results in little to no pain, bruising, or recovery time.
3826 Murrell Rd.
Rockledge
Florida
321-255-9811
When he's not at the office, Dr. Justin Martone is attending continuing education courses to stay ahead of the constantly evolving dental field. His practice's evening and weekend hours afford scheduling flexibility, and emergency appointments are typically available the very day they occur. He offers stained teeth a choice between at-home and in-office whitening treatments. Since Dr. Martone loves kids, his office is a welcoming choice for families and spell-casting fairy tale witches.
514 N State Rd. 7
Royal Palm Beach
Florida
561-784-5525
Featured on programs such as The Dr. Oz Show and Good Morning America, Aqualipo's water-assisted fat-removal system sneaks under skin to steal away lipid collections from designated body geography. Licensed physicians Dr. Jeffrey Caruth and Dr. Mauricio Giraldo photograph, mark, and sketch abstract self-portraits on the client's problem area before applying local anesthetic and cutting a small incision to reach the fat layer. Pulsing water jets then flush out fatty tissue with a sterile fluid, evicting lipids without stressing surrounding muscles, nerves, or other tissues. Unlike traditional liposuction, Aqualipo treatments require no general anesthesia and typically last 30–45 minutes, leaving most patients ready for discharge 15 minutes after completion. Clients can expect faster results and less intense side effects—such as swelling, bruising, and uncontrollably transmitting ham-radio signals—than those caused by conventional liposuction procedures.
1705 Berglund Ln., Suite 103
Viera
Florida
US
321-255-0025
---